Two Brothers & Their Journey on the Northern Forest Canoe Trail (Part 1)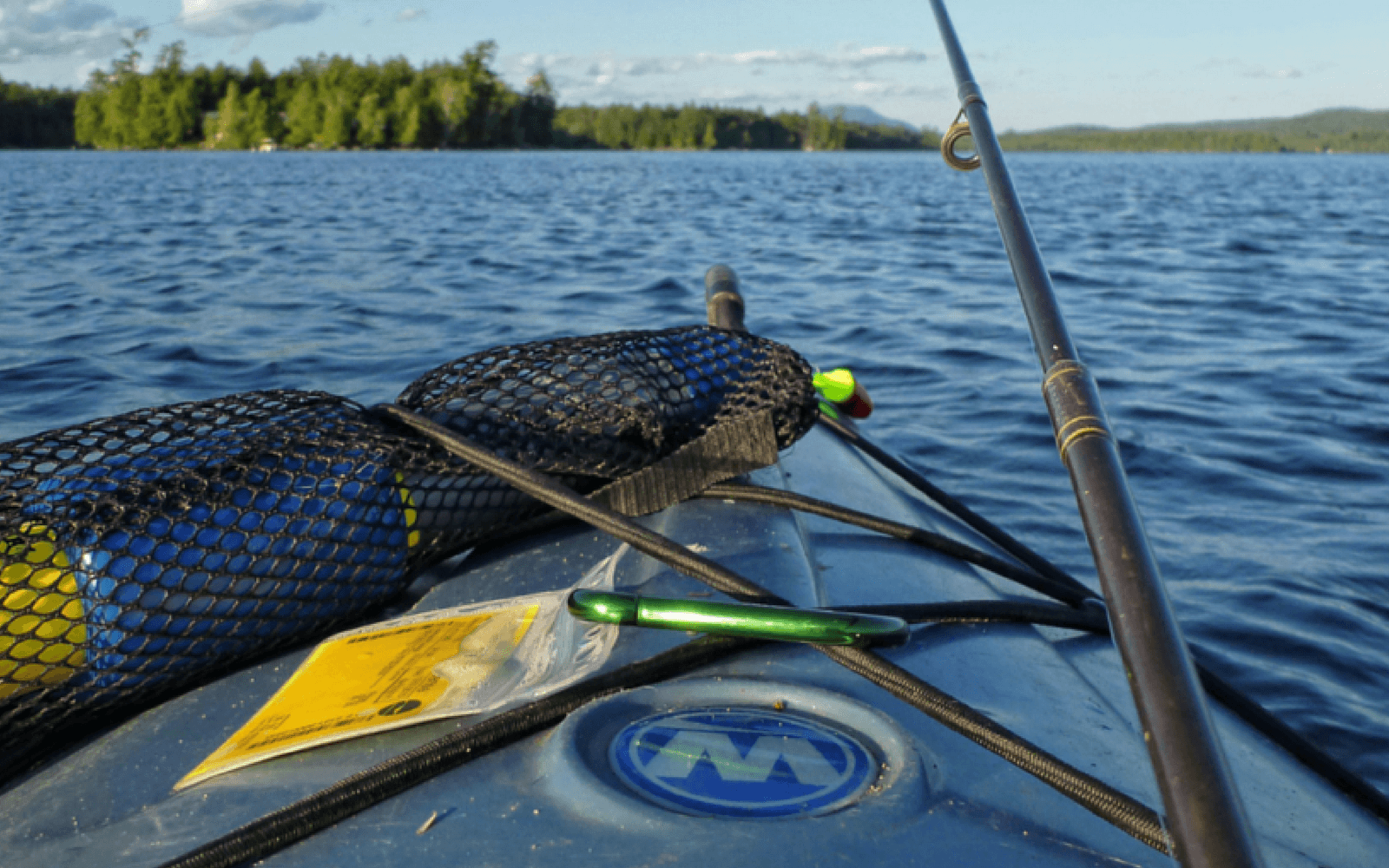 Old Forge to Long Lake, NY 
While flipping through a Canoe and Kayak Magazine I discovered a paddling trail called the Northern Forest Canoe Trail traveling 740 miles from New York to Maine, and my planning immediately began.  I enlisted my brother, Colby, and we opted to take on section 1 of the trail, Old Forge to Long Lake. My approach to outdoor trips is not to race to the finish, but to take it all in so we decided to take 5 days to complete 43 miles.
 Our trip started by leaving from Central Pennsylvania on a Thursday evening and making the 5 and half hour drive to the western terminus in Old Forge, New York.  We made it to town just in time for last call at a local tavern.  We then attempted to get some rest, but the excitement of getting on the water the next morning made for a restless night.
Friday morning we pushed off into Old Forge Pond both of us paddling 12 foot kayaks on a calm overcast morning.  As we paddled from the pond into Fulton Chain of lakes, we had the water to ourselves.  Pennsylvania paddling is mostly creeks and rivers, so the flat water of the lakes was an adjustment for my brother and me. Along Fourth Lake, we came across a bar that overlooked the lake with a dock and Adirondack style chairs.  We had paddled a couple miles and it was still early, so we took the opportunity to stop and have a cold draft beer before continuing on.
Fourth Lake
Once back to our kayaks, we knew that we would soon be paddling in rain. It wasn't long before it was a steady rain and the lake shores disappeared into the mist.  We then found ourselves along Fifth Lake facing our first portage.  It was a short 0.4 mile portage, uphill and across a road to Sixth Lake, but it was our first use of Colby's homemade portage rig that he built.  We had stacked the boats with wheels underneath on the back and we lifted from each side in the front to walk our boats.  It worked, but the weight distribution seemed like we were still doing an incredible amount of lifting, especially as we hulled them up the hill.
As we paddled from Sixth Lake into Seventh Lake we began to look for a place to set up camp. At this point we were enduring some heavy downpours, however being that it was the end of July, it was refreshing rain. Unfortunately for us many of the lean-tos were taken by people in motorboats, so we had to continue on.  Eventually we found a spot on the north shore of Seventh Lake just before Eighth Lake Campground.  Roughly 16 miles for day one, the rain was dissipating and we were relaxing while cooking steaks on a stick over the campfire.
Seventh Lake
Day 2 started with some chocolate chip pancakes and a short paddle to Eighth Lake Campground.  From there we had a 1 mile portage through the campground to Eighth Lake with a 1.5 mile paddle to the other end of the lake.  At this point, things got interesting.  During 1.1 mile portage to Brown's Tract Inlet, our portage wheels broke... plan B for the portages, however we didn't have a plan B.  We spent the rest of that portage trying to find a way to efficiently carry the boats.  
Brown Tract Pond
It was the most strenuous and frustrating portage of the trip, but eventually we found ourselves on the boardwalk leading to the put in at Brown's Tract Inlet.  It was a change of scenery from the lakes we paddled previously. This stream snaked through the bog and lily pads, passed over beaver dams that drop down a level to another stretch of winding calm water.  Brown's Tract then dumped into Raquette Lake and our destination for day 2 was in sight.  We found a camp spot on the southeastern shore of Big Island.  Once night fell, we paddled out into the lake for one of the most amazing stargazing outings I have ever had.  Being in a large lake, it was basically a 360 view of a completely clear night sky.  A relaxing way to finish off the day, kicked back in the kayak with a Milky Way hovering over us.
Big Island
Day 3 we awoke to a beautiful sunrise over Raquette Lake.  Since our portage wheel broke, we decided to paddle back to the small town of Raquette Lake to attempt to find some new wheels, but all we ended up with was a tasty cinnamon roll for breakfast.  We then pushed on continuing up Raquette Lake toward Outlet Bay. It was a beautiful summer Sunday and we encountered a lot of water traffic, motorboats, people water skiing, jet skis and the occasional paddler.  The combination of the large lake and wind with all the motorboat traffic created waves and made for interesting navigation. Eventually we did find our way to Outlet Bay and another portage to Forked Lake.
Raquette Lake Sunrise
Fishing on Raquette Lake
After any uneventful portage, we made it to the put in at Forked Lake and a welcome change in pace.  Forked Lake was a remote lake, with forest shore lines and no motorboat activity.   The lake and the campsite we set up at gave us the most remote location of our trip.  It was a beautiful and peaceful paddle to the place we set up camp, a lean-to not far from the start of Forked Lake Campground.  
Campsite on Forked Lake
We arrived early and were able to eat dinner, set up a hammock, relax and do some fishing before nightfall.  This was easily my favorite camp due to the solitude and remoteness it offered compared to the other locations.  
Forked Lake Sunrise
I had my tent set up near the banks of the lake and as I unzipped my tent in the morning I was greeted with a beautiful sunrise.   I got up took some pictures and then it was time for breakfast.  Colby and I each caught a small fish the night before and since we already ate dinner we decided to leave the fish for breakfast. We decided to leave the live fish on the stringers in the lake... not a good idea, both of our fish were scavenged by something overnight and we had no fish.  
We were both disappointed that our breakfast didn't work out.  Colby casted his line into the lake a couple times and then I did as well.  As luck has it, I managed to catch a nice bass that was bigger than our previous two fish combined.  We had the fish out of the lake and immediately on the fire cooking!  Best breakfast fish I have ever had!
Once we finished our breakfast, we broke down camp and had a short paddle to Forked Lake campground and a 1.5 mile portage to Raquette River.  Although the majority of the carry was on road, it was still a hot summer day in August and the river was such beautiful, welcomed sight that we dropped the kayaks and jumped in the water to cool down!
Raquette River
The first section of Raquette River was a peaceful flatwater paddle and reminiscent of central Pennsylvania creeks. We then came to our next carry at Buttermilk Falls, it was amazing to be on stretch of flatwater that suddenly ended at a substantial waterfall.  The portage was short, but the trail was very rocky around the waterfall. Once at the bottom of the falls, we took some time to take in the waterfall.  There were many people there enjoying the falls and a swimming hole on the hot summer day.
Once we moved on from the falls, we came to our next obstacle, our map stated we could carry 0.6 miles or scout and run the rapids. So we got out, scouted the trail... it was very rocky and looked like hell to portage so we ran the rapids!  It was a good choice, it was fun section, descent rapids and an obstacle course of rocks to maneuver around.  Once through the rapids, we found a spot to camp after a relatively short day on the water covering roughly 8 miles.  
Our fourth and final camp was a nice secluded spot at the base of Raquette River with just a short paddle into Long Lake. Colby spent the evening fishing and I took a short hike through the woods.  We were able to rest easy knowing that we had no portages the next day, however our trip would be coming to an end.
Seaplanes on Long Lake
Tuesday morning, we fished our way out of Raquette River, catching mostly small sunfish. Once on Long Lake, we had another beautiful, hot summer day to finish our trip, with a light breeze. As we approached the bridge near the town of Long Lake, instead of having boat traffic like we experienced on Raquette Lake, we had seaplane traffic and had a plane land right next to us as we paddled the lake!  Once we got past the bridge, we realized that we were at Helms Aero Service with planes docking, trolling by us and prepping for takeoff!  We beached our kayaks near one of the planes to explore further and well to delay the end of our trip, since we just had a short distance to go to our take-out where the truck would be parked.
Once arriving at our take-out, we decided to head to the Adirondack Hotel and Tap Room to finish off our trip with a burger and a beer.  This is the way we finish off most of our outdoor adventures, recalling the experiences we just had, the good and the bad, and before we are done we are already talking about what our next trip is going to be and in this case, planning ahead for map 2 of the NFCT.
---------------
About the author:
-
Shawn Grenninger-
I am a outdoors person, my favorite activity being kayaking, but I also enjoy camping, hiking, biking & really anything that gets me outside and enjoying nature. This is where my passion in photography lies & I also enjoy the opportunity to take road trips to see places & scenery that are new to me. You can find more of my photography on my
500px
profile, 
Facebook
page or
Instagram
profile.
---