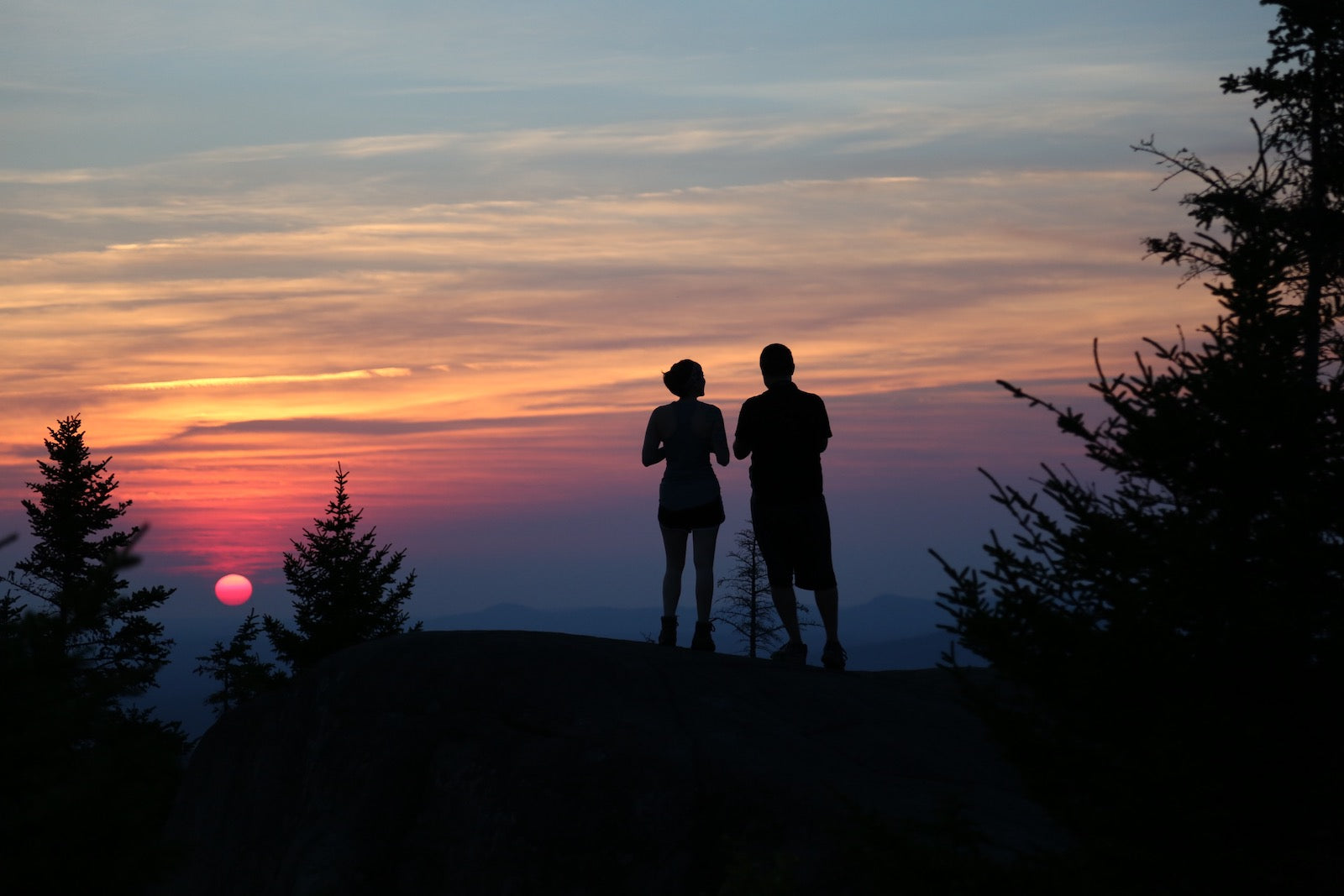 St. Regis Mountain Sunset
Adirondack Hiking
Hiking opportunities in the Adirondack Park are innumerable. From short 0.5-mile jaunts to multi-day 25-mile backpacking trips, there are hikes for all ages and abilities. To become an Adirondack 46er is a challenge and a tradition for hikers in the High Peaks region. Although the Adirondack fire towers are no longer used for detecting fires, a good portion of New York's remaining historic towers are being restored and have become popular hikes - a part of the Fire Tower Challenge. The summit vistas and 360-degree panoramic fire tower views looking out on the surrounding forests, lakes, mountains and valleys are unbeatable.
Adirondack Hiking Challenges & Trail Systems
Also known as the "46ers", the Adirondack High Peaks consist of the mountains originally believed to be over 4,000 feet in elevation. Later surveying proved that some of the peaks were under this elevation, but to stay with tradition, they weren't removed from the original list. Today, the High Peaks are a popular hiking destination for many.
There are 25 fire tower observatories in the Adirondack Park accessible to the public. Once used as a lookout point for forest fires, today the towers offer a great vantage point for hikers to get some great views of the surrounding wilderness.
Waterfalls from across the Adirondacks are included in the Adirondack Fifty Falls Waterfall Challenge. Participants are required to visit all waterfalls named in the challenge. Following completion and submission of the required information, participants receive a patch to commemorate.
This challenge provides 9 dog-friendly hikes with rewarding views and offers a chance to explore lesser traveled peaks of the region. 
A non-profit, accredited land trust whose mission is to make trails, save land, connect people with nature, and promote economic vitality in New York's Champlain Valley.
This challenge consists of trails within the Town of Chester. Trails range from easy to moderate and include steep hikes as well as walks in the woods. Visit all 6 trails and receive the Chester Challenge pin. 
Cranberry Lake, located half an hour west of Tupper Lake, is a beautiful lake that borders the pristine Cranberry Lake Wild Forest and Five Ponds Wilderness. There is little there except the remote lake and thousands of acres of undeveloped wooded lands. Oh, and an incredible new trail system that loops around the lake and into the wilderness, with fifty miles of trails that circumnavigate the lake.
The Fulton Chain Trifecta is a family-friendly hiking challenge based in the Old Forge region. This hiking challenge involves an adventure to the summits of Black Bear Mountain, Rocky Mountain, and Bald Mountain.
For all you hikers out there, if you're looking for a new challenge that isn't as grueling as the 46er but is harder than the 6er, then the Lake George 12ster is the one for you. To complete this challenge, hikers must summit 12 specific peaks in the Lake George Region.
An Adirondack hiking challenge based in the Lake Placid, NY region, was created in 2018. The 9er's mission is to attract seasoned hikers as well as those who are new to hitting the trails, offering a chance to explore some of the Lake Placid region's smaller peaks, all of which can be conquered in a morning or afternoon. 
The North Country National Scenic Trail (NCNST) runs right through Adirondack Park, and the Hike 100 Challenge is an annual free program where participants can hike any 100 miles on the NCNST in a calendar year to earn a free patch and certificate (a new patch and certificate every year). Pets can also earn a free dog tag each year.
The Northville Placid Trail is roughly 138 miles long from the Southern Terminus located in Waterfront Park in the Town of Northville, NY to the Northern Terminus at the corner of Averyville Rd. and Old Military Rd. in Lake Placid, NY. The trail weaves between ponds, lakes, and rivers, climbs over mountains and hills, and slogs through swamps and bogs as it skips from wilderness areas to quintessential Adirondack villages and back again.
The challenge was developed with the purpose to introduce more people to this specific area of the Adirondack Park and to enjoy these great hiking trails in the Saranac Lake region.
Erik Schlimmer was looking to create "an Adirondack immersion experience" in which a long-distance hiker could gain a meaningful experience within the largest park and forest preserve in the Lower Forty-Eight.  The trail was officially established in 2013 and runs just over 236 miles through five wilderness areas and eight wild forests in the trail's most primitive regions. 
The Triad is the perfect starter challenge for those just getting in to hiking or for hikers looking to expand their patch and sticker collection. Earn an Adirondack hiking challenge patch by climbing the following three mountains - Arab, Coney, and Goodman.
Each WOW Challenge consists of six selected "trails," around Wilmington, NY with the optional experience of visiting the summit of Whiteface Mountain or Little Whiteface in whatever way is most appropriate for you: by foot, by car, by bike, or by gondola. For each challenge you complete, you'll be able to register online to be added to our finisher's roster and receive the corresponding 3-inch WOW patch. And, if your pet companions join you, they can be registered and receive a 2-inch WOW patch designed just for them! 
---
Other Hiking Options
There are endless hiking options located all around the Adirondack. Be sure to check out our curated list of options.