Summer Canoeing & Photographing the ADKs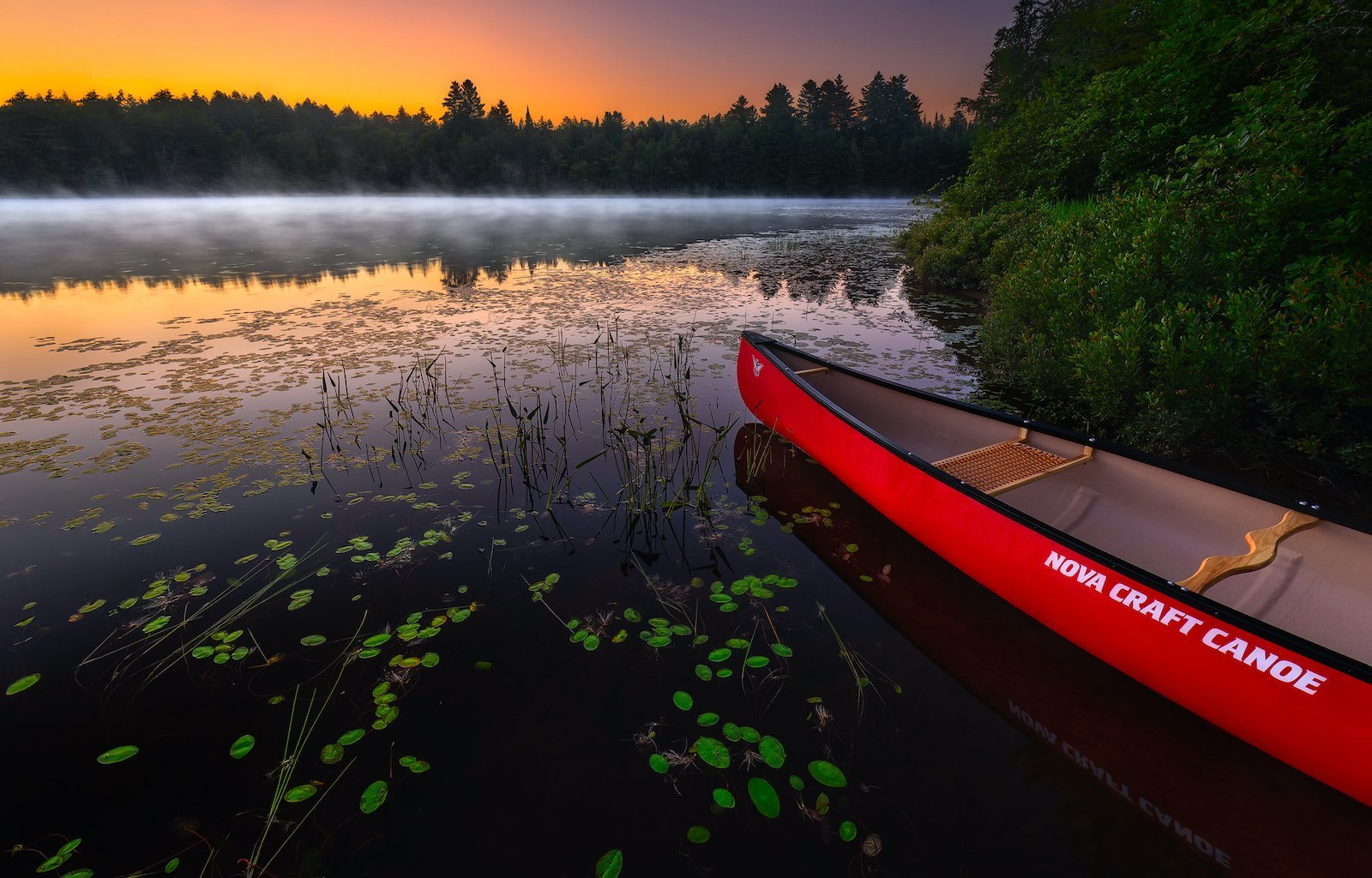 Photo & Story By Joey Priola
Until recently, summer was by far been my least favorite time of year for photography in the Adirondacks. Lacking the bright colors and moody fog of autumn and the austere beauty of winter, I rather foolishly had convinced myself that there was nothing to see or photograph this time of year except endless blobs of green trees. Add in the crowded trails and swarms of biting insects, and for the most part the past few summers found me daydreaming of fall and all its grandeur rather than getting out to the Adirondacks for exploration and photography. How foolish of me. 
It was a phone call from my dad that I received this past winter that would begin to drastically change my tune regarding summer photography in the Adirondacks. My wife and I had recently gotten married, and my dad was calling to tell me about an idea he had for our wedding gift. I can't recall what I was expecting him to suggest as our wedding gift, but it definitely was not what he proposed: a canoe. "Are you serious?!" I blurted out, and then spent the next several weeks giddily researching canoes. While I have become a seasoned backpacking veteran over the years, aside from some short paddles while in Cub Scouts decades ago, canoeing was a completely new animal to me with new terminology and techniques to learn. Gunwale, J-stroke, rocker, Kevlar and aramid…what does it all mean? At least I had plenty of time to stay in and familiarize myself with the world of canoeing, as the COVID-19 pandemic took hold of the world just as my research was kicking into high gear. After finally coming to a decision (Nova Craft Canoe's Bob Special), all that was left to do was anxiously wait for our shiny new toy to arrive. 
While it may sound like hyperbole, Bobby (the name we've bestowed upon our canoe) has been a revelation. As someone that's always enjoyed jumping into a cool lake more than summiting a mountain on a hot summer day, having the ability to finally explore the countless lakes, rivers, and ponds in the Adirondacks has felt like discovering a whole new park within the Park that I was never privy to. Rocky islands that used to be longingly gazed at from shore are now picnic destinations, crowded trails have been exchanged for open blue water, loons that before were only heard can now be seen, and the "nothing but a green blob" mentality that I used to hold regarding summer photography in the Adirondacks has thankfully become a thing of the past. 
One of the best parts about owning a canoe has been that in addition to transporting me to previously inaccessible locations for photography, the canoe itself makes for an entertaining photo subject and has been my photography muse this summer. While the aesthetics of a canoe and paddles typically are secondary to their actual performance, as a photographer I knew that I wanted a set-up that would not only be a joy to paddle but would also stand out in photos. A pair of carbon fiber and wood paddles from Bending Branches have proven to be an excellent fusion of modern lightweight materials and vintage design and have been a perfect complement to the Bob Special. This set-up has already provided me with hours of entertainment, whether I have a paddle or a camera in my hands. 
I've been wrong about many things in my life (who wasn't?) and holding the belief that there's not much worth photographing in the Adirondacks in the summer months was surely one of my bigger gaffes. Becoming a canoe owner has not only changed the way I view summer photography and wilderness exploration in the Adirondacks, but has also been a shining light in my life amid the seemingly never-ending darkness that is the year 2020. I hope that all of you have been able to latch onto something these past few months that has been a beacon of hope in your life like how the canoe has been mine, and that you've been able to seek out and experience the healing power of nature in the Adirondacks or beyond. 
---
JOEY PRIOLA is a photographer and scientist with a passion for exploring and photographing the Adirondacks with his wife and dog. More of his work can be found on his website, www.joeypriola.com, and on Instagram, @PriolaPhotography.  
---