Our Weekend Getaway at Great Pines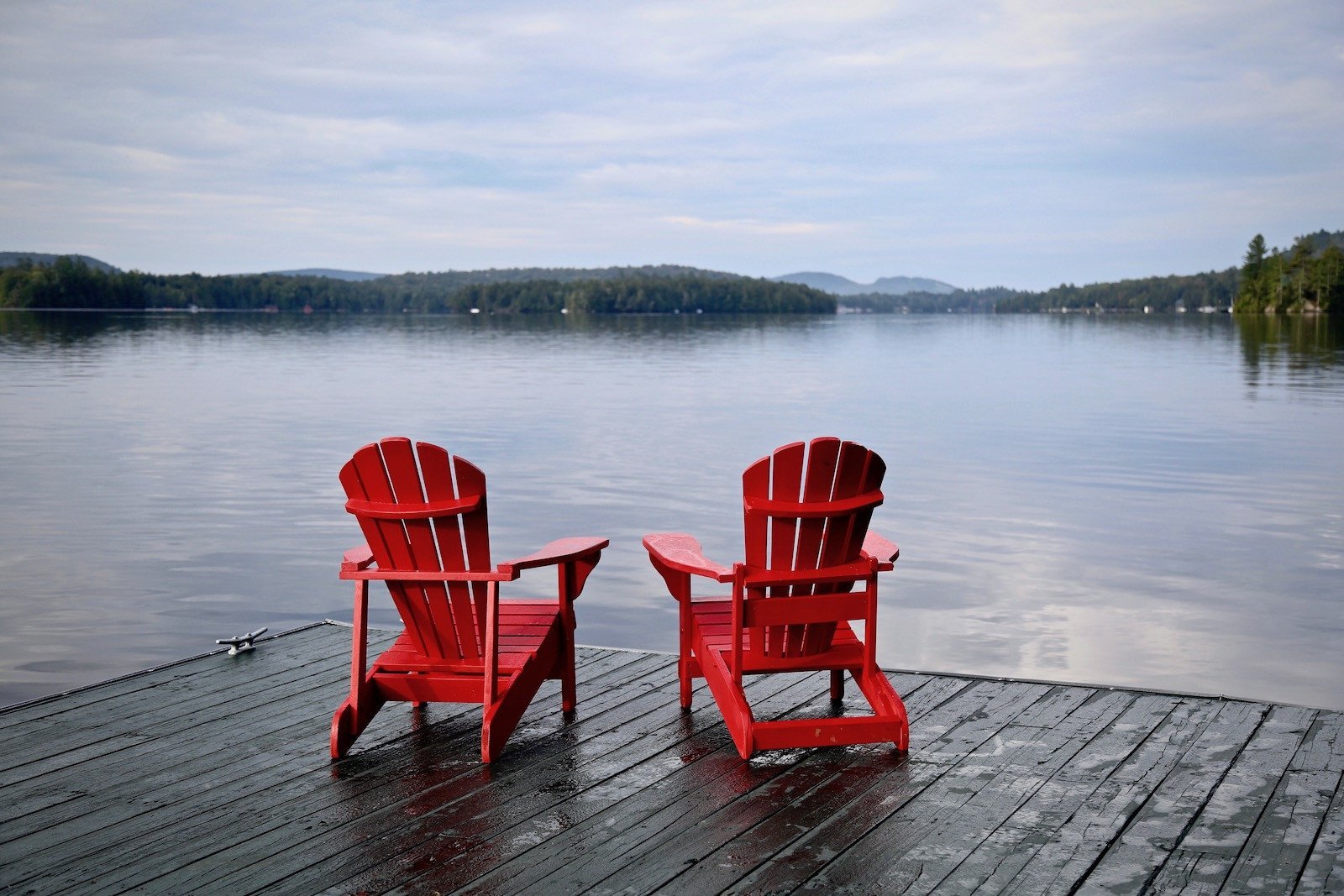 Evan and I recently spent a relaxing and fun weekend at the newly renovated Great Pines. Formerly The North Woods Inn, Great Pines has a prime location on Fourth Lake and is not only a great place to stay, but also a great place to dine! With a large variety of rooms available, there is a space to meet all types of budgets. Evan and I checked in on Friday evening, walking into a welcoming and warm space. We received a friendly greeting at the front desk from the resort's pup mascots – Maple Scout, Bindi, and Rhino. After chatting with Britta and Devlin, two of the three owners, we unpacked and settled into our room.
While we didn't explore the property too much on Friday night, we did decide to check out The Lean-To, where we grabbed some of the specialty drinks (the Maple Scout – a whiskey drink – and Bindi's Blueberry Mule, Great Pines' take on a Moscow Mule) and some snacks. The Lean-To definitely has great food options – we ordered the soft pretzels with a cheese/ale dipping sauce and they were awesome. Just what I was craving! With a full-service bar that has an incredible live-edge walnut slab bar, the Lean-To offers a more casual dining experience in an authentic cozy and cabin-like atmosphere. From three different kinds of poutine to burgers and salads, there was an excellent variety of options for food. There is also a nice deck for eating overlooking Fourth Lake and a pathway down to the docks, providing easy access for boaters.
The next morning, we woke up early to make a cup of coffee in our room and then wander down to the dock to enjoy sitting next to the lake in one of the resort's iconic red Adirondack chairs. After grabbing breakfast from the continental buffet (the huge muffins were awesome!), we decided to take out one of the lodge's paddleboards to play on the lake while the waters were calm. The little beach next to the docks makes taking out the paddleboards or the kayaks and canoes very easy. All of these are available for rental at the front desk.
Being sandwiched between Old Forge and Inlet, there are plenty of hiking options close to Great Pines. You can even access a trail system right across the road from the property that will take you back to some neat little lakes and wooded trails. While we were there, Evan and I hiked over to Bubb Lake to enjoy the peace and quiet of the woods for a little while.  Rocky Mountain and Bald Mountain are, of course, some of our favorites in the area. They're well-worn short trails that offer hikers awesome views of the Fulton Chain of Lakes and the surrounding mountains. Bald Mountain even has a fire tower that provides an even more elevated view of the area.
On Saturday afternoon Great Pines was hosting a post-Old Forge Half Marathon/5K party – complete with beer tastings, a full picnic, and live music from a talented duo. Between spending some time listening to the music and just relaxing in the ADK chairs on the porch outside of our room, the afternoon was spent getting to know the property and all that it has to offer.
Once dinner time hit, we made our way to The Lodge – Great Pines' fine dining restaurant. The Lodge has quite the selection of incredible entrées and with a full-service bar located right outside of the dining room, specialty drinks and classics are available before, during, and after dinner! For our dinners, we started off with some salads (with the most melt-in-your-mouth goat cheese croquet I've ever had), moved onto some fish entrées – salmon and haddock, and then topped off the meal with two decadent desserts. Everything we ate was so delicious and filling! The rest of the night we ended up hanging out on the porch outside of the lobby, enjoying likely one of the last warm summer breezes coming off of the lake for the year.
Sunday morning was a leisurely one. Before checking out, we grabbed some breakfast and played some Bananagrams in the lobby. Before heading out of town completely, we made sure to stop by the Donut Shop in Eagle Bay to get ourselves a fresh (and still warm!) cinnamon donut. We also scoped out the shops in Inlet before taking a few minutes to relax in Arrowhead Park.
Overall, we had a very pleasant experience at Great Pines. We also had the first-hand experience visiting the property prior to all the new renovations, so it was awesome for us to see everything that had changed since last year. In our opinion, it's got plenty of options both on the property and in the surrounding area that make it a year-round destination for a variety of age groups and families. It's even dog-friendly for those who'd like to bring along their furry friends! It's got plenty of food options, cozy accommodations both in The Lodge and adjacent, and waterfront access which is key for those beautiful Adirondack summer days. And when the snow starts falling in the winter, Great Pines is right next to a huge network of trails making it an excellent hub for those wanting a place to stay and/or dine while snowmobiling the region.
To learn more about Great Pines, you can visit their website, follow their Facebook page, and even read this article on page 21 in LOCALadk Mag. You can also get an inside look at the property transformation and the new owners by checking out this video we produced.
---