Local Spotlight: Green Goat Maps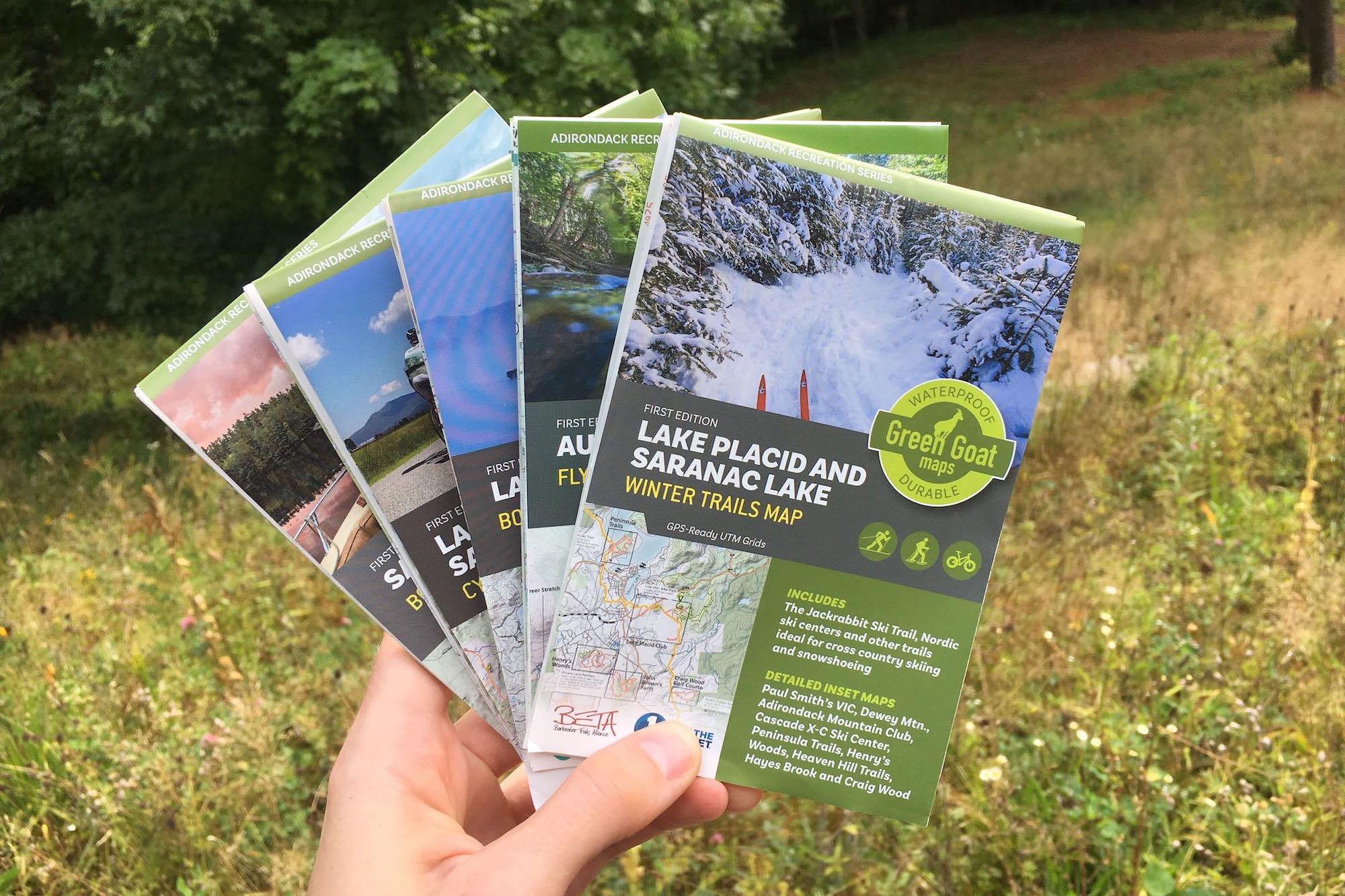 Owner, GIS, Cartographer: Ezra Schwartzberg
Production & Outreach: Gabriella Gurney
Project Manager: Janelle Hoh
We all know how important maps are. Not only do they help you plan adventures, but oftentimes they're more reliable than cell phones in the Adirondacks, and are just plain fun to look at! Whether it's something that you take with you on all adventures, keep in an emergency pack, or just have lying around the house with your gear, they're an essential part of your outdoor adventures that you want to last.
Meet Ezra Schwartzberg and his company Green Goat Maps. We recently had the opportunity to chat with both Ezra and Gabriella Gurney of Green Goat Maps about the company; its history, and some other fun facts about their background with mapping and the ADKs.
Can you give me a summary of Green Goat maps?
Green Goat Maps is an environmentally friendly map company focused on responsible recreation and Leave No Trace principles. We make durable, waterproof maps that are beautiful to look at, easy to use, and provide invaluable information to our map users. Working with environmental groups like The Nature Conservancy, the Adirondack Land Trust, and the Ausable River Association, we make sure our maps provide useful information about the experience our users are looking for and the environment they're adventuring in. We currently have 5 maps released: Lake Placid & Saranac Lake Winter Trails, Lake Placid & Saranac Lake Cycling, Saranac Lake Boating & Fishing, Lake George Boating & Trails, and an Ausable River Fly Fishing Map, with more on the way!
Where did the inspiration come from to start Green Goat?
Green Goat Maps is actually an offshoot of Adirondack Research. We were doing private mapping projects for lake associations and trail networks when we realized that there was a demand for outdoor recreation maps like ours of publicly accessible areas. Finding a good map that will last you a long time can be difficult, and we wanted to make it easier. Our first map was our Lake Placid & Saranac Lake Winter Trails Map. 
How many shops are you currently in? Do you plan on expanding your products?
Right now we're in over 65 stores across New York and Vermont, which is pretty awesome. We're always looking for new vendors, and whenever we visit a new town we stop into stores to chat and see if they're interested in us! We currently have two more maps on the way that will be available in the fall- a Fulton Chain of Lakes map and a Burlington, VT Area Adventure Map, which will be our first map outside of New York. We also have a list of more maps on the way! We're really excited to start expanding out of New York and begin providing maps for recreation opportunities all over the East Coast. 
Are you from Saranac Lake? What was the inspiration to start your business here?
Ezra Schwartzberg, is from Saranac Lake. He grew up here, and after going to college and getting his PhD, he decided to move back home and start Adirondack Research. To quote him, "I wanted to start a business in a community I loved. I figured if I was going to put a ton of effort into a career, I may as well do it in a place I wanted to be forever."
What separates your maps from competitors?
The number one thing that separates us from our competitors is the people and passion behind our maps. There are three of us working on Green Goat Maps and we all share a love for responsible outdoor recreation. Adventures should be accessible to anybody who wants them, but we should make sure to take care of the places we play in, and we reflect that idea in the messaging on our maps. Besides our team, our maps are also beautifully designed and easy to use. They are completely waterproof, and they're highly durable, so they don't rip or tear easily and they hold up to use really well. 
What is your favorite part about the Adirondacks?
There are so many great things to choose from, it's hard to pick just one! That being said, the farmer's markets in the Adirondacks are amazing. Meeting local farmers and craftspeople with beautiful vistas in the background, like at the Saranac Lake or Keene Valley market, just can't be beaten. And the fresh veggies don't hurt either!
What are some activities that you and your staff participate in?
You can probably tell from our maps, but we do pretty much everything- hiking, biking, boating, skiing, and snowshoeing come to mind first. 
What are some challenges you face as a small business in Upstate NY?
The biggest challenge is getting the word out about us and our maps. Since we're small, we do a lot of that work by just walking up and down the streets and talking to every store we can about our maps. We believe in the environmental messaging and usefulness of our maps, but we have to share almost all our information by word of mouth. Finding the time to make new maps can be difficult too- our team is small but mighty, but there's only so many maps we can make at a time. 
What are the ways that your customers can get involved with you?
The most direct way is by following us on social media, @greengoatmaps. We're on Instagram, Facebook, and Twitter, so you can send us a message or tag us in any post! You can also find us online www.greengoatmaps.com and order a map or send us an email. We can also be found at various events- we were at the Saranac Lake Farmer's Market all summer, and you can find us at other local events too. 
How did you come up with the name Green Goat maps?
There are two versions of this story, so you can choose which you like best: 
The first is that we wanted a name that had a color and an animal and that was memorable, so we went with the alliterative Green Goat. 
The second is that we're an environmentally friendly business, hence "green," and goats can be found adventuring almost anywhere, so we adopted the goat as our mascot. 
Either way, we ended up with Green Goat Maps! 
---
We love learning about our community and representing local businesses and business owners. Do us a favor and connect with Green Goat Maps on any or all of their social media platforms. Or better yet, stop by any one of the 65 stores that they're in. It looks like they have some big things coming around the corner and they're a super friendly bunch! I'm sure they wouldn't mind visitors at their 73 Church Street office in Saranac Lake.
And if you're interested in purchasing a map online, use the code PUREGOAT20 for 20% off your purchase on greengoatmaps.com.
This interview was brought to you by PureADK Pioneer, Chris May. Chris is a native of Western New York and discovered the Adirondacks when he attended Clarkson University from 2005 to 2009. He currently resides back in western NY with his dog Waylon. During his free time, he can be found kayaking, fishing, hiking, tent camping, and enjoying local breweries in the northeast.

---