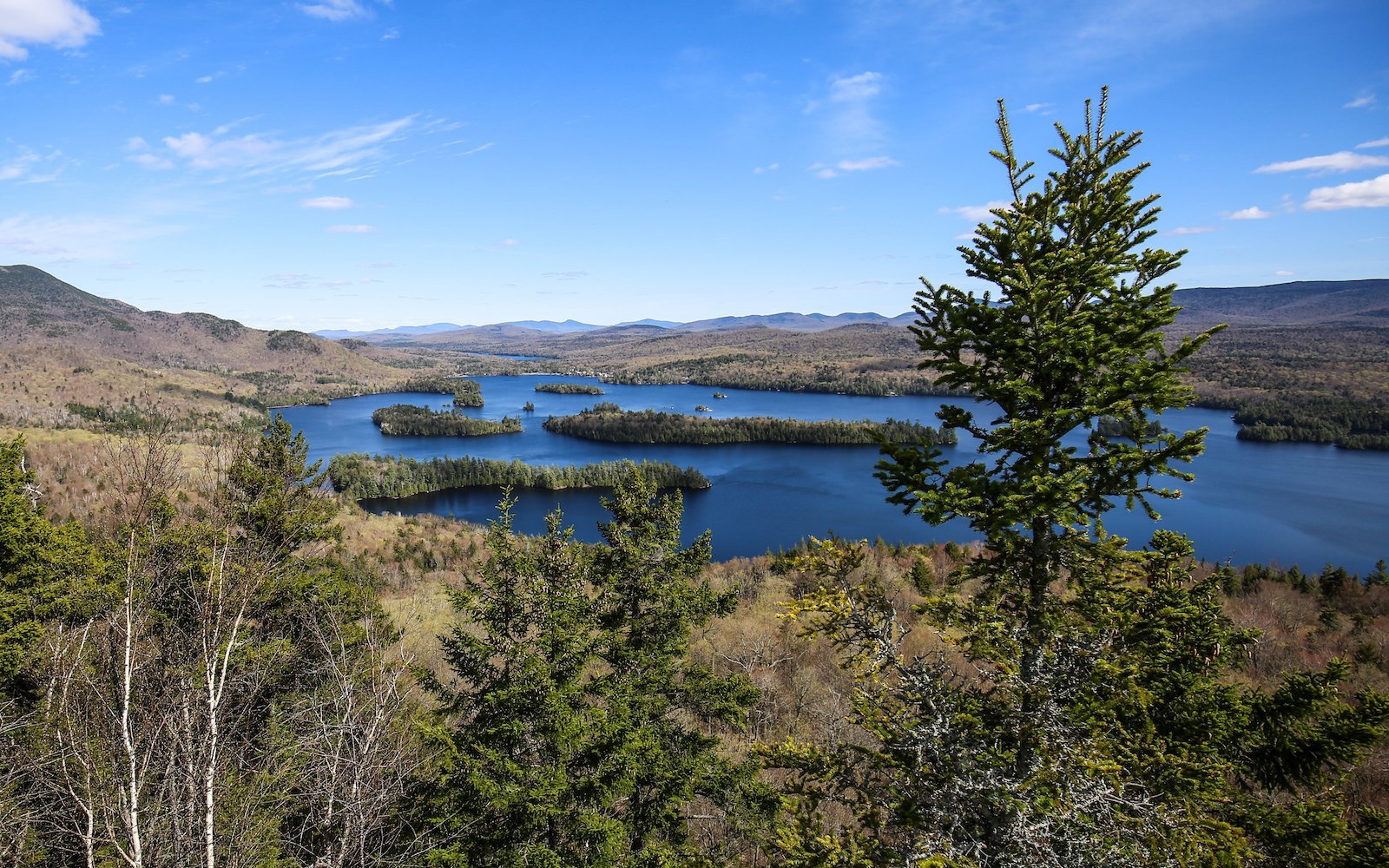 This is another one of those small Adirondack hikes with a great reward. Located at the end of Maple Lodge Road, you'll find the trailhead and parking area for this hike, which is located right next to the Minnowbrook Conference Center in Blue Mountain Lake, NY. Maple Lodge Road is located just south of the Adirondack Museum on Route 30/28N.
Pictured above is PureADK ambassador, Dan Fallon, his wife Shannon, and pup, Lenny.
To start out you'll follow the marked path along a private road, which then turns into a trail after a short distance. After just a short walk, you'll come to a split in the trail. Left will take you over a small footbridge, the clockwise route up to open rock summit of Castle Rock. This is the more common route taken to the top.
Along the way, you'll begin to see the cliffs of Castle Rock on the right side of the trail. At one point, we stopped by a neat spot where there was a cave safe enough to climb up into. Continuing on, the trail starts to become steeper as it approaches the next intersection. From here, you'll keep right and take the final steep ascent up to the Castle Rock overlook. The views from the top are great and provide the perfect vantage point to see Blue Mountain Lake from above.
If you choose, this can be made into a loop hike by taking the trail leading to Upper Sargent Pond. At the first trail junction on the descent, take the right turn which will lead you around the north side of Castle Rock. This will eventually connect back with the main trail next to Chub Pond and the footbridge from the beginning of the hike.
Elevation: 2,480 feet
Distance: 1.5 miles (one-way)
Vertical Gain: ~700 feet
Below you'll find a video from a winter hike we did up Castle Rock several years ago. We didn't end up needing snowshoes for this trip because there was only a light dusting of snow and no base at that point in the season.
---