Day 2 of the Tour du Mont Blanc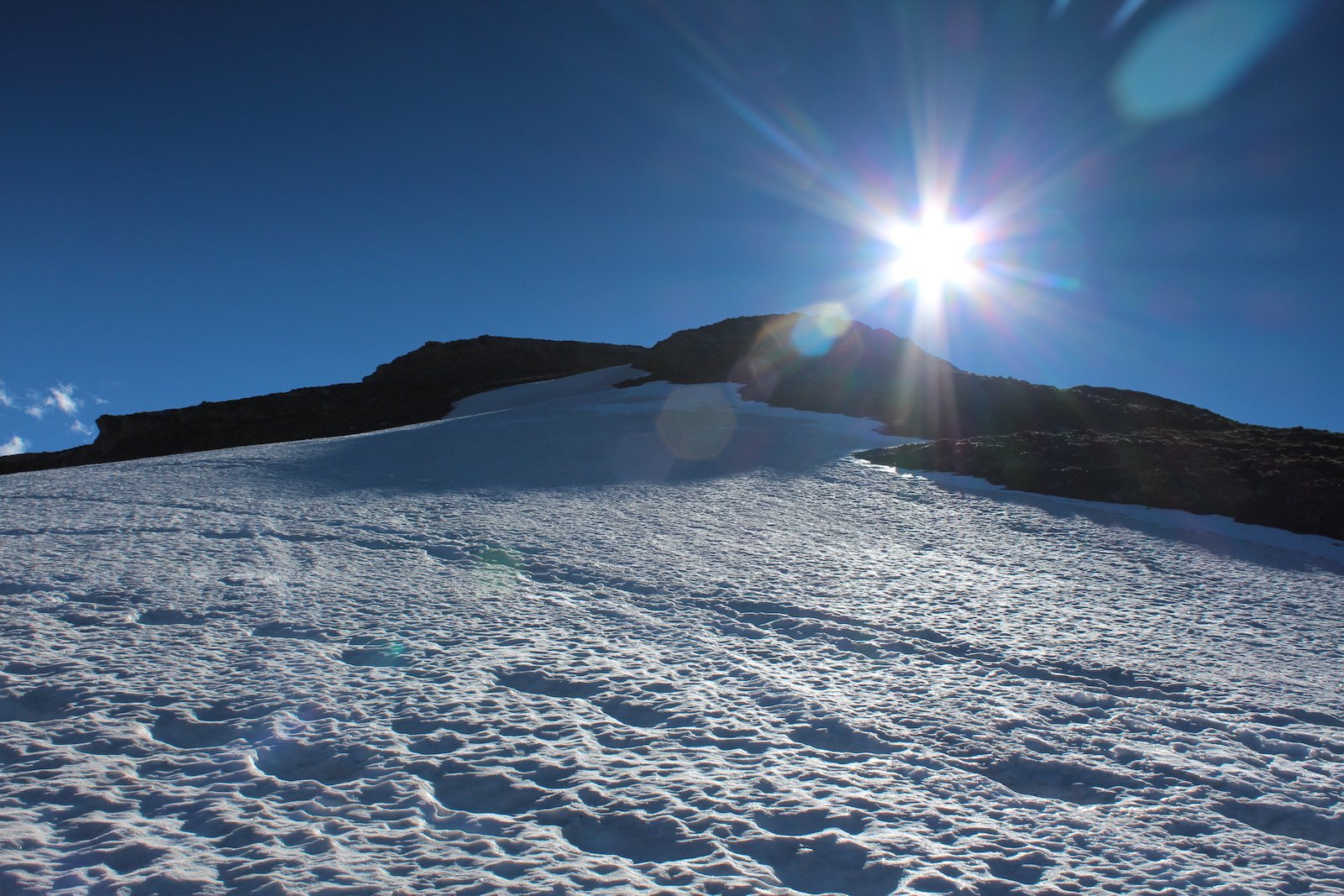 Stage 2: Col de la Croix du Bonhomme, France to Rifugio Elisabetta, Italy
The morning started off with a breakfast of bread and jam, topped off with coffee served in bowls.  Despite a few loud snorers waking us up in the middle of the night, we slept very well and felt incredibly refreshed.  We chatted with Andrea and Graham while fueling up for the day and we met Mark and Shaliev, a father/son duo from Israel.  They had actually sat with us at dinner the night before; we just never got to talk to them! With the sun shining and promising us a beautiful day, we decided to take the TMB variante route, heading toward Col de Seigne via Col de Fours. 
Mentally preparing ourselves for a long day, we left the refuge at 8:30 am and made our way across some remaining snow fields.  We followed the trail and groups in front of us up to Tête Nord des Fours.  While not planned, we were glad that we went out of our way to hike the peak.  The summit offered incredible views of Mont Blanc, the valley that we had hiked during our first stage, and many other beautiful peaks.  We ended up spending a fair amount of time on Tête Nord des Fours, enjoying the views and chatting with Chris from Austin, TX and his two French hiking companions.
Needing to move on, we parted ways with Chris and his friends, heading back to our variant route for the day.  The long descent from the Col du Fours (2,665m) followed ridges of uplifted bedrock, cutting across streams flowing from recent snowmelt, and down into the valley to Ville-des-Glaciers, at 1,789m.  Another 15 minutes down the trail, we finally encountered Refuge Mottets, our lunch destination.  Being 2:00 at this point, we were definitely hungry!  It was at this refuge that we had our first cheese sandwich – for a visual; imagine two thick slices of freshly baked bread with a ½ inch wedge of cheese sandwiched in between.  Add some lettuce and a little mustard concoction, and voila!  Cheese sandwich.  It was delicious and oh so filling.
The next leg of the hike for the day consisted of switch back upon switch back up to the Col de Seigne, which marks the border between France and Italy.  We made our way past some beautiful waterfalls and, after a breather in a grassy meadow, up the last pitch to the Col.  After a quick stop at the border marker on the col, we continued on the trail down into Val Veni looking forward to reaching Rifugio Elisabetta. Cheered on by some trail-side marmots, the descent into Val Veni was beautiful and fairly relaxing until we saw Rifugio Elisabetta. 
Already exhausted at this point in our very long day, we looked up at the rifugio and realized we still had one more ascent.  After what seemed like a very long 5-10 minutes, we made it to our resting place for the night at around 6:00.  It probably wasn't that bad of an ascent, we were both just worn out and thirsty at that point in the day.  Elisabetta has quite the location though, nestled high on a hill and beneath some breath-taking glaciers with cascading waterfalls, so our weariness was quickly forgotten once we reached the rifugio.
Upon claiming our beds in the very large dorm room and learning that we would be eating with the second round of diners later in the evening, we purchased some drinks and wandered outside in our flip flops to enjoy the views.  Following a well-deserved shower, we sat out behind the rifugio and planned our next day until dinner was ready at 8:15.  Dinner was once again delicious, offering pizza, a plate of risotto with spinach, pork, and a piece of chocolate cake.  During the meal, we ended up conversing with a couple from Germany who were actually mountain biking the TMB – brave souls!  Filled to the brim after dinner, we chatted with Chris, who ended up staying in the dorm for the night as well, before it was off to bed for the night.  And yes, there were more snorers.
Please feel free to email us at pureadk@gmail.com if you have any further questions about our trip.
To continue reading about our trek:
Day 3: Rifugio Elisabetta, Italy to Courmayeur, Italy
---