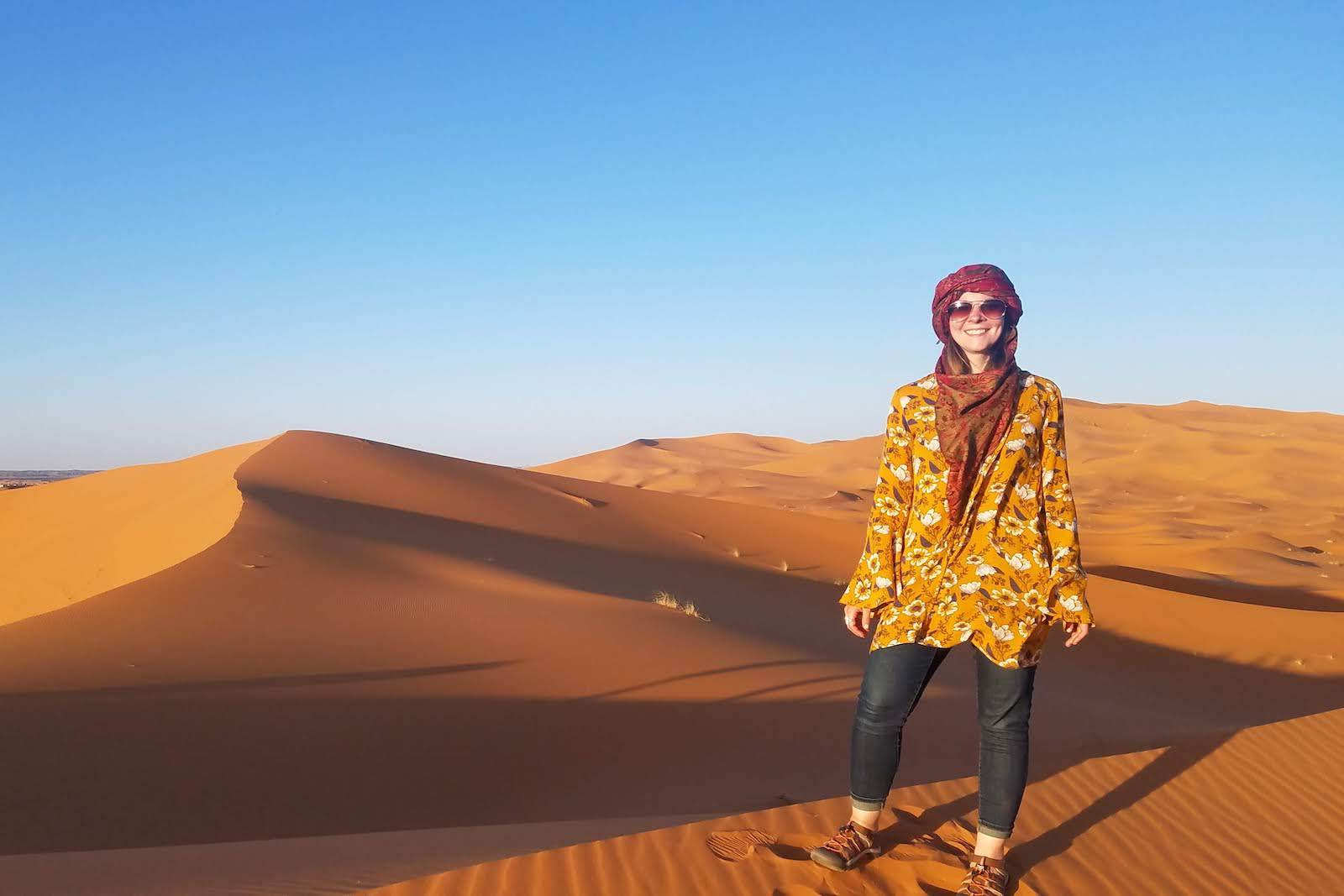 Deserts, Mountain Passes, Kasbahs, and Medinas
Story By: Michael Fitzsimmons
Based out of Fairport, NY, Michael and his wife Amelia have been PureADK customers for the last couple of years and enjoy making trips to the Adirondacks. When Michael sent us a photo of him wearing his hat on their trip to Morocco, we reached out to him to see if he and Amelia would be interested in sharing their experience. Below is a day-by-day recap of their journey: 
Day 1: Rochester, NY to Casablanca
We started our adventure rumbling up and down in four countries, three continents, two missed connections, and one emergency medical diversion to a dreary St. John's Airport, the last runway large enough to accommodate international jetliners departing for long transatlantic flights. As we sat on the fogged in, rainy runway in St. John, we were certain our Moroccan adventure might be over before it even started. Almost as quickly as we landed, medical staff boarded the plane to attend to a very ill woman who lay sprawled across the seats convulsing and vomiting... The clock ticked off. We knew we'd missed our first connection, but with travel like this, we've grown to accept the punches, as best we can, and roll with the flow. Whether we ended up in our intended destination of Morocco or somewhere spontaneous, we were committed to going somewhere. We had our backpacks and each other, and we were pushing on. This is international travel. 
Thankfully, about 90 minutes after landing in St. John, the plane roared back to life and the captain announced we were fueled and ready to head to Paris. A few sleepless hours later, we landed safely in Paris, and after quite the hustle, we negotiated our way onto, what seemed to be, the last plane from Paris to Casablanca that evening. The cab ride from the airport to our lodging, under any other circumstances, would have been terrifying as traffic lights and lanes carry less (if any!) significance in Morocco than they do in the States, but we were thankful to have (finally!) arrived at the Morrocan House Hotel in Casablanca to a warm greeting just before midnight.
Day 2: Casablanca to Fes
Our accommodations were suitable for our quick evening sleep, and we ate breakfast quickly before carrying our bags down to our van the next morning. Our group slowly trickled down from breakfast, and we shared greetings and niceties. We had wonderful strangers from Pennsylvania, New Zealand, New York, Utah, Australia, and the UK. Our guide Mustapha, a local originally from the mountainous Berber region now living near Marrakech, immediately made us all feel at home in his country. We loaded into the van and headed to Fes.
Our first stop on the way to Fes was Volubilis, the site of stunning ruins dating back to the third century BC. Said to be the ancient capital of Mauritania, it's a place any history buffs, especially Roman history buffs, should read up on. It was stunning. Outside of a museum, I'm not sure I've ever seen anything so old and still so well preserved. The mosaics remained vivid and stunning.
After finishing our tour of the ruins, we headed to lunch at the local G Adventures foundation. Lunch was prepared by local women, and the profits of the meal supported various programs that directly help local women and children gain skills to earn a livelihood that would otherwise be unavailable to them.
The meal consisted of Moroccan salads and chicken tagine, a meal we'd grow to know intimately as it was the primary option at nearly every restaurant and hotel. It was here that we also had our first taste of  "Morrocan Whiskey"(slang for delicious mint tea) poured from high above the table as a sign of respect and welcoming by every host we encountered.
After lunch, we continued the drive through the agriculturally rich countryside, arriving in Fes late in the afternoon where we were able to catch up on some relaxation before dinner. Dinner was filled with traditional performances from fire-breathing belly dancers, musicians, and even a magician. While the room was filled with dozens of other tourists, the ornate, traditional riad, and local fare transported us back in time.  It was that night that our group of strangers became family. Cozied up at our table in the corner, sipping our drinks, and chatting for hours, we soaked in our surroundings and slipped up to the rooftop terrace to watch as the sun dipped down behind the rustic outline of the ancient medina below.
Day 3: Fes Medina & A Little Gladiator
Fes was the only place we stayed for two nights, which is probably why it holds such a special place in my heart compared to everywhere else on this trip. We spent the first half of the day wandering the labyrinth of streets in the Medina. I thought for sure I'd want to stop in every souk (the name for a storefront in Morocco's Medinas), but I really didn't shop. I, along with my fellow travelers, just seemed hypnotized by the maze of streets, the smells, and the colors that overwhelmed our senses.
Many of us were low in confidence when it came to bartering, a required skill when shopping in Morocco. It was fine though. This was clearly a trip where pictures and purchases would never do justice to the beauty this country had to offer.
After finding our way out of the medina, a handful of us hopped in the van for a tour of the imperial city of Meknes, better known to westerners for its scene from Russell Crowe's Gladiator. The site was originally built during the rule Sultan Moulay Ismail (1645 -1727) as a granary and royal stable capable of housing 12,000 horses and nearly 20 years worth of grains. The thick walls, arched ceilings, and underflow water systems were truly architectural delights, and if nothing else, Meknes offered a welcome respite from the chaos of the Fes medina.
After the tour of Meknes, we headed back to the hotel to rest up before our nine-hour drive to the Sahara bright and early the next morning.
Day 4: Finally, the Sahara & Our Camels!
Today may have been the most excited any of us have ever been for a nine-hour ride in the car. Granted, when a sunset camel ride through the desert is what awaits you at the end of the drive, I suppose the excitement is understandable. The drive itself flew by. The bulk of the ride was through the Middle Atlas Mountains, gorgeous terrain, albeit nothing when compared to the stunning views to come through the Tizi n'Tichka of the High Atlas Mountains, though still beautiful in their own right.
We arrived at what felt like a real oasis on the edge of the sand dunes of the Sahara. Our hotel resembled small mud and straw made castle surrounding a perfectly situated swimming pool, where most of us passed the remainder of the afternoon until our desert journey began. Our berber shepherds greeted us and guided us to the camels, selecting the appropriate camel for each of us based on size and temperament. It seemed these gentlemen knew their livelihood depended entirely on the health and wellness of the camels, and they were treated reasonably well. Once all of us were atop the deceptively tall even-toed ungulates, we began our 30-minute ride into the desert. Slowly, the large dunes swallowed us in. Knowing full well we were just on the edge of the desert, it was easy to imagine our caravan were deep in the dunes. It was a feeling and view words and pictures will never adequately be able to express… the reddish camel-colored sand dunes towered over us as we wound our way through them to watch the sunset. 
At the base of one of the largest dunes, we dismounted and left the camels to rest, as we continued the rest of the way on foot. Hot, winded, and with shoes full of sand, we reached the top. The climb was worth it. The sunset was incredible, filled with oranges and reds not frequently seen in New York. Even more breathtaking were the changing colors of the sand dunes themselves, from yellow to orange and finally to a deep red, contrasting beautifully against the dusky blue sky.
And then, as if someone flipped a switch, the stars popped out overhead. As an amateur astronomer, I was knocked backwards. I've lived many beautiful places with relatively dark skies, but never, have I seen a sky like this. It was as though someone had shaken a snowglobe of glittering stars and let them gently fall and twinkle all around us. I'm not sure if it was tears or chills, but as I stood shoulder to shoulder with Amelia, my wife, gazing up at the stars, I knew this was my infinite moment. Another of our travelers stood to my left, also mesmerized, seeing the cloudiness of the Milky Way for the first time as shooting stars wove their way through the night sky. As far as I was concerned, we could have been the only people on the planet at that moment. Nobody was going to interrupt this feeling, at least for a little while. 
Finally, we conceded we had to head to bed as the desert is full of the types of snakes and scorpions none of us wanted to share a sleeping bag with. What a day though.
Day 5: New York is Gorges, Morocco is also Gorges
In the morning, we shared yet another simple, but delicious, breakfast as I again pumped myself full of as much fresh orange juice as humanly possible before heading out on a short 4x4 desert excursion. Throughout the excursion, we stopped at many places, but the highlight for me was drinking tea with a local nomadic Berber family in their temporary camp. I would have loved to stay with them. They were so kind and welcoming. Alas, we could not stay longer, and it was time to pack up and head to Todra Gorge.
Finally, we arrived in the Gorge. It felt a little like Ithaca, if you've spent much time around any of their gorges, except there were vendors and restaurants set up, quite literally, in the middle of the natural spring.  It is from this spring and gorge that the locals developed an elaborate system to irrigate their crops in an otherwise arid desert climate. This was also our first opportunity to hike. It was short, maybe a mile or two, but being surrounded by the gorges, old Kasbahs, and farmland was a perfectly timed balm to soothe a tired soul after the long, slightly stressful trek from the desert.
I spent a good part of the hike getting to know one of my fellow travelers from New Zealand. She is on a year sabbatical from her employer (I wish America would jump on this bandwagon!) and her next destination is Nepal, where she will empower local women with financial education. I'm eager to watch the rest of her journey unfold.
We shared yet another delightful dinner together as a group and drifted off to sleep.
Day 6: Ait Ben Haddou Kasbah: More Gladiator and Game of Thrones or Lawrence of Arabia?
The Ait Ben Haddou Kasbah might be equivalent to something like America's Mount Vernon or Mount Rushmore. It's about as touristy as you can get in the country, but it's still pretty darn cool. It's cool enough to be featured in Gladiator, Game of Thrones, and Lawrence of Arabia, depending on your generation.
It was also one of my favorite places on the tour that I really wasn't expecting to like as much. It was here that I purchased a small, handmade rug from a local women's co-op just across the river from the Kasbah. It was 700 Moroccan Dirham, or approximately $70 USD.
I'm still not sure if this was a good price in the scheme of things, but it's a price I am content paying for such a beautiful rug to keep as a memento of this trip. Furthermore, the fact it was a place where women from the local tribes could come and sell their work and benefit directly, rather than having the money just go to the men was appealing. Morocco is as progressive as any nation in the Arab world, but it is admittedly still a society that favors men. The rug now sits next to my bed so each morning as I rise, I am physically reminded of this trip and my desire to continue to travel and extend my comfort zone. We are each given a finite amount of time; we owe it to ourselves to see and do what we want in this world. This rug is my small, sentimental reminder.
Day 7: Yallah! Onto Marrakech
We departed Ait Ben Haddou and spent the day zig-zagging through the High Atlas Mountains, up and over the Tizi n'Tichka Pass. Tizi n'Tichka actually means Difficult Pass, which is not at all surprising as I spent the majority of the drive nauseated by the seemingly endless switchbacks and sheer drops to either side of this topsy turvy mountain pass. At the start of our trip, I was most excited for the desert and for Marrakech, but by the time we arrived in Marrakech I was burnt out. We took a tour of the medina, which I'm sure under less tired circumstances would've been amazing, but I had my medina fix by now.
The tour ended at the Jemaa el-Fna Market Square, a really interesting open-air market full of all kinds of people watching and impressive street food. Unfortunately, it's also full of snake charmers and monkey handlers, both of which seemed fairly cruel, unlike our camel caretakers, and I just wasn't interested. A handful of us opted to head back to the pool while another group opted to head back into the medina for some sight-seeing and people watching. Those of us heading back, opted for the public transport bus, an interesting experience in its own right, but no worse than any experience I've had on the DC Metro.
Finally, as night fell, we settled in for one last group dinner. Nearly out of money, Amelia and I shared dinner and chatted the night away one last time with the wonderful people in our group from across the planet. Those of us with early flights headed out first, sharing hugs, and maybe even a couple of tears, as we'd grown close over these life-changing few days. Together we shared a lot of funny, intimate, and incredible experiences. I hope to see them all, and our humble and kind tour guide Mustapha, again.
Day 8: Home Sweet Home
Our travel home was incredibly uneventful, boring, and right on time (phew!) Certainly a note worth making after our all too eventful travel to Morocco.
Thanks for reading!
---