Exploring the PNW w/ ROAMERICA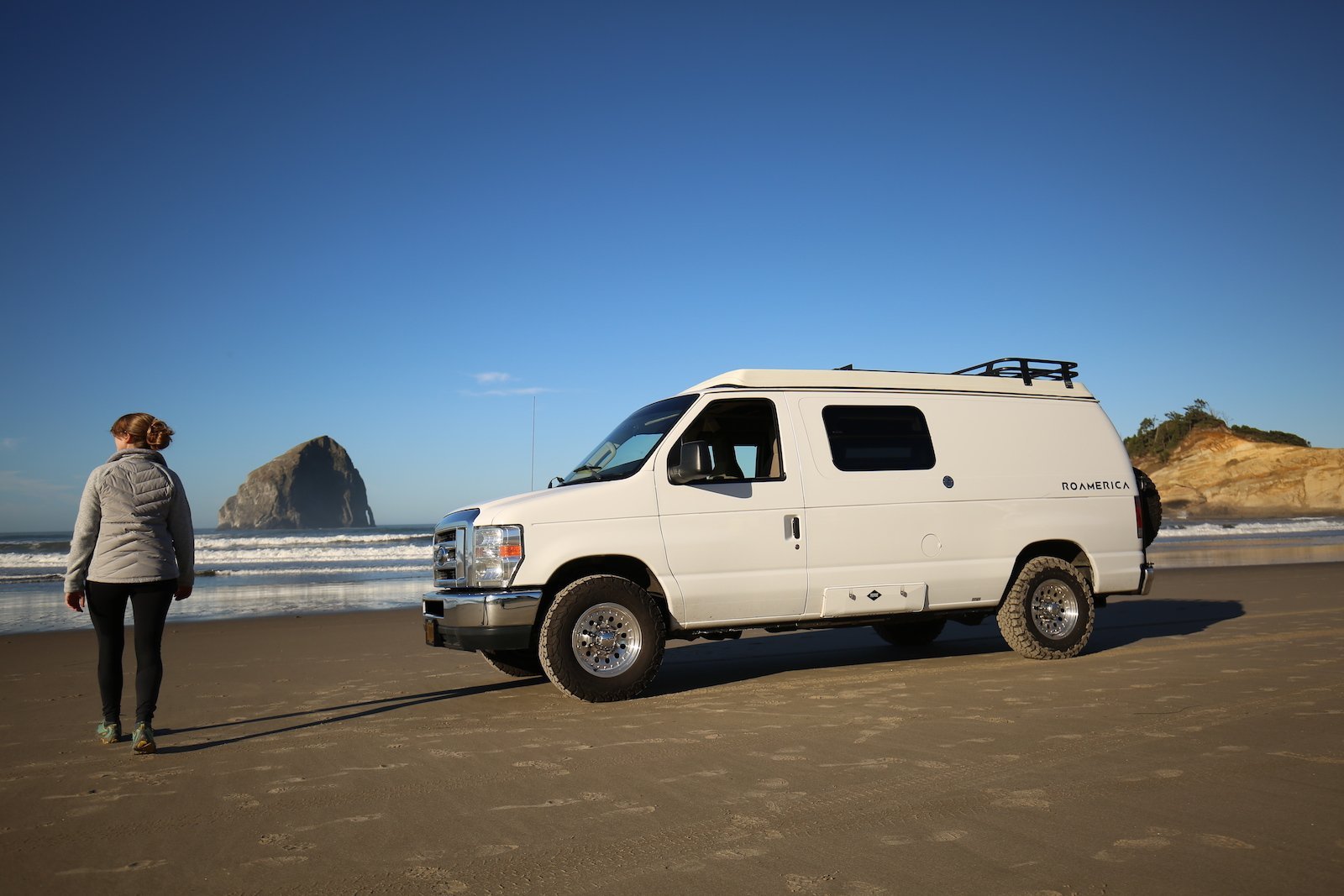 Oregon and the Pacific Northwest has been on our "must-see" list for a long time, so when our friends moved to Portland, it seemed like we finally had a perfect excuse to make the trip!  When Bryce and Paul announced that they had purchased a campervan on the west coast, we got serious with our planning and started brainstorming ideas about how to make a road trip happen.  Evan came across the campervan rental company ROAMERICA and, after perusing their website, we were sold!
We planned our trip for October, knowing well and good that there was a great chance that we would encounter some iffy weather.  We were confident that no matter what, we would be with great company and have warm shelter each night, so we would make the best of whatever Mother Nature wanted to throw at us.  Leading up to the trip, we kept an eye on the forecast and couldn't believe what we were seeing - sunny skies and decently warm temps!  After attending an awesome wedding in Boston, we headed to Logan to catch our direct flight to Portland (not a luxury often found out of our smaller Upstate NY airports).  We arrived on the west coast at around 8:00pm to an enthusiastic Bryce and Paul, who were much more awake than me and Evan!  They whisked us from the airport to Wayfinder Brewery for dinner and our first tastes of some Portland brews.
Day 1 – Portland to Cape Lookout (OR)
The next morning, we made our way downtown to make a few pit stops before picking up our van.  First and foremost, we ventured to Voodoo Doughnut, a place that is about as well known for its kooky atmosphere as much as the delicious doughnuts.  We grabbed a pink box and stocked up on some Pot Holes, Voodoo Dolls, Viscous Hibiscus, and other fun flavors.  Our next stop was Stumptown Coffee for some high-tess Portland coffee to really make us bounce off the walls.  After filling ourselves with sugar and caffeine, we made the quick trip over to the ROAMERICA HQ, conveniently located close to the airport.  We probably overwhelmed Gretchen, Taylor, and Mike - the ROAMERICA crew - with our sugar and excitement-fueled high, but we couldn't help it!  Bryce had put together an adventure-filled itinerary for us, and once we saw the van that would be our home for the next week, we were very ready to be on the road.
After running through campervan how-to's and getting some last minute advice on places to see from the ROAMERICA crew, we packed up our gear, the dogs (Tonto and Finn), and began driving toward the Oregon coast.  Ecola State Park was our first stop, where we found an overlook that gave us an iconic view of Cannon Beach, a scene that Goonies fans will surely recognize.  
From there, we hopped on Coastal Highway 101 and continued the journey south – stopping near Bay City to watch for some whales and visiting the Tillamook Cheese Factory to grab some excellent local cheese samples (plus a few full blocks to enjoy throughout the week).  We managed to catch the tail end of sunset at Cape Lookout, where we camped for the night.
Day 2 – Cape Lookout to Cape Blanco (OR)
We woke up after a night of sound sleep in the cozy camper to the sound of crashing waves.  We enjoyed some breakfast and were about to head out when Evan told us there was a sea lion on the beach!  We watched it for a while before continuing further south along the coast.  Cape Kiwanda State Natural Area was the first stop of the day – we decided to bring the campervan out onto the beach.  We almost didn't make it much further beyond the end of the pavement, but managed to avoid getting completely stuck thanks to Evan's driving skills and the brute strength of me, Paul, and Bryce.  Hearts definitely got beating a little faster than normal for a little while!  From one of the Pacific City beaches, we walked up a dune to get some awesome views of the coast, the nearby haystacks, and the surfers taking advantage of the waves below.
The rest of the day was a blur of cool spots - each destination unique and different from the rest.  First was Devil's Punchbowl, a hollow rock formation shaped like a huge punch bowl that was shaped over time by wave action.  Heading into the Cape Perpetua Scenic Area in the Siuslaw National Forest, next up was Devil's Churn – a wave-carved inlet located just south of Yachats.  We spent an hour or so just watching the crashing waves churn and slam up the inlet, sending some serious splashes up into the air.  It's thought that the narrow chasm started as a fracture or collapsed lava tube in the volcanic bedrock.  After forcing ourselves to keep moving and not just watch waves for the rest of the day, we took the winding road up to the Cape Perpetua Overlook, one of the highest car-accessible points on the Oregon coast.  Just a short walk from the parking area is a small stone building that offers fantastic views of the coastline.  We spotted a few whales hanging out in the area and soaked in the hazy coastal scene. Since it was high tide, we made a quick pit stop to check out the Spouting Horn next to Thor's Well - we witnessed impressive spouts of saltwater while there.
Getting later in the afternoon, we decided to keep moving and try to catch the sunset on the dunes at Honeyman State Park.  I wish we had more time to spend playing in and exploring the dunes - that landscape was incredible!  We packed our bags with some blankets and beers, got the dogs out, and starting trudging through sand until we found the perfect sunset-viewing spot.  The sun always seems to set much faster than you want it to, especially this time of year.  After sufficiently enjoying the last bit of warmth held in the sands of the dunes, we wandered back to car and after much deliberation (and learning that 7 Devils Brewery is closed on Tuesdays), decided to head to Broken Anchor Bar and Grill in Bandon for dinner.  We ended the day at Cape Blanco State Park, where we camped for the night.
Day 3 – Cape Blanco (OR) to Prairie Creek (CA)
Ah, the last morning that Evan and I took showers.  Yes, from Day 3 on, we embraced the dirtbag lifestyle for the remainder of the trip and we subsequently discovered that 6 days is definitely stretching our comfort zone for not showering.  After a relaxing morning at camp, we tried to go see the lighthouse at Cape Blanco, only to find it completely fogged in.  Not wanting to wait to see if the fog would clear, we continued trekking south on 101 to the Port Orford area where we stopped to walk on some incredible beaches right along the highway.  The coast in this area of Oregon started to take on a bit of a different feel - a little more rugged and wild.  
The Samuel H. Boardman scenic corridor was our next destination.  Bryce lead us to an incredible spot that let us garner a true appreciation for the rugged coast of Southern Oregon.  This was another place that the four of us just sat on some rocks, soaked up the sun, and watched the waves crash and the kelp sway.  
Content with the time spent at our perch, we departed, driving highway 101 into Northern California, where we began our journey into the land of the redwoods.  Ever since seeing The Gnome-Mobile as a young child (never seen it?  It has a SUPER catchy song guaranteed to get stuck in your head), I have wanted to see the redwoods in person.  We had our first redwood sightings after driving through Crescent City and really only got a taste since we got stuck in construction traffic for a while, cutting our daylight short.  We had hoped to stay at Gold Bluffs, but the road was closed, so we ended up getting a campsite at Prairie Creek Redwoods State Park, which ended up working out very well!  Our site was quite literally amongst the giant trees and we saw some bull elk grazing in the meadow right next to the campground.  Some burritos and nachos (the Bryce special) over the campfire topped off an already wonderful day.
Day 4 – Prairie Creek (CA) to Crater Lake (OR)
Since we had arrived right around sunset the night before, we woke up to the sunlight pouring into our camper through the beastly trees and finally got to take in our surroundings.  We got some coffee going in the percolator and so began the day of awe.  We left the campground, spotting our elk friends on our way out, and began the drive through the Newton B. Drury Scenic Parkway, traveling through some old growth redwood stands.  We spent a little time wandering along a short trail where we truly got a feel for how big the trees really are.  
Continuing north, our main goal for the day was to find the Damnation Creek Trail in the Del Norte Coast Redwoods State Park.  Mike (part of the ROAMERICA crew) told us this was one of his all-time favorite trails, so we knew we were in for a treat.  Once we found the trailhead, we began the switchback journey through old growth redwoods and an understory of rhododendron and huckleberry.  Evan spotted an owl sitting up on one of the branches of the beastly trees that kept a close watch on us all as we passed by.  With an 1,100-ft elevation drop, we knew that while the going down would be fine, we were in for a nice challenge on the way back.  Being on a west-facing hill next to the Pacific, as we descended closer to the ocean the trail was shrouded in fog from the marine layer, really making you feel like you've stepped back into some prehistoric time.  We reached the beach at low tide, so we settled in on a few rocks to enjoy the views (what we could see through the fog) and some Tillamook cheese and crackers that we had stowed in our packs.  On the way back up the trail, we had a chance encounter with a couple that Bryce knew - they saw two vans at the trailhead, knew Bryce was in the area, and decided to see if they could track us down - small world!  Chatting with them certainly made the hike back up the switchbacks much more enjoyable.
Heading back inland after our hike, we traveled through the Jedediah Smith Redwood State Park - another road through stands of the ancient trees.  Apparently this park contains 7% of all of the old-growth redwoods left in the world - just crazy!  We wound our way through the park, not stopping much along the way since the daylight in the forest disappears even faster than normal.  Emerging on the other side, we made our way back into Oregon where we stopped for In-N-Out Burger in Medford - an experience we were told we couldn't miss out on while on the west coast.  For fast food, the burgers were pretty good!  Of course, I had to try it "animal style" to get the full experience.  After our bite to eat, we stocked up on some groceries and then ventured on toward Crater Lake to find a camping spot for the night.  The stars that night were unforgettable - the campfire kept us warm while we sat in our camp chairs, watched for shooting stars, and enjoyed some story-telling.
Day 5 – Crater Lake to Bend (OR)
The next morning, after a photoshoot with some wax lips and a moustache (which Bryce claims she had on hand for Halloween… I'm not so sure I believe her), we made our way straight to Crater Lake to check out the area before too many other people arrived.  Our early start proved to be worth it!  
After stopping in the park headquarters to check out the souvenirs and purchase our pass, we drove up the side of the crater to the Rim Village.  Only the West Rim Drive was open that day, so we decided to really take our time and enjoy the area.  From the Rim Village, we set out on the trail toward Garfield Peak.  Our first glimpse of the lake was surreal.  Once again, we lucked out - the winds were calm and the temperatures were pretty mild for a season when snow is often found starting to pile up.  Because of this, the lake was like glass - not a ripple to be seen!  The mirror effect was in full force, and it was spectacular.  
We stopped walking after a little way to scope out one of the lookout points, which we ended up sitting at for a good while.  When we finally decided that it was time to keep moving, we started to work our way toward to the north entrance, making stops at the picnic area near The Watchman and Merriam Point.  Each stop offered us a different view of the lake - each spot as awe-inspiring as the next.  Having spent a good part of our day at Crater Lake, we hit the road and started the trek to Bend.  
Before heading to Bend to scope out some breweries, Bryce and Paul took us on a side tour to the Newberry National Volcanic Monument, in the Deschutes National Forest.  Arriving before sunset, we began the bumpy and tight-turned drive (at least with a campervan) up Paulina Peak - a seemingly hidden gem.  From the summit of Paulina Peak (7,985 ft.), we were afforded incredible views of the Cascades, the Newberry Caldera and across the High Desert of Central Oregon.  
One of the coolest things about this volcanic area was being able to see the cinder cones and vents, basalt flows, and flows of obsidian that are a constant reminder of the geological history of the area.  Before the sun set, we managed to find one of the obsidian flows and hiked part of a trail that let you literally walk on top of the flow.  Being surrounded by towering walls of shiny black obsidian was quite a new experience!
With our daylight gone, we found our way to Crux Brewery in the Old Mill District of Bend for dinner and a flight.  With an ample selection of craft beers and some great menu options, Crux was a great way to end the day.
Day 6 – Bend to Mount Hood (OR)
We ended up camping just outside of Bend and upon waking, we enjoyed some coffee while making plans for the day.  We started out with a quick drive to Sparks Lake on the other side of Bend, where we took a walk through some snow alongside the alpine lake and had beautiful views of South Sister and Broken Top, both stratovolcanoes that are part of the Cascade Volcanic Arc.  This trail finally gave us a reason to use the microspikes that we had lugged with us from home!
After passing back through Bend - just in time to see a surfer taking on some whitewater in the Deschutes River - we continued north to Smith Rock State Park.  By the time we arrived, the parking lot was completely full and the day had warmed up to around 70°F - quite the change of scenery from the morning.  The reddish gold-hued rock, compressed volcanic ash formed 30 million years ago, makes you almost feel more like you're in Utah than in Oregon.  After finally finding parking when Bryce quite literally hunted down some climbers that were heading back to their truck, we grabbed the dogs and started the trek up the Misery Ridge Trail.  
Following the switchbacks to the summit that lies about 700-ft. above the Crooked River, we were rewarded with the Cascades in the distance and close views of Monkey Face - a popular rock formation that challenges the most experienced climbers.  The sage and juniper along the trails provide a unique treat for your nose and all of the crags are certainly a sight to see - Smith Rock was a great stop on our journey.
Our goal for the night was to make it to Frog Lake in the Mount Hood area.  Leaving Smith Rock we started the drive north and while on the highway going through the Warm Springs Indian Reservation, we saw the makings of a beautiful sunset and decided to make an impromptu roadside dinner.  
Putting our camper's kitchen to the full test, we poured some drinks, sliced our last brick of Tillamook cheese, and made an all-out spaghetti meal.  With Mount Jefferson stealing the show in the background, we set up our handy camp table, gathered our chairs around and enjoyed some fine dining with excellent company.  Hearts and bellies full, we packed up and continued on to Frog Lake Campground, just south of Government Camp.  While the services were closed for the season, the sites were still available on a first come, first serve basis.  We found ourselves a nice spot next to the lake, popped the camper top, and settled in for the evening, our last on the road with Bryce and Paul.
Day 7 – Mount Hood to Hood River (OR)
On our last full day with the ROAMERICA van, we set out to explore around Mount Hood.  Our first stop was Trillium Lake to take in the views of the massive mountain.  Next up was the iconic Timberline Lodge - where we wandered around the lodge, taking some time to relax on the couches, read some old issues of some skiing magazines, and daydream about ski season.  For us east coasters, it was strange to see people hitting the slopes at the end of October!  The lodge itself is a popular stop for many through-hikers of the Pacific Crest Trail (PCT) where they re-immerse themselves into the social world for a little bit, often frequenting the well-known Blue Ox Bar that is tucked in a cozy corner of the lodge.  
To get yet a different perspective of Mount Hood, Bryce took us to the Top Spur Trailhead, where we connected with part of the PCT and the Timberline Trail via the top logging spur on the flanks of Bald Mountain.  Hiking on the Top Spur trail brought us through some pretty spectacular old-growth fir forests with trees that towered above us.  We climbed onward until we walked out of the forest to find Mount Hood front and center in our sightline.  With yet another clear and unseasonably warm day, we spent time at the lookout enjoying the views and soaking in some sun before we started our trek back to the vans.    
After parting ways with Bryce and Paul - Paul had to go back to work the next day (Monday already, the week flew by!) - we drove around Mount Hood, and along the Hood River scouting out campsites along the way.  That night we ended up heading into Hood River to meet up with Gretchen, Taylor, and baby Piper (adorable!!) at KickStand Coffee & Kitchen - a hip little joint with delicious food.  It was great fun to fill them in on our trip and just hang out for a bit - and even though we hadn't showered in days, Gretchen & Taylor were kind enough to pretend that they didn't notice.  Our last night in the van was spent at a camping spot where we could hear the rushing waters of the Hood River all night.
Day 8 – Hood River to Portland (OR)
Before we left the Mount Hood area, we gave the van a thorough cleaning and "moved out".  It's amazing how you can really make a place a home in a week's time!  Though we tried to pack pretty precisely, we still managed to bring a lot of gear and then also managed to spread that gear all throughout the van.  Our van had a TON of storage, which made it really easy for everything to have a place and make us feel pretty organized.  Once we were all packed up, we started heading back to Portland.  We left the van with Mike at the ROAMERICA HQ and headed out with Bryce to check out Panther Creek Falls in southern Washington - she knows all of the great spots!  We really lucked out at Panther Creek - we had the place to ourselves!  Evan could have spent all day there photographing the unique falls.  The pristine creek's path directs the flowing water over the drop in a two-tier plunge, with some of the water dropping directly to the pool below and some spilling in fine rivulets down a mossy rock face.
When we returned to Bryce & Paul's apartment, it was finally time for that shower, and boy did it feel wonderful.  That night we explored the Division Street area in Portland - eating some delicious Indian food at Bollywood Theater and ice cream taste testing our little hearts out at Salt & Straw.  The atmosphere at Bollywood was a lot of fun - with lanterns for lighting, Bollywood movies projected on the wall, and the smell of fantastic spices - you really can't go too wrong!  Salt & Straw was like a dream come true for Evan (a self-described ice cream fanatic).  An ice cream shop that experiments with unique flavor combinations, Salt & Straw's model is a "try anything and everything until you find what you like" kind of thing.  Being so close to Halloween while we were there, we got to try some especially fun flavors including one that included real bugs!  I ended up with a cone of Honey Lavender, while Evan went with Chocolate Gooey Brownie.  What a way to top off an unforgettable trip.  So good.  
If you are feeling inspired to go on your own campervan adventure in the Pacific Northwest, we were also provided with a promo code to share with our readers. If you are interested in booking a ROAMERICA campervan, enter the code "ADK+ROAM" or mention PureADK when booking to get 10% off your rental.
Special thanks to ROAMERICA for providing us with a complimentary rental. As always, all opinions are our own.
---