Exploring the Southern Finger Lakes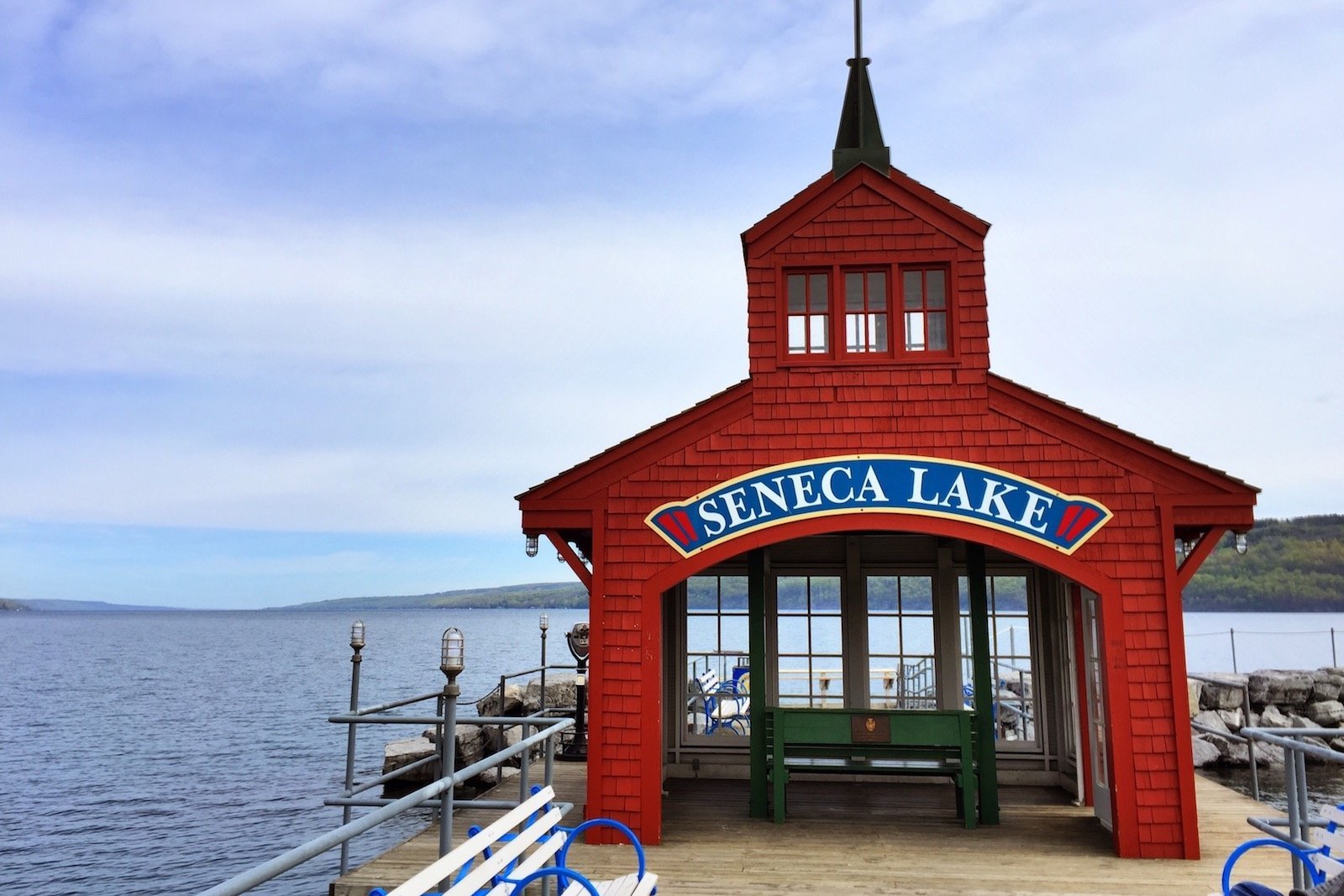 In the spring of 2016, I (Evan… sorry Hilary!) had a chance to explore the southern Finger Lakes region with Jenna & Micah from WanderTheMap.com. Following our cabin weekend in the Adirondacks, we made our way towards Elmira, NY to kick-off a week of traveling around the towns and villages that make up the southern tier of New York state. 
---
Day 1: Harris Hill – National Soaring Museum
We kicked things off at the National Soaring Museum on Harris Hill. While the morning was too windy to go for a glider ride, we did tour the museum to learn a bit about the history of flight.  
Kayak Tour on the Chemung River
Following the National Soaring Museum, we made our way to Bottchers Landing along the Chemung River, where we met up with Aaron Myers, co-owner of Southern Tier Kayak Tours along with his wife, Sarah.  We hopped in some kayaks and Aaron guided us down the Chemung, telling us stories and providing us with some great environmental education along the way.  The scenery along the river was beautiful, full of the rolling glacially-formed hills that the Finger Lakes region is so well-known for.  
Mark Twain Study & Gravesite
For our next stop, we ventured over to Elmira College and Woodlawn Cemetery, where we scoped out some Mark Twain historical sites.  Did you know that Mark Twain actually wrote some of his greatest works, including The Adventures Tom Sawyer and Adventures of Huckleberry Finn, while summering with his in-laws in Elmira?  His study was moved from its original location on a nearby farm to Elmira College in the early 50's to make it accessible to the public.  Woodlawn Cemetery is the famous author's final resting place, where he was reunited with his wife and family.  
Hill Top Inn  
Our last stop for the day was the Hill Top Inn Restaurant, where we enjoyed a delicious meal overlooking some breathtaking valley views.  It is said that the Chemung Valley views from a spot right up the road inspired Mark Twain as he wrote some of his classics.  
---
Day 2: The Rockwell Museum
On Tuesday, we made our way to the Corning Area, where we began our day with a trip to the Rockwell Museum, the only Smithsonian Affiliate museum in upstate New York.  Located in the Old City Hall, this gem of a museum featured a collection of Traditional Western and Contemporary Native American Art that allows visitors to experience how people, land, and ideas have come to shape America.  The Rockwell is a vibrant center of the Corning community that is well worth a visit.  In honor of the National Parks Service centennial, one of the exhibits on display while we were visiting was the "Art of the Parks: Celebrating 100 Years of the National Park Service" which included pieces that documented America's majesty in the early years of park establishment and used art to influence preservation movements.
Corning Museum of Glass
Stop number two for the day was the Corning Museum of Glass, an incredible museum with thousands of glass art pieces and artifacts.  The stark white interior made the glass sculptures come to life.  While here, we were able to watch glassblowing demonstrations and even do a little glass blowing ourselves!  With guidance from a pro glass-blower, I made a flower for Hilary, with shades of blues and purples twisting throughout the glass - such a cool experience.
An afternoon of tastings in Corning
The rest of our day in Corning was spent tasting - beers, spirits, food, and even some ice cream (my personal favorite).
Four Fights Distilling
For our first stop of the tasting tour, we visited Four Fights Distilling, Steuben County's first distillery.  After taking a quick peek into their distilling room, we really got the sense that Four Fights is truly focused on crafting small batches of quality spirits.  Our sampling here included two types of moonshine: the Emperial Moonshine and the Emperial Cinnamoon Moonshine.
Iron Flamingo Brewery
Our next stop on the tour for the day was the Iron Flamingo Brewery.  Since opening in 2015, Iron Flamingo has been a hit with locals and was also the first microbrewery in Corning to distribute to restaurants, bars, and retailers like Wegmans (which, as anyone from upstate NY knows, is a BIG deal).  Live music, food trucks, and good beer, what more do you need?  There was a large selection of beers on tap when we visited, so naturally, we decided to get a flight in order to test a bunch of them.  From classics like an IPA and Blonde Ale, to more unique offerings like a Sweet Potato Stout and a Mocha Coffee Porter, there was quite a variety of options.
Market Street Brewing Company & Restaurant
Our tasting continued with dinner at a brewpub situated in Corning's Historic District.  With a bier garden and rooftop dining options, this is a popular spot in Corning.  We were all hungry after a busy day, so we were excited for the great menu at Market Street.  I had the Brew Pub Burger, which was delicious.
Dippity Do Dahs
Our final, and in my eyes, most important stop of the tasting adventure in Corning: Dippity Do Dahs.  An ice cream nightcap is the best way to end a day.
Marsh Creek Cabin
Located just outside of Corning, our lodging for night was a quaint cabin in the woods.  A rustic place on over 70 acres of land, the cabin had two bedrooms and offered all of the creature comforts that would be needed for a weekend or week-long stay.
---
Day 3: Hike at Watkins Glen State Park
Following a great breakfast at Sorge's in Corning, Jenna, Micah, and I made our way to Watkins Glen for the day.
First stop was Watkins Glen State Park to walk along part of the rim trail that wound through the gorge.  We didn't have time to complete the full two-mile trail, but what we were able to see was beautiful.  The path winds over and under waterfalls created by the stream running through the gorge.  With over 400 ft of descent and many cliffs along the way, there are 19 waterfalls in the short two-mile stretch of the gorge trail - a sight to see!
Horseback Riding at Painted Bar Stables
The last (and first) time I rode a horse was in Iceland, and Icelandic horses are quite different from the larger horses at the Painted Bar Stables, so I was really excited for another chance to go riding.  We ended up taking a one hour trail ride, that included both easy trails and some pretty rugged terrain through some beautiful Finger Lakes landscapes.  My horse, Kasper, along with the other horses handled everything in stride and we all had a great experience.
Lunch at Seneca Harbor Station
Yet another busy morning meant we were ready to refuel at this point.  Lunch today was at Seneca Harbor Station, a restored train station originally built in 1876 and renovated to instill guests with a sense of the grandeur that once embodied the station in it's heyday.
An afternoon of tasting around Watkins Glen
After lunch, our afternoon of tasting began.  Our first stop was Atwater Vineyards, on the southeastern shore of Seneca Lake, where we enjoyed views overlooking the vineyards and the lake while sipping on some of the great varieties of wines that Atwater had to offer.  
We continued our afternoon at Heavily Brewing.  Located in a repurposed dairy barn, the brewery not only serves their own craft beers, but also several other local brews and wines on a rotating basis.  The relaxed atmosphere at Heavily made this a great place to stop for a breather during our busy day.  
Once we had our fill of craft brews, we made a quick stop at the beautiful Shequaga Falls, then moseyed on to check in to our hotel for the night - the Watkins Glen Harbor Hotel.  Located right on the shore of Seneca Lake, the scenery from the rooms was spectacular and, as an added bonus, it was just a quick walk into downtown Watkins Glen from the hotel.  This worked out quite well for us since we had dinner plans at GRAFT wine + cider bar, a fun and unique spot located downtown.  GRAFT offered a variety of ciders, wines, and seasonally themed small plates that were perfect for topping off a day full of tastings!  Live music is always a great draw to a restaurant and we certainly enjoyed listening to some local musicians while we began to wind down for the evening.  
On our way back from dinner, we walked to the waterfront and scoped out the iconic pier house on Seneca Lake before it got dark.
---
Day 4
Yesterday's afternoon of tasting was just a sample of what we had in store for us today.  Today's tour took us around the Hammondsport area, dubbed the "Coolest Small Town in America".      
Pleasant Valley Wine Company
Our time in Hammondsport began with tasting at Pleasant Valley Wine Company, a winery with some serious history and a fantastic atmosphere.  Being one of the oldest wineries in the region having started in 1860, we were able to take a tour of some of the historic buildings full of beautifully designed architecture, systems of underground tunnels, and traditional wine cellars.  Eight of the buildings on the property are listed on the National Register of Historic Places.  We had the opportunity to walk through several of those buildings before wandering into the tasting room for some samples.  

Dr. Konstantin Frank Vinifera Wine Cellars
Next destination for the day: Dr. Konstantin Frank Vinifera Wine Cellars overlooking Keuka Lake.  Dr. Frank's has been New York State's most award-winning winery since 1962 and also has some historic intrigue associated with it.  The "Vinifera Revolution," which modified the way in which wine grapes are grown in New York (and the U.S. as a whole), was the result of research by Dr. Frank confirming that the cold wasn't the issue in proper wine production in New York; rather it was the lack of appropriate rootstock.  Once this was discovered, wine production in New York was brought to a new level, with recognition and appreciation for Finger Lakes wines booming.  
Bully Hill Vineyards
Bully Hill has always been a favorite of mine and Hilary's, so I was definitely looking forward to checking out the winery, also located on Keuka Lake.  Founded on the philosophy of "wine with laughter," Bully Hill has an eclectic atmosphere with an artistic and colorful flare.  This is particularly reflected in the names of the wines (like the Sweet Walter Rose and the Love My Goat Red) and the artwork on the bottles.  The Bully Hill campus has an onsite restaurant, museum, art gallery, gift shop, and of course vineyard.  We ate lunch at the restaurant before heading over to participate in some tastings.
Steuben Brewing Company
Last stop on the tasting tour was the Steuben Brewery Company.  Recently established in 2013, the brewery has a great location on some farm land adjacent to Keuka Lake.  As with many of the breweries and wineries in the Finger Lakes region, Steuben Brewing supports local farmers in the making of their craft brews. With seating both indoors and outdoors, the casual atmosphere makes this brewery a great place to hang out with friends while tasting some great beers.  You'll also often find live music on the patio and a food truck in the parking lot that offers up some delicious snacks.
A night in Hammondsport
After experiencing what we could only call "tasting saturation," we walked around the village square in Hammondsport to take in the scenery and relax a bit before dinner.  Dinner tonight was at Lune Mezza Grille, an Italian establishment offering simple Mediterranean flavors and plenty of fresh ingredients.  Lodging for the night was the the Keuka Lakeside Inn, a great spot located right on the lakeshore.  What was a smooth and relaxing evening, got a bit hectic during a casual frisbee toss on the lawn with Micah. Micah overthrew the frisbee, which resulted with it landing in the cold finger lake. Due to my sentimental attachment to the frisbee, we had to retrieve it. Following some engineering (with consisted of duck tape, a tripod, and selfie stick), we had rigged up a long enough "pole" to reel in the flying disc. No injuries were suffered during this act.
---
Day 5
The final day of our journey through the southern Finger Lakes started with a nice paddleboard adventure with Keuka Watersports.  Even though the water was chilly, we were able to explore the lake a bit on the SUPs.
With the weather being perfect for flying conditions, we ended up being able to change our plans for the morning and head back to Elmira for a glide at Harris Hill!  Each of us were able to take individual rides; my pilot was John "Corky" Gill, a retired Air Force pilot turned Harris Hill ace.  Corky has been flying gliders since he was a teenager. Now in his 80s, he takes passengers on as many as eight flights a day, and has completed over 8,000 glider flights. He loves sharing knowledge throughout the flights and has never bored of riding the wind.
It was at this point that I had to make my way back up north, so I left Jenna and Micah as they prepared to check out a local cidery and then have a final dinner in the area before heading back to Minnesota.  Overall, the experience was awesome and I look forward to exploring the area even more in the future.  Plus, I have to get Hilary on a glider ride - because that was probably one of the coolest things I have ever done.
---