Relax & Unwind: Kauai 2019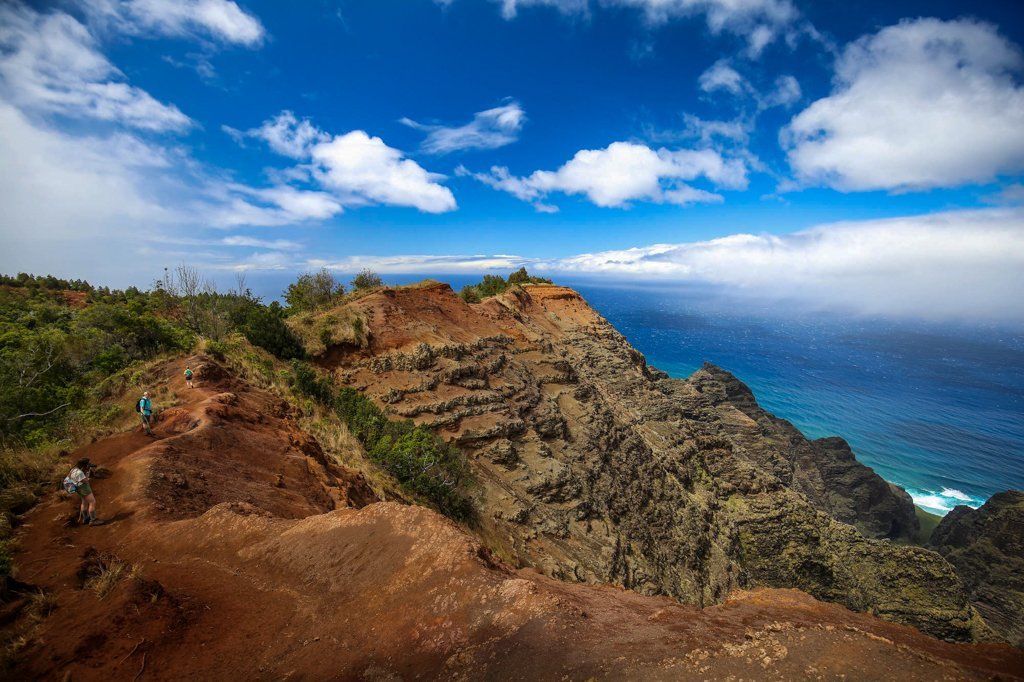 Needing a break from the gray and snowy winters of Syracuse, Evan and I scooped up our friends Kevin and Rachel and journeyed to Kauai, Hawaii.  Deciding to fly out of Toronto to make our trip a little more direct and affordable, we drove across the border the night before our flight and settled into a hotel for the evening.  The trip to the airport the next morning was quick and parking was painless - we parked in the value lot and took the train to the terminal. Stepping inside the airport, we said goodbye to the cold for a little while.  With customs causing a bit of a tight layover in Vancouver, we made it to our gate with just enough time to grab some dinner to go and then boarded our flight - next stop, Kauai! We arrived in Lihue with all bags in tow, picked up our rental car (we were upgraded to a 4-door red jeep - when in Hawaii, right??), and drove a quick 5 minutes to our motel for the night.  
Day 1 (March 5th)
Waking up after a good night's sleep at the Tip Top Motel, we made our way down to the cafe and diner attached to the motel.  Finding the diner brimming with locals filling up on classic Hawaiian fare, we knew we were in for a good meal. Since our Airbnb wasn't available for check-in until early afternoon, we decided to head over to the Maha'ulepu Heritage Trail.  We started at Shipwreck Beach in Koloa and followed the coastal trail, exploring tidal pools, sandy bays, and volcanic rock formations. Soaking in the ocean vistas and walking through the sand helped us work up an appetite, so we found a table at the nearby Brennecke's Beach Broiler to enjoy some lunch, complete with views of Poipu Beach and a pitcher of pina coladas.  
After lunch, we cruised to Kapaa to check in to our AirBnB and home for the next 5 nights.  We scoped out the pool and the rest of the property, settled into our condo and unpacked our bags.  Coming up with a shopping list to cover our stay, we crossed the road to get some groceries from Safeway.  Grilling up some kebabs was a nice way to cap off our first day on Kauai.
Day 2 (March 6th)
Our second day in Kauai started with a Snorkel & Sail with Holo Holo Charters led by Captain Kelly.  Setting sail on the 50' catamaran Leila, we set out to find a snorkeling spot and tour along the Na Pali coast.  Heading out of port, we encountered a pod of at least 30 spinner dolphins that were riding the pressure waves in front of the catamaran.  We cruised along for a while with the dolphins keeping us company and finally ended up in a sheltered cove near an old sugar mill. It was here that we pulled out our snorkel gear and slid into the water where another world unfolded before our eyes.  The four of us floated around amongst tropical fish galore - from the small and boldly patterned to the large and brightly colored. A few of us lucky swimmers even saw a sea turtle!  
Climbing back into the boat after an hour well-spent exploring the sea, a nice breakfast awaited. After filling up on some pastries, we began our sail along the Na Pali coast and while the waters started out pretty calm, ultimately choppy waters led to a very bumpy ride.  Moving along the coast, we could see some of the shoreline and the towering pali sea cliffs, but as we ventured further, the clouds began to encroach upon the lower elevations. With the waters getting rougher, Captain Kelly made the call to turn around and start heading back to the port.  Once the waters calmed a bit the lunch spread was pulled out and starved from riding the waves, everyone dug in.  
Arriving back in Eleele, we collected our shoes and wandered up to the Kauai Island Brewery and Grill for a brew and some rehydration - all of the salt and wind from the boat ride had us parched and sleepy.  Conveniently, the Kauai Coffee Plantation was on our way home, so we stopped in to sample some of the many coffees available for tasting. The rich, volcanic soils and mountain rains create ideal conditions for growing coffee and with over 3,000 acres planted with trees, the company is Hawaii's (and the US's) largest coffee grower.  We had our fair share of samples and walked part of the plantation. Having our fill of the coffee pick-me-ups, we made our way back to the condo for dinner - where Rachel promptly passed out at 6:00!  
Day 3 (March 7th) 
Leading up to our visit to Kauai, we were looking for Hawaii inspiration and ended up finding Autumn and Brodi of "On Hawaii Time".  These two are full-time Kauai residents who, with Brodi's Hawaiian ancestry and deep knowledge of Hawaiian culture and Autumn's bubbly and genuine personality, create videos that provide travel tips and general island information about Kauai.  It was through following them that we learned Brodi is a pilot for Island Helicopters, so Evan and I decided to treat ourselves to a helicopter ride with Brodi as our guide.
Arriving at the Lihue Airport, we got our safety briefing and loaded into the helicopter.  Lifting off gently from the landing pad, we started out over the Nawiliwili Harbor, flew toward the Hanapepe Valley and on to Waimea, home of the "Grand Canyon of the Pacific".  From waterfalls made famous by Jurassic Park to the isolated NaPali coast, we saw secluded beaches and stunning cliffs, before heading into some of the more populated areas still filled with the legends of Hawaii and its people.  Soaring near the rainy interior of the island, our tour then took us inside the crater of Mt. Waialeale, where fern-covered weeping walls of waterfalls flowed into the stream below. It was a humbling sight to be sure.
After grabbing a photo with Brodi and thanking him for the tour and cultural lesson, we met back up with Kevin and Rachel and decided to head to the north shore while we knew that the weather looked to be okay.  Arriving in Hanalei, we were greeted by the peaceful scene of a small town filled with historic places and art galleries full of Hawaiian wood carvings. First things first, we grabbed lunch at Federico's Fresh Mex, a great stop for some homemade family recipes.  Once we enjoyed our lunch while doing some rooster-watching, we scoped out some of the shops and galleries in Hanalei. We also attempted to check out Anini Beach since we had read such great things about it, but the weather wasn't great for beach activities.
With the road leading beyond Hanalei toward Cannon Beach and the Kalalau Trail at Ke'e Beach still closed due to damage from flooding in April 2018, we decided to visit the Kilauea Lighthouse and Wildlife refuge next where we saw some red-footed boobies and the endemic nene goose.  On the way back to our condo, we stopped at Larsen's Beach which was beautiful, though not a great spot for swimming due to rip tides.  We also saw a few nude folks and may have witnessed a sketchy deal or a murder cover-up? There was lots of talk of weed and a man wearing muck boots carrying a shovel.  That was one way to spice up our afternoon. All joking aside, the beach was secluded, pretty, and great for beach-combing.
Day 4 (March 8th)
On our fourth day in Kauai, we ventured out toward Waimea Canyon, where we began the trip up the long and winding road to the overlook.  Making pit stops along the way, we soaked in some of the views on the way up and explored a few streams running through the red soils of the canyon.   The lookout provided an expansive panoramic view of the 10-mile long and up to 3,000ft deep canyon formed by an incision of the Waimea River among other natural processes.
With the crowds growing at the overlook, we took in our final glimpses of the scene before us and made our way back down the long road toward the town of Waimea. The fruit stand and Porky's Food Truck in Waimea called to us on the way back so we stopped to grab some lunch.  
Next stop was Lawa'i Beach to get in some snorkeling before our main event for the day - the luau!  The beach, situated adjacent to the Lawa'i Beach Resort and upscale Beach House restaurant, was not a large patch of sand, but there was enough room to lay out our towels next to the rocks.  Stepping gingerly into the water trying to avoid the prickly submerged coral in the shallows, we made our way to the deeper waters to dive in and join the world of fish once again.  Big corals, bright fish, and another turtle appeared before our eyes as we swam around the cove. Once our goggles fogged up one too many times, we packed up and got ready for the luau.
The evening arrived with a little bit of rain as we ventured to Luau Kalamaku. Before the luau experience started, we wandered through the plantation checking out the vendor booths chock full of Hawaiian goods.  Grabbing some tropical drinks to make our wandering more festive, we scoped out the pit where the pig was roasting and took some group photos in the lush gardens surrounding the plantation.  Once the buffet opened up, we helped ourselves to some platefuls of traditional Hawaiian foods and settled in for an entertaining evening. From graceful Hula dancers to thrilling firy poi ball twirlers - the story that unfolded in front of us was one of an epic voyage and a fated romance.  Theatrical and moving, the luau was quite a fun experience!
Day 5 (March 9th)
The next morning we filled our backpacks and prepared for a big day of hiking.  We traveled back to Waimea and found the trailhead for the Nu'alolo Trail, an approximately 8-mile round trip with incredible views of the Na'Pali coast. 
The trail starts near the Kokee State Park Headquarters and goes through the Kuia Natural Area Reserve before reaching the forest reserve. Beginning in a dense forest we quickly realized that the way down was not going to be easy.  The deep red clay on the trail was sticky, making our boots clunky and the way down slower-going.
In and out of the mud, we eventually found clearer trails and the caked mud wore off of our boots. After a couple of miles of steady downhill, the trail broke out of the tropical forest and we found ourselves in an open and arid area, quite a change from the humid atmosphere we had just been trekking through. 
Pausing to load up on some sunscreen (the ocean-friendly kind!), the sunshine heated the ground we walked on and the scent of pine permeated the air.  Walking further, we ended up on a ridge where the trail narrows with steep drop-offs on either side. The trail ends Lolo Point, with a panoramic view of the ocean and the Na'Pali coast.  Lush green hillsides contrasted with the red clay trails and blue ocean. We pulled our lunch from our backpacks and settled in to take in the scenery. While starting at an elevation of about 3,800 ft, the trail ends at 2,234 ft., making the hike back up from the lookout a good workout.  We took our time and truly enjoyed the challenge and rewarding vistas.  
Once we made it back to our jeep, we drove back out to the main highway and continued up the coast, attempting to find a spot for dinner, but failing once we found out our targeted spot was on a military base.  Oops! Instead, we drove back to Hanapepe and out to Salt Pond Beach Park to catch the sunset. With snacks to tie us over until getting back to the condo, we took a seat on the sandy shore and watched the sun sink below the horizon.  
Day 6 (March 10th)
With a big hike the day before, we decided to have a relaxing morning, waking up to watch the sunrise from the lounge chairs at the condo.  Eventually, we wandered over to Rainbeau Jo's - run by Beau and Jo, an awesome couple with such fun personalities - to grab some coffee and meet up with Brodi and Autumn (of "On Hawaii Time").  We spent a good hour just chatting with those two - sharing stories and getting some last-minute advice on places to check out on Kauai.  
Fully caffeinated, we next drove back to Poipu Beach to spend the afternoon soaking up some sun on the beach.  While we were there, a massive sea turtle and a monk seal also decided to do some beach lounging. Neat to see! 
After a quick rain shower hit and cleared the beach, we got back to our lounging. After a while, we ventured into Old Koloa Town to check out the plantation-era village shops and the exhibits about Koloa's sugar history. The next stop for the day was Lappert's Hawaii for some delicious ice cream - SO GOOD! Heading back to the condo, we stopped at Opaeka'a Falls for a quick view of the cataracts before the sunset.  
Day 7 (March 11th) 
Our final day in Kauai!  It was hard to believe that our last day had arrived - time flew!  We split ways with Kevin and Rachel for the morning as they headed off on a kayak and waterfall hiking excursion.  Evan and I set out to find the Kuilau Ridge Trailhead to head out on a little adventure of our own. Starting out on an old road that turns into a more narrow path, this trail was truly a tropical nature trail with massive trees and a great variety of lush plants surrounding you as you walked.  Eventually, we reached a grassy field with a picnic table, beyond which there were viewpoints with sweeping vistas of verdant valleys, Mount Waialeale, and the Makaleha Mountain Range. It was a short but very rewarding hike - topped off by encountering some cool birds and one very massive centipede.
Meeting back up with Kevin and Rachel, we decided to check out some of the food trucks that were right around the corner from our condo in Kapaa - we ended up with some wood-fired Hawaiian pizza from Scorpacciata and shave ice (lava flow) from Wailua Shave Ice and holy cow, was that shave ice incredible.  All-natural and so refreshing, the lava flow that Evan and I got was made up of pineapple juice, coconut foam, strawberry puree, and a pineapple & strawberry fruit topping. We should have tried this place earlier in our stay, but it's probably better for our wallets that we didn't.  
For some final beach explorations before leaving, we drove out to the Makauwahi Cave Trail where we eventually happened upon Lida's Field Of Dreams where there were some huge tortoises hanging out!  Part of a research project, the tortoises are being studied to see how well they can act as bio-control for invasive plants as a way towards native plant restoration. Around the corner from the tortoises was Gillin's Beach, part of the Maha'ulepu area on Kauai's south shore. The beach was pristine, beautiful and undeveloped, with very few people.  It was a great surprise and we wished we had discovered this particular beach earlier in the trip.
Wanting to grab some food before heading to the airport, we managed to find a place to grab some good sushi.  The poke bowls and sushi were very good and we all had a good laugh when Evan had a mistaken identity incident thinking the wasabi on his plate was avocado… oops!  And just like that, it was time to head to the airport and begin the trek back to chilly Syracuse. Kauai was a welcome change of pace for a week and there is much left to explore.  We still have quite the list of hikes that we didn't get a chance to do!
---