Gray Peak, Mount Skylight and Mount Marcy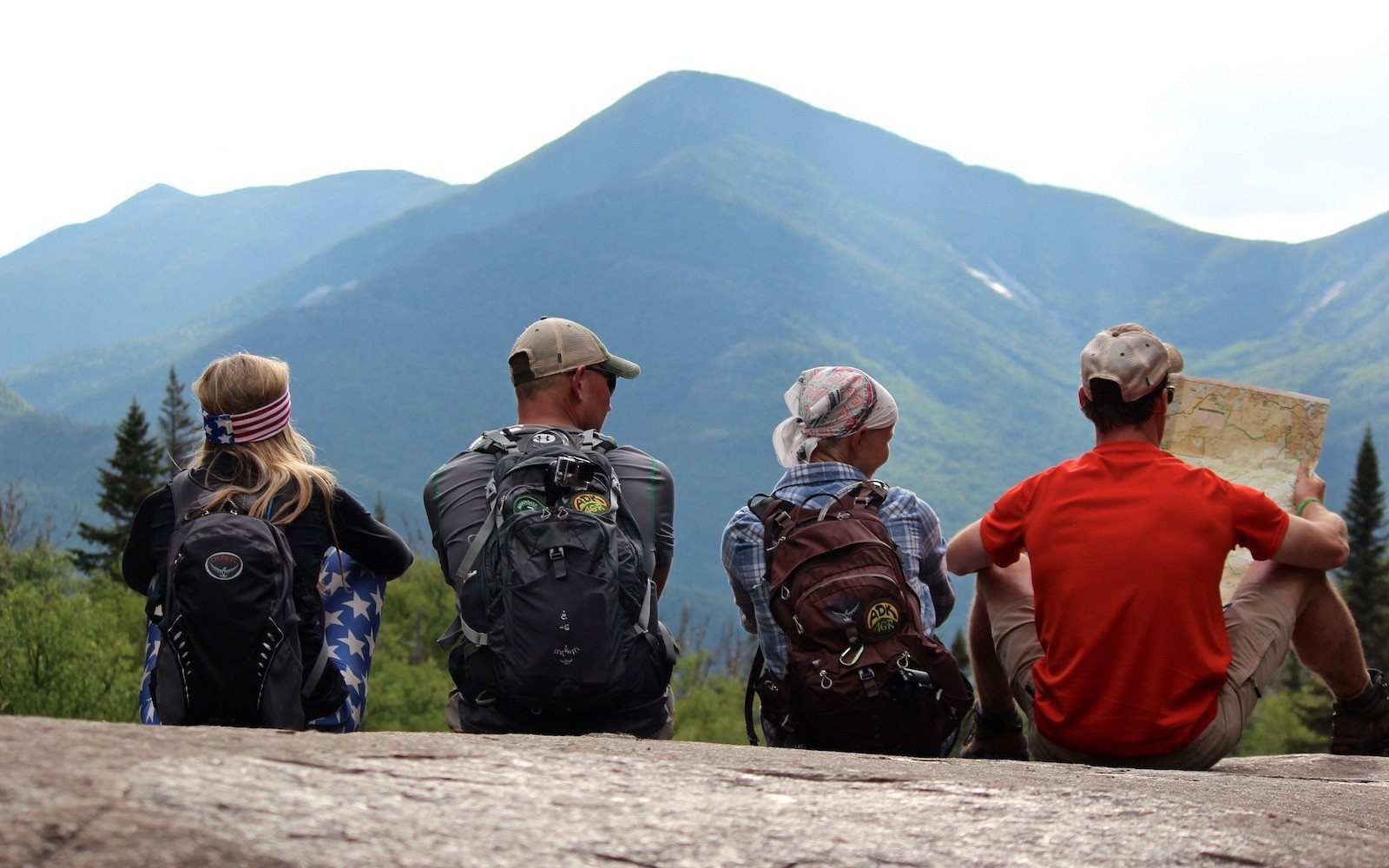 This incredible loop hike takes you up three high peaks in one day, including Mount Marcy, the highest peak in New York. This is completely doable as a day hike, however, there are plenty of lean-to's and campsites along the way should you want to make this an overnight trip.
Since this is a long hike (17.2 miles according to our GPS) with beautiful summits and amazing things to see along the way, you will want to get started early to allow yourself enough time. Starting from the Adirondack Loj follow the Van Hoevenberg trail 2.3 miles to Marcy Dam. After crossing over Marcy Dam, continue on the trail toward Avalanche Camps/Avalanche Lake (marked with yellow trail markers). This area has several first come, first serve lean-to's making this a perfect spot to stop if you plan on an overnight. The trail skirts the Marcy Brook for just about a mile before you reach a junction for the trail to Mount Colden and Lake Arnold. Here you will turn left and begin your climb on the Lake Arnold trail (Marked with blue trail markers).
The trail up to Lake Arnold is rocky and maintains a steep grade for most of the 1.5 miles until you reach the lake. Sitting at 3,772 feet of elevation at the base of Mount Colden, Lake Arnold is one of the highest bodies of water in the Adirondack Park. This is a great place to stop and take a break before continuing toward Gray Peak.
From Lake Arnold you will continue on the trail toward the Feldspar Brook (still marked with blue markers). The trail will drop semi-steeply as you head down into the valley. Here the trail levels off as you navigate your way through a swampy wetland over logs, boards and planks. Although getting your feet wet is nearly unavoidable here, this section of trail is a little bit like an obstacle course and adds a lot of fun to the trip.
The trail continues easily from here until reaching the Feldspar Brook, the Feldspar Brook lean-to and the junction to Lake Tear of the Clouds. Taking a left at this junction (marked with yellow markers), the trail climbs steadily for 1.5 until it reaches Lake Tear of the Clouds. Only two acres in size and less than three feet deep, Lake Tear of the Clouds sits at 4,293 feet of elevation and in addition to being the highest water source for the Hudson River, it is also the start of the herd path to Gray Peak.
Upon reaching Lake Tear of the Clouds, just as its waters start dropping into the Feldspar Brook, be on the lookout for a cairn on your left. This marks the start of the Gray Peak herd path. From here you will climb .5 miles to the 4,840 ft. summit. The trail is steep with a few sections of cliffs and scrambles. Returning back to Lake Tear of the Clouds, you will now take a left on the same trail you came from and head toward Four Corners to begin your ascent up Mount Skylight.
From Four Corners you will take a right to begin your .5-mile climb to the summit of Skylight (marked in red markers). It isn't long before you are out of the tree line walking cairn-to-cairn to the summit. Easily one of my favorites, the summit of Skylight offers 360-degree views and is absolutely breathtaking - there isn't much I can write that would actually do it justice. At the summit you will notice a large pile of rocks. Legend has it that adding a rock to the pile will ensure no rain for your hike out, so remember to bring up rock to throw on. After enjoying Skylight, you will head back to Four Corners. From here you will begin your ascent of Mount Marcy (marked with yellow markers).
From Four Corners you will climb .8 miles to the summit. Although the ascent is very steep, over half of the trail is above the tree line on bare rock and offers stunning views all around, helping to take your mind off the climb and motivate you for the final push. At 5,343 feet in elevation, you have reached the summit of the highest peak in New York State. A popular peak, Marcy is loaded with views, alpine zone vegetation and excellent photo ops. After taking in the view and celebrating your three high peak climbs for the day, you will continue over Marcy to meet back up with the Van Hoevenberg trail (marked with blue markers) for 7.4 miles back to the Adirondack Loj.
The decent from the summit starts off steep and has some sections of scrambling before turning into a rocky trail that alternates between sections of gentle to moderately steep slopes. After about 3 miles you will reach Indian Falls. A nice place to take a quick break before finishing off your hike, the falls have plenty of open rock to sit and take in the views of the MacIntyre Range, with Algonquin stealing the show front and center.
From the falls you will continue on the Van Hoevenberg trail for 1.9 miles before coming full circle at the Marcy Dam. From the dam you will retrace your steps for 2.3 miles back to the Adirondack Loj. It goes without saying that you have earned a great dinner and some beer, so this is where I head to the Lake Placid Pub & Brewery to indulge in an Ubu (or two) and a black bean burger!
A challenging and rewarding hike, this loop takes you up three of the top ten Adirondack High Peaks; Mount Marcy (1), Mount Skylight (4) and Gray Peak (7). Our GPS tracked 17.2 miles and 5,140 feet of elevation gain. A hike that can be done in all seasons (weather permitting), took us 9.5 hours in April, with snow still on the ground and moving at a moderate pace and 12 hours in June taking multiple breaks at sights along the way and spending a good amount of time on both the Skylight and Marcy summits.
To see an inside look at our trip, check out the video below:
---
Thanks to our PureADK Hiking Ambassador, Bryce LaDuc, for writing about this great loop hike. You can follow Bryce and more of her adventures around the Adirondacks via her Instagram profile.
---