Girls Weekend & 1st High Peak Experience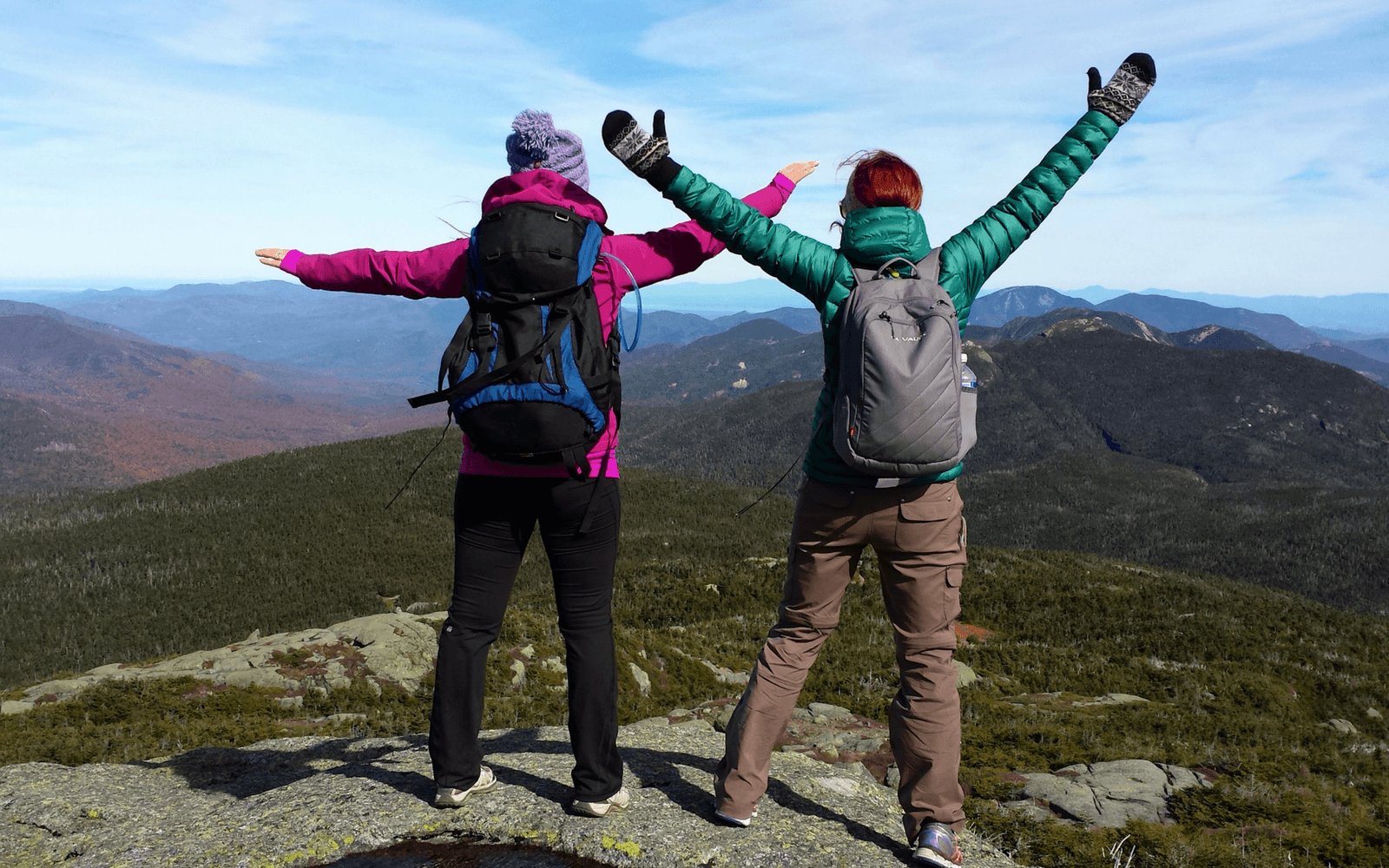 Story by Tara Schill
I asked a girlfriend of mine to join me on an adventure. I wanted to drive to Lake Placid and hike in the Adirondacks, and if I was going to make the 7-hour drive, then I was going to hike the highest peak! Sara said she would love to join me, so we started making our plans. Sara and Tara, ready for adventure! We picked a date and we started researching, reading about Marcy and looking at pictures. Sara contacted me a few days later and said she had three girlfriends who would love to join us and asked if I was okay with her inviting them since I did not know them. I love meeting new people, so I was more than happy to have others join us. I met with a couple other girlfriends of mine who I know apart from Sara, and when I told them of my plan, Julia said she has made it a goal to say yes to more things, so she said she wanted to go! Olivia said not a chance, but wished us plenty of fun. Two days later Julia contacted me and said her friend Caro from Germany was coming to visit that weekend and wanted to join us. Can you believe it? What an exciting group of strangers ready to head out on the road together! If that wasn't enough, the Friday evening before departure, Julia and Caro showed up at my place with Olivia! I couldn't have been any more excited! I screamed in excitement. It was loud!
Saturday morning two cars carrying eight ladies headed from Ontario towards Lake Placid NY, ready for adventure! We arrived in Lake Placid at our cabin and started to unpack our things and then headed downtown for some dinner. We met a couple that evening that had just hiked Marcy two days prior and showed us photos of treetops covered in ice! We expected the first weekend in October to be cold, but we were not expecting winter! Two out of our group who came with Sara had previously decided that they were going to hike the Algonquin trail instead because it was shorter than Marcy, which we had researched as a 10 hour hike on average, I believe Algonquin is estimated at 6 hours. Sunday morning, six ladies left the cabin saying goodbye to Jen and Kate and wishing them way too much fun on their own hiking adventure. 
I have to tell you, Olivia has never hiked in her life. Ever. I still couldn't believe she was there! She was still very hesitant, but she was there! The other five of us had hiked, but nothing of this length, probably a few hours at most. We signed the registry at Adirondack Loj and stepped onto the trail. The beginning of the trail was quite peaceful. There were such beautiful changes in the leaves with the beginning of autumn. After checking forecasts showing a high of 5 degrees Celsius and possible 80 km winds, we were quite happy to have our day end up with a high of 8 Celsius, no rain and very mild winds. We rounded the Marcy trail and came to the first section of boulders. I was slightly worried about turning around and seeing the reaction on the faces of some of the ladies behind me. I do recall Olivia having some choice words for me along the way! We tried to stay in one group, but after awhile you start to notice that your body gets into a natural pace and if you try to slow it down then it feels like its going to quit. As we got about 8 km into the hike we started to diverge into two groups, myself, Sara and her friend Kris got a little ahead of Julia and Caro who kept pace with Olivia. The trail had its challenges, but the beauty of it and the company of these ladies was fantastic! When we reached the first clearing we stopped for a quick snack and enjoyed the sun. It could not have been a more perfect day for weather! We were so grateful not to have had the ice and cold that the couple at the restaurant talked about the previous night. We found some snow along the way; it looked like the first light dusting of winter. The light snow and the smell of pine made it feel like Christmas! 
Some of the rocks coming up ahead on the trail did have a thin layer of ice, but as long as we were sure to double check our footing we were able to get through these areas without any trouble. Sara, Kris and I rounded through the trail where the alpine plants surrounded us and we could see the rock face ahead! The feeling of adrenaline that you get when you see the end of a hike is truly amazing! Especially after completing the longest hike you've ever done, the smiles on our faces couldn't get any larger! Not 5 minutes after the three of us arrived at the summit, Julia and Caro came over the rock face towards us. I was so happy to see that they were so close behind us! They said that Olivia found a clearing about 80 percent of the way up and said she would meet us there on the way down. I was SO proud of her! She pushed her body to its limit and she did amazing. I was so very proud of all of us! We had a snack at the top, took in the absolutely breathtaking 360-degree view of the Adirondacks, and snapped some photos.
Sixteen kilometers and 5 hours, with only 16 km and several hours to go! We met with Olivia on our way back down the mountain and we all shared our experiences to this point of the hike. I think we descended slightly more quickly from the adrenaline of reaching the top. Olivia informed me that the reason she decided to say yes to this adventure at the last minute was because she had found a lump in her breast and was awaiting results. She decided that if worse came to worse she wanted to say that she did this. 28 km round trip for a first time hike? I'd say she did it!
We stayed as a full group of six on the way down and shared some wonderful stories of family and relationships. Each time we would get to a set of boulders on the trail the ladies would tell me what they thought of me as they passed these areas on the way up! We took a small rest, had some water and snacks when we reached Marcy Dam on the way down. When we reached the parking lot once again at the Adirondack Loj, we were all so completely exhausted and feeling incredible at the same time. We did it! After 32 km and almost exactly 10 hours. When headed back to the cabin, a few of us stood in the lake for as long as we could stand the cold temperature of the water to soothe the muscles in our legs and enjoy a cold beverage. We arrived at the restaurant that evening for dinner and met up with Jen and Kate, and as it turns out, they had a more difficult hike on the Algonquin trail. It's a shorter hike, but much steeper. We compared stories and photos, and they were all incredible! Jen said that she had done many challenging hikes before, but the Algonquin/Wright Peak was the most challenging technically to date. The rock faces and boulders were beautiful, but endless! She and Kate loved the hike and said it was an incredible experience and big reward at the summit. Jen said they would do it again in a heartbeat!
Olivia texted me that week and told me that her results all came back negative! Best news ever! Which she was very happy about of course, but she said that meant she didn't really have to do that hike! Haha! The rest of the girls are ready to go back again! Caro and I are discussing plans for me to visit with her in Germany and to hike with her in The Alps. And, get this, a week later when I was hiking in B.C. I received a text and photo message from Olivia informing me that she was on her way to a hike with her husband and two daughters. So awesome! It could not have been a better adventure…I can't wait to start a checklist of the 46 high peaks!
Until next time ADKs,
Tara
---------------
About the author:
- Tara Schill -
Hiker. Aunt. Sister. Ginger. Wino. Roadtripper. In search of all things good for the soul! You can follow more of her adventures on her Twitter and Instagram profiles.
---