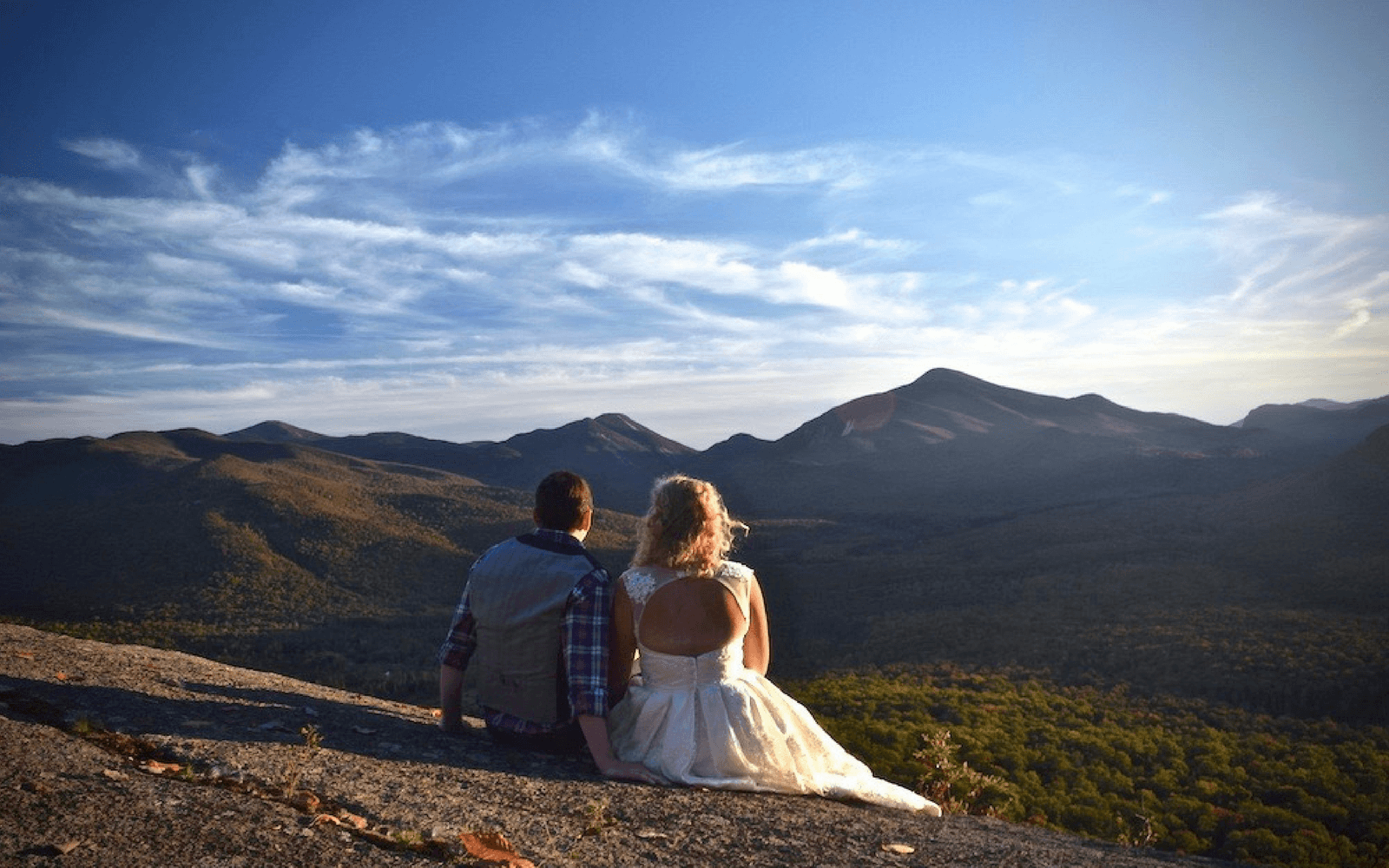 Story by Emily VanDerVeeken
If there is a conversation in my life that I will most likely never forget, it's this one.
My father once asked me, "When are you going to stop hiking and find yourself a man?"
To that I replied the only way I knew how. "When I find a man, he better be able to chase me up those mountains."
That's been the story ever since I met my husband, Geoff.
We first met during a Syracuse social night, where members of the ADKhighpeaks forum would meet for happy hour and dinner. In the time that followed our first meeting, we got to know one another a bit better, and one day, finally decided it was time to hit the high peaks together. That first dramatic outing would prove to be one of the craziest hiking stories we have to date, and not necessarily one either of us would like to repeat again.
In the weeks, months & years that have followed that first hike, we hit many milestones together--from my winter 46 finish, to our single season winter 46 finish in 2015, to Geoff's New Hampshire 48 finish in September 2015 and countless peaks & miles everywhere in between.
Our love for the Adirondacks brought us together and became a huge part of who we are. Neither of us are the types of people who need fancy things or like huge amounts of attention—making a mountain top wedding the perfect fit.
In picking our mountain for the ceremony, we both agreed that it didn't necessarily need to be a high peak. All we really cared about was an incredible view and having some of our closest friends in attendance. This made Mt. Van Hoevenberg the perfect fit.
Rather than camping out along South Meadow Lane like we usually do, we sprung for a hotel room at Art Devlin's Olympic Motor Inn in Lake Placid. Most of our group was congregating in the parking lot while I made the final touches to my hair & put my dress into my backpack (I guess there's a first time for everything).
Like many brides, I wanted only the best weather that day. Truth be told, we didn't have a backup plan. We just figured if nothing else, we deserved nothing but the most beautiful of days. And that's exactly what we were given. The eerily warm September weather held all month, making our September 26th wedding seemingly perfect. The leaves had begun turning colors, which added even more beauty to the terrific landscape.
Fourteen of us made the 2.2 mile trek to the summit that day. The bulk of the group included our regular hiking pals, as well as my sister and her fiancée. Our good friend, Jack Coleman, did the honors of doing the ceremony. His words about the beauty of the mountains never rang more true than they did that evening during our ceremony.
We made the hike up in our summer hiking gear and changed on the summit. As we began the short ceremony, a couple arrived on the summit, completely in shock of what they were witnessing. They stayed for only a few seconds before they ran off to another viewpoint on the open summit.
The ceremony was short, sweet and over before we knew it. We locked it down with a kiss and shortly after were celebrating and smiling for the camera. We hung out on the summit for quite some time, prancing around barefoot, taking pictures and enjoying the champagne of beers, Miller High Life.
When we finally decided it was time to leave, we changed into our hiking gear and headed down the mountain as the sun began to set and the full moon came out over the swampy area at the base of Mt. Van Hoevenberg. It was the perfect way to end a beautiful hike.
Our group then headed to Lisa G's in Lake Placid where we enjoyed some dinner & celebrated the occasion.
The following morning, we dressed back up and headed out with photographer Peter Texiera to some of our favorite places in the high peaks—Heart Lake, Loj Road, the barn in Keene, Split Rock Falls & the covered bridge in Jay.
That evening we headed to Clayton to celebrate with our families. We enjoyed a beautiful day and a wonderful meal at the Clipper Inn. Upon returning back to our home in Syracuse, we caught the rare phenomenon of the eclipse/super moon/blood moon.
Both exhausted on our return, we didn't realize how lucky we were to witness and endure some of life's most beautiful gifts that weekend-- the perfect weather, the love we shared with our family & friends, the changing of the leaves and seasons & the wonder of astronomy.
The beauty of the Adirondacks is something we are beyond lucky to have. There is magic in the mountains—a piece of the world that needs to be explored. And in that magical place is a piece of us that will likely never go away. It is a large part of who we are and what we will become in the future—it's the place where our hearts are, and where they will forever be.  
To follow allow more of the outdoor adventures of Emily & Geoff in the ADKs and beyond, check out their Instagram profiles - @grace.points & @geoffreyday
---
Interested in a mountaintop wedding elopement in the Adirondacks? Check out our team at
Forever Wild Vows
! Tom & Lexi make up the photography duo, while Marc Anthony is a certified mountain guide and officiant.
---