Day 9 of the Tour du Mont Blanc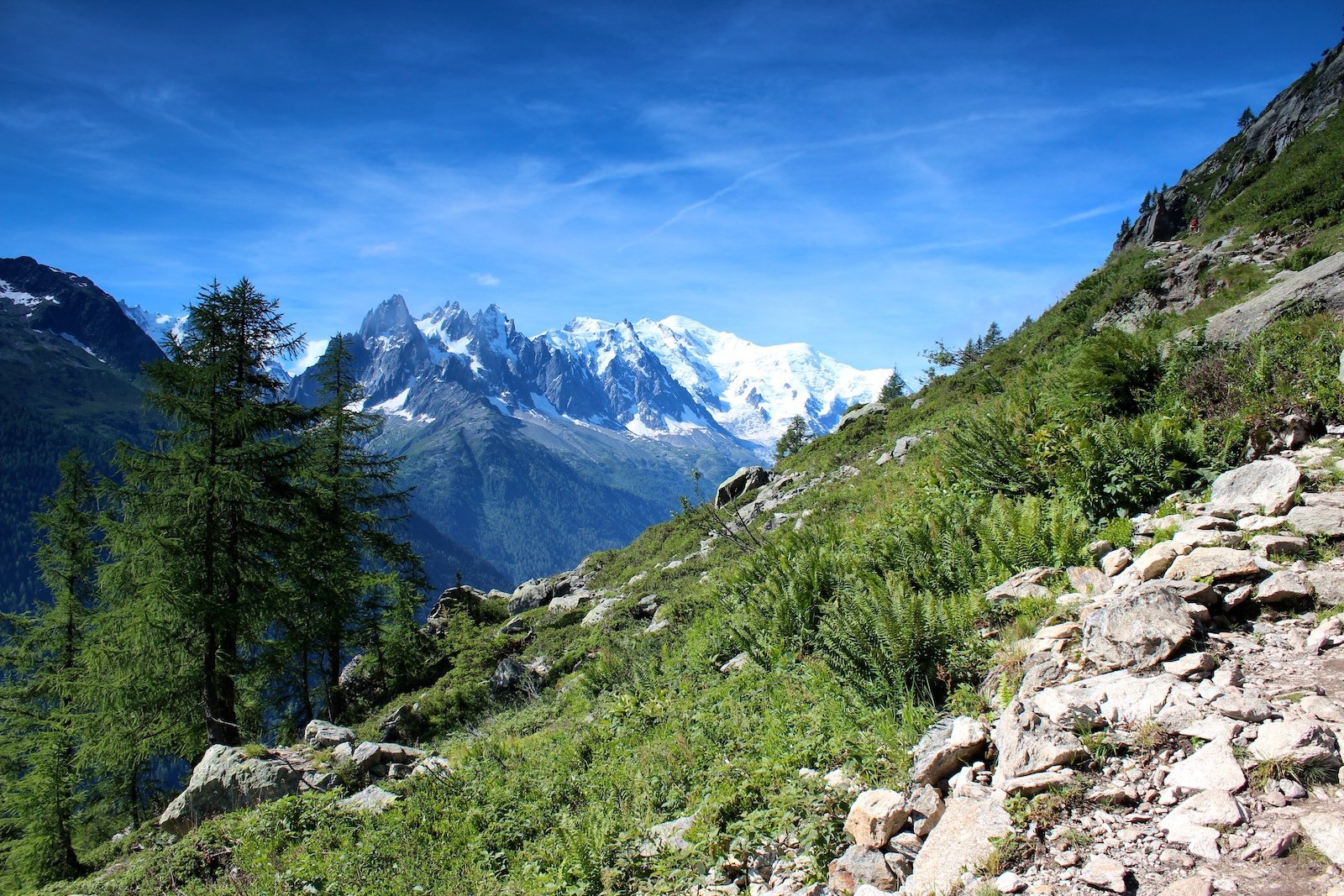 Stage 9: Tre-Le-Champ, France to La Flégère, France
Waking up to sunshine streaming in through the windows at la Boerne was a welcome change from the cloudy days we had gotten used to. Breakfast was the usual bread with jam and coffee, but with the added bonus of fresh bananas! We were on the trail by 9am, and we started off with a steady climb for the next hour and a half. The trail was forested and winding to start, reminding us of some trails in the high peaks of the Adirondacks back home. After leaving the forest, we encountered a more open and rocky area, a sign that our journey was about to get a little harder. The next mile or so of the trail was a mix of rocky pathways and ladders. The ladders were challenging and tiring, but also a fun change from the regular trail. Evan got some fun footage of us climbing this section with his GoPro. Upon completing the ladders, we rewarded ourselves with a nice picnic lunch and a wonderful view.
Continuing up the trail, we came upon the first lake just below our most exciting destination for the day, Lac Blanc. As we made our final push to Lac Blanc, we saw a few ibexes playing on the trail that went around the first lake. A few more ladders to climb and we crested the hillside to see the refuge in front of us and the lake shortly beyond.
It was pretty crowded at the lake since there is a trail that comes up from the gondola at La Flégère that takes only about an hour and a half to hike. It was kind of a shock to the system to see so many people in one place along the trail after being used to encountering generally only people that were also hiking the TMB. To see people wandering around with just a little drawstring athletic bag full of snacks was quite the contrast to us with our huge packs full of gear. Once we found a little spot to claim, I went to the refuge to grab us some sodas – 4 of them cost 14€! Pretty crazy! There was an awesome looking pie for sale outside, but we still had some of our picnic lunch left from earlier in the day so I somehow managed to avoid giving in to the temptation. While relaxing and taking in the views, we kept looking for the little hut that we had seen in photos, but we realized it had been demolished and replaced with the new one.
After a little while we checked out the other half of Lac Blanc and ended up running into our two sister friends from Texas. We chatted with them for a while before deciding to head to some higher ground to get a few photos. We got some great vantage points and then decided to make our way to La Flégère, our refuge for the night.
From Lac Blanc it took us about an hour to reach the refuge at La Flégère. We settled in and made our way back downstairs to find the Kiwis enjoying some of the house red. We got ourselves ½ a liter and joined them. We were seated with the Kiwis and Bjorn for dinner and the food was good once again; a cheesy potato dish with charcuterie, bread and cheese (of course), and chocolate mousse. We lingered at the table and chatted for a while, reflecting on our trip and really taking in our last night on the trail before heading to bed.
Please feel free to email us at pureadk@gmail.com if you have any further questions about our trip.
To continue reading about our trek:
---