Day 7 of the Tour du Mont Blanc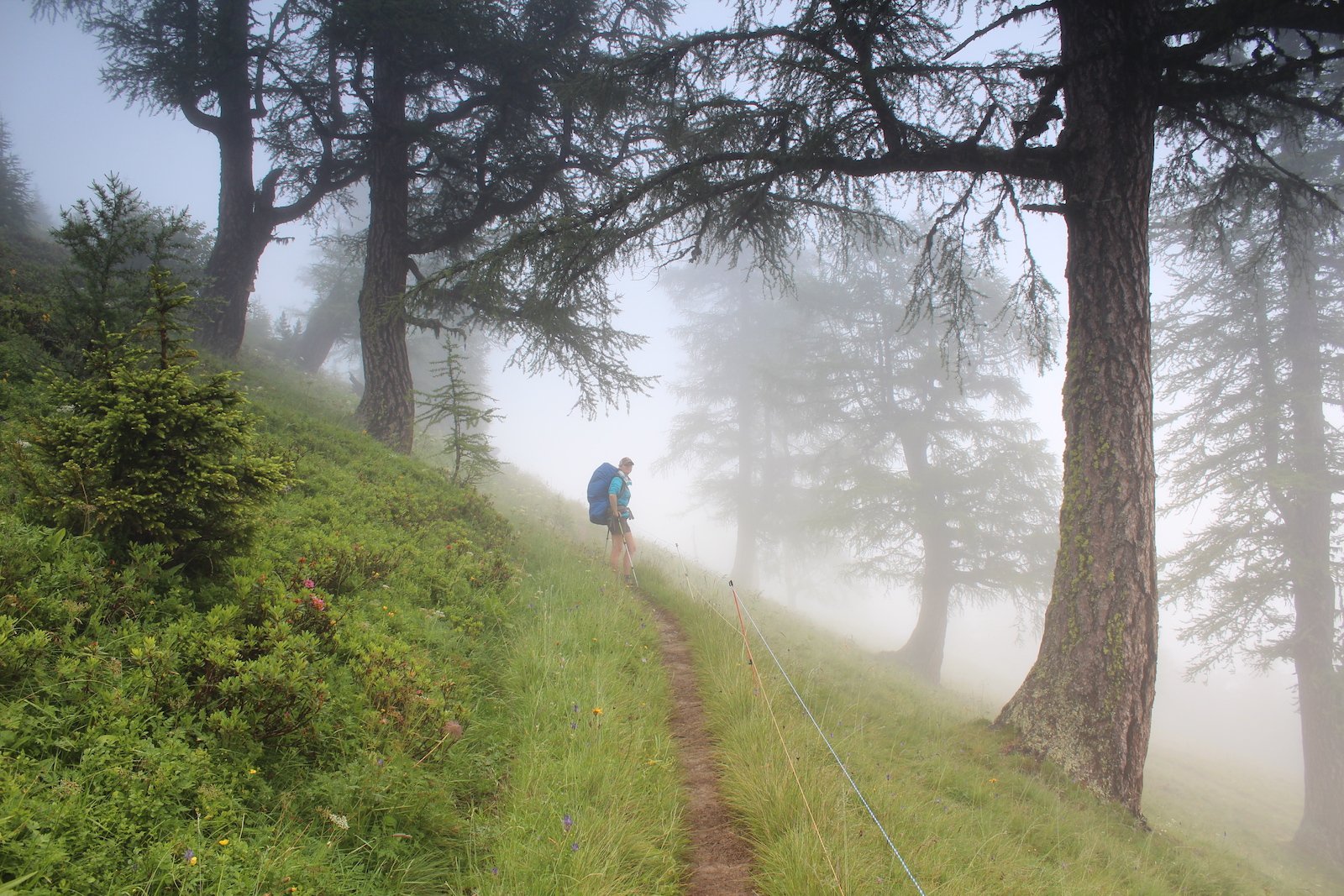 Stage 7: Champex, Switzerland to Trient, Switzerland
Waking up at Bon Abri, we looked out the window only to discover a thick fog and some light sprinkling rain. Unfortunately this poor visibility meant that we would have to take the Alp Bovine route rather than the highly rated alternate route over Fenetre d'Arpette. The Reynolds book definitely discouraged taking the alternate route in anything other than favorable weather since walking so close to the glaciers led to some tricky terrain on the trail. With our decision to take the Alp Bovine route made, we ventured downstairs to a private breakfast since no one else ended up staying the night. Bon Abri's breakfast was simple but so delicious – a yogurt/museli combination with banana, apple, and citrus all mixed in, café, OJ, and bread with jam. Before heading out from the gite, we purchased some stamps from the hostess and sent out the remainder of our postcards.
Donning our rain gear once again, we traveled through another traditional Swiss town before beginning our ascent for the day. We met up with the Overland group at one point and chatted with the counselors during a more relaxed part of the ascent. When we split ways with them, we ended up meeting a retired couple from Australia, Craig and Julie. The incline eventually became more drastic, with rain falling on us off and on. The fog/mist was consistent throughout the morning and it made it seem as though we were walking through some sort of enchanted forest with massive pines eerily appearing out of the mist as we approached them on the trail.
After about an hour and a half of good uphill climbing in muddy conditions, we reached the Alp Bovine bouvette – a tiny place run by some farmers – that lets you use their picnic area if you buy something from inside. Evan bought two coffees for a whopping 3.50 CHF each! We had purchased the picnic lunch from Bon Abri so we enjoyed some heart-warming coffee with sandwiches, apples, and a fruit cake. It was packed and pretty chilly at Alp Bovine, so shortly after we finished eating we continued on.
There was a shorter ascent from Alp Bovine to a big cow gate, which was great to warm us up, followed by the beginning of our descent for the day toward Col du Forclaz and Trient after that. The descent was fairly uneventful and still very foggy. We picked our way down to Trient and arrived at the town's famous pink church at about 3:15.
Walking past the church, we made our way to Auberge Mont Blanc where we checked in to our 12-person dortoir. It was a pretty busy place! We took some much needed showers and then grabbed some snacks at the grocery store next door and chatted with Mark and Shaliev who were staying in the hotel next to ours. Dinner at the Auberge was a traditional cheese and tomato fondue served with potatoes. Dessert was a cool slab of ice cream in the colors and shape of the Swiss flag. Dinner was a full two hour affair and we sat with some French women that only spoke a little English. It was a test of our French and we were able to communicate basic things. Shortly after dinner we retired to our beds to rest up for another full day.
Please feel free to email us at pureadk@gmail.com if you have any further questions about our trip.
To continue reading about our trek:
---