Day 6 of the Tour du Mont Blanc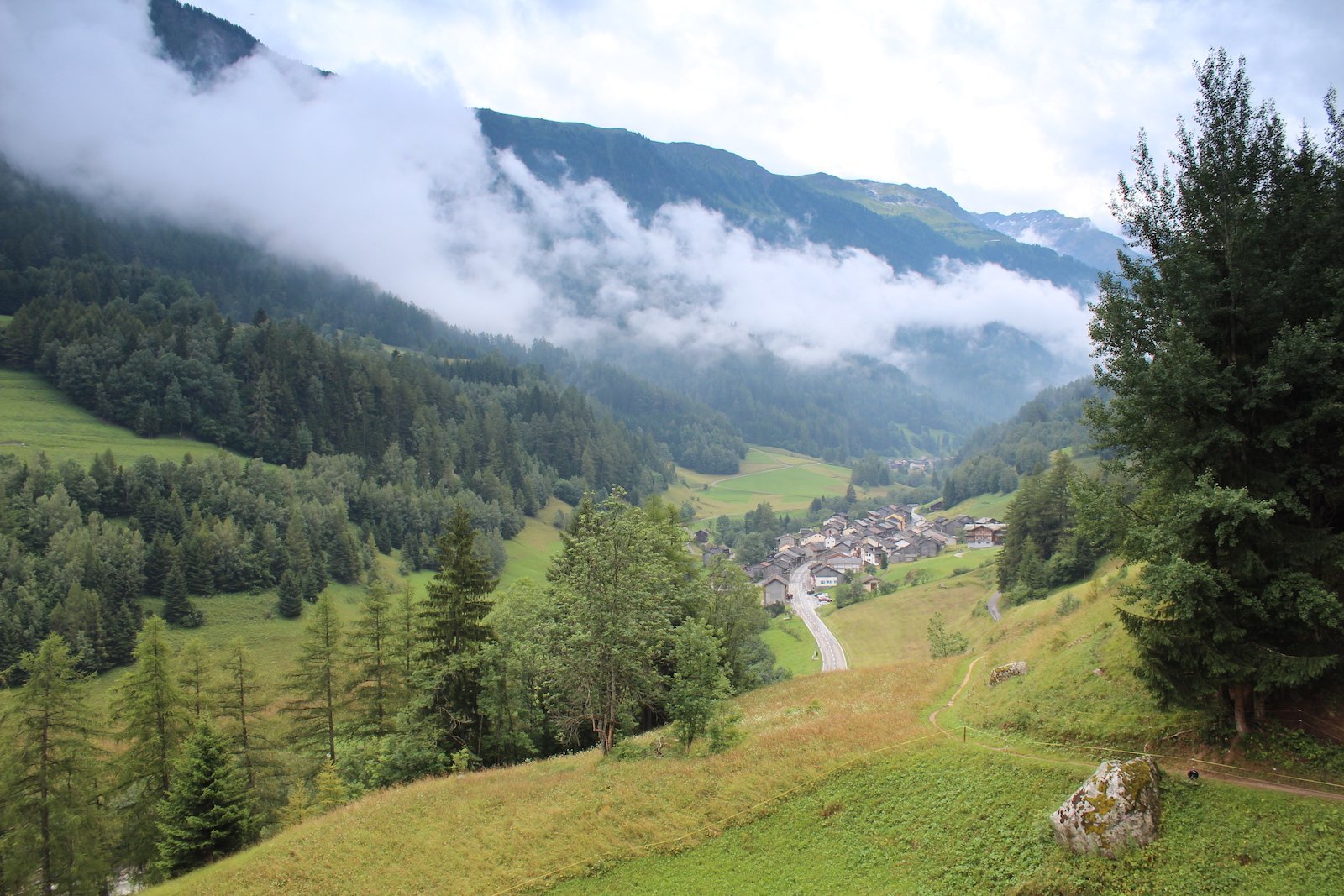 Stage 6: La Fouly to Champex, Switzerland
Day 6 of our trek was a wet one! After a delightful breakfast, we stepped out the door and were greeted with some sprinkles. We donned our rain gear and walked the short distance from La Lechere into La Fouly. When we arrived in the quaint town, the rain picked up and we decided to take a break in a little building that held the mail boxes of the locals in order to make a plan for the day. We contemplated taking a bus to Champex, but we ultimately decided to put our trust into our rain gear and we continued on foot.
This portion of the trail is said to be the easiest, with no passes to cross or high and remote country to negotiate. The first half of the day's walk was fairly flat and through a forest. Throughout the morning we ran into Graham and Andrea, who kept us company for a little while, as well as the Overland group. Eventually we wandered through some small Swiss villages, past some old dark timbered barns, where we observed a way of life that has been hardly touched by time. One of the villages we encountered was Issert, where we stopped at a small café for some ham sandwiches and coffee. The coffee was excellent and definitely needed after a morning of hiking in the rain.
After lunch, we began the ascent portion of the day's hike, heading up to Lac Champex. As we wound our way up through some old growth forest, we discovered that we were on a trail called the "mushroom way" that was filled with little signposts with Charlotte le Marmotte describing the fungi that you could see along the way. We also passed a bunch of wooden carvings decorating the trail that ranged from little fairy homes to squirrels to mushrooms. The rain had lightened up, but we still kept our rain gear on since the temperature was a little cooler. We reached Champex as the rain started to pick up a little. The village was situated nicely next to a pretty lake where some locals were fishing as we walked up. While walking around in town we ran into a familiar cast of characters including Bjorn, Ash and Harri, and Andrea and Graham.
After chatting with them for a little while we made our way to Gite Bon Abri, just outside of Champex. Bon Abri ended up being one of our favorite places to stay. It was warm and inviting – the dorms were very nice, the showers were HOT, and the food was incredible. The host and hostess were very friendly and accommodating. On the night that Evan and I spent at Bon Abri, there were only two other guests also spending the night. Dinner ended up just being me and Evan – the other two girls had made their own food – it was a nice romantic atmosphere. Daniele, the hostess, said that a private dinner didn't normally happen since the place is generally booked up, so we were lucky! We started with some complementary white wine and a delicious pureed vegetable soup that was accompanied by a salad full of fresh greens and homemade dressing. The main course was a mountain of pasta with alfredo-style sauce and ham. The meal was topped off with a light cake with apricots. We remained in the dining room for a while after dinner, posting some photos and leafing through a few naturalist books – some of the many books the hosts had in the gite. Upon retiring to the dorm, the sound of rain on the roof quickly lulled us to sleep.
Please feel free to email us at pureadk@gmail.com if you have any further questions about our trip.
To continue reading about our trek:
---