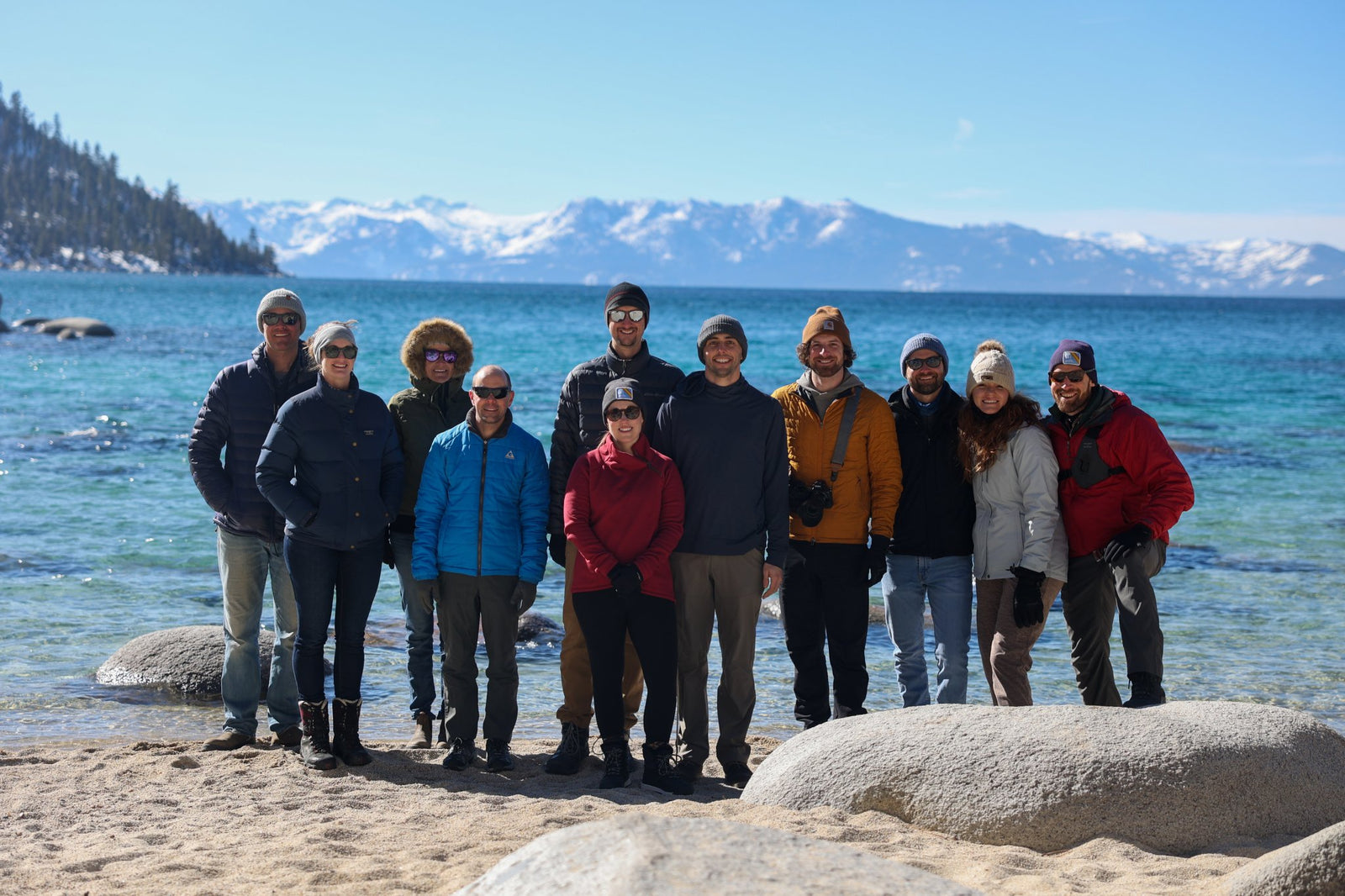 For our 2022 ski trip, we decided on Lake Tahoe to explore and ski in the Sierra Nevadas.  Nestled between California and Nevada, Lake Tahoe is the largest alpine lake in North America and at a depth of 1,645 ft it is the second deepest lake in the U.S. Surrounded by the beautiful mountains, the lake offers beaches, skiing, and all sorts of outdoorsy activities. The majority of the ski resorts in the region are on the northern end of the lake near Truckee and Reno, so we found ourselves a house rental in Tahoe City to take full advantage of the area. Our group was made up of friends from all over the country and from all parts of our lives: Andy and Conor - as friends from Clarkson, Bryce and Paul - friends from some Adirondack adventures (and currently live in Reno, NV), Morgan - a friend from Evan's time in the Caribbean and his girlfriend Nicole, and lastly Amanda, Brian, and Doug - our Upstate NY buddies!
Sunday - Arrival Day
Our Upstate NY crew arrived in Reno on Sunday afternoon after a very early morning wake up call. All our gear arrived too which is always a nice stress to not have to deal with! After grabbing our rental cars, we reunited with Bryce, Paul, and their two pups Finn and Arlo.  With introductions completed all around, we soaked up the sun in their backyard (nice for us northeasterners to see that big yellow ball of fire), and then went to Schussboom Brewery to watch the NFL playoff game (Andy is a big 49ers fan!).  The group enjoyed some flights of beers served in some neat little ski chairs and also some great food - a couple of different pizzas and tasty garlic tater tots. After the game, Doug, Amanda and Brian split off and went to a hotel for the night; while Evan, Andy and I went back to Bryce and Paul's house to try to go to bed early, well at least Evan and I did - Bryce got Andy going on some peppermint drinks that he may have regretted in the morning. Evan got up after a nap to pick up Conor from the airport a little before midnight, and they both came back to a very quiet and sleepy house.
Monday - Mount Rose
Waking up to more sunshine and blue skies, we had some breakfast and coffee before leaving Reno to head to our first ski area of the trip - Mount Rose, which was conveniently on the way to Lake Tahoe. Mount Rose has more of a locals' vibe with fewer crowds and a good balance of terrain for all abilities. The mountain is actually one of the highest elevation ski resorts in Lake Tahoe reaching up to 9,700 feet. With a sunny and mild day ahead of us, we had nicely groomed trails that made for a good warmup day.  At lunch we sunned ourselves on the lodge deck that overlooked the chair lifts. After we had our fill for the day, we made our way to the house rental where we unpacked all of our gear, checked out the house (found our creepy doll friend Pee-Wee who made the rounds visiting people throughout the week), and inventoried the kitchen before going to pick up groceries.
Our House Rental for the Week | Tahoe City, CA
The grocery run turned into a family affair with everyone ending up there - which worked well because we needed a lot of hands!  We ended up making spaghetti with meatballs for dinner and then relaxing by the fire afterward, chatting and getting to know everyone.
View of Lake Tahoe from Mt. Rose
Tuesday - Palisades Tahoe
Ski Day 2 led us to Palisades! Formerly known as Squaw, the Palisades ski area is well-known as the host of the 1960 Winter Olympics and is the largest of the North Lake Tahoe resorts. When we arrived the parking lots were relatively quiet, yet again confirming that mid-week skiing is definitely the way to go.  Riding the Gold Coast Funitel (a stable gondola lift with two parallel haul ropes) up the mountain, we found ourselves immersed in some seriously windy conditions.  The group ended up splitting ways for a bit to explore the terrain.  Eventually we made our way back together with the help of the handy Palisades app which shows where those in your party are located.
Group Shot at Palisades Tahoe
We were able to find one part of the slopes that was somewhat protected from the wind and lapped those trails a few times.  Brian scouted out the Granite Chief lift and a few intrepid explorers followed him - what an adventure that was! We were met with gale force winds as we crested the top of the trail which made for an exciting start of the run. After parting ways with Morgan and Nicole who went back to the house early to start dinner, the rest of the group checked out the other side of the mountain. Doug and Conor made their way to the Tram Car Bar at 3:00 sharp, a popular stop where the first 100 people daily get a free spiked hot cocoa. After our last runs we booted back to the cars and made our way to the house where Nicole and Morgan were in the process of making delicious and authentic tacos for the group. Once dinner wrapped up, we played some First & Last - a fun icebreaker game.
Wednesday - Sightseeing around Lake Tahoe
Wednesday was our 'break from skiing day', so we decided to tour around Lake Tahoe, checking out some of the very scenic viewpoints along the Nevada side of the lake before stopping at Secret Cove Beach. With Bryce and Paul as our guides, we hiked down the hillside to the beautiful cove (which gladly had no nude visitors while we were there!). We explored the beach and the surrounding woods, hopping on rocks and gathering pine cones.
View from Secret Cover Beach
Continuing around the lake, we ended up at South Lake Brewing Co. - a dog-friendly establishment with some great beers.  After spending a bit of time at the brewery and eating some lunch, we ventured further around the lake, stopping at Emerald Bay to take in the Lake Tahoe views from higher elevations on the California side of the lake.
PureADK lifestyle shot w/ Lake Tahoe in the background
Driving past Homewood, another ski resort right next to the lake, we made one last pit stop at a dock close to our rental house.  Brian and Conor both decided to jump into the lake here - they had heard Morgan's tale of diving in before we arrived - brrr! The day finished off with some leftovers for dinner and a rousing game of quarters.
Thursday - Heavenly Ski Resort
Our third day of skiing led us to Heavenly! Morgan had his car slip to add a little excitement to the start of the day - the last pitch down to the Stagecoach parking area was icy and he started to slide sideways - he was able to stop and get righted, but I'm sure there were some pounding hearts in that car. On our first ride up the lift we saw there was actually a car that had flipped on that same stretch of road - quite the treacherous path! The skiing at Heavenly was beautiful. Even though our group ended up getting split up throughout the day, we all made the most of it.
Group shot at Heavenly
Heavenly was a cool resort, split between CA and NV. The mountain had lots of nice groomed cruisers spread over the largest ski area in Lake Tahoe. The views were absolutely incredible - on some of the trails you felt like you were going to ski right down into the lake. We skied a full day, meeting back up with Conor and Brian (who had opted to skip lunch and stay out on the slopes like Andy) toward the end of the day and then we randomly found Andy on the trail too.  Evan finally passed off Andy's sandwich that had been sitting in his pocket since we went to the car for lunch (maybe a little more squished than when it was packed that morning). After catching the last lift up for one more run, we wandered home for grill night! Our post-dinner game this evening was Telestrations - one of our favorites and always a guaranteed laugh. 
Friday - Sugar Bowl Resort
Our last day of skiing was upon us before we knew it! The majority of our group were destined for Sugar Bowl. Unfortunately Morgan and Nicole didn't grab tickets for Sugar Bowl in time the night before, so they ended up heading to North Star for the day. Doug decided to make his excellent day at Heavenly his last day and Bryce and Paul didn't ski (they were watching Arlo to make sure he passed the tamale husks he ate the day before!), so Doug met up with them at some point in the afternoon. For those of us that ended up at Sugar Bowl, we were treated to excellent views of Donner Pass and the surrounding mountains - on yet another bluebird day.
View of Donner Lake from Donner Pass
There were flowy cruisers and groomed steeps, fun trails for all levels. Sugar Bowl is apparently one of the few remaining independent resorts in the Tahoe region, being family-owned and operated since 1939. The deck outside the spacious (and practically empty!) lodge was a great place to soak up the sun while refueling with lunch.
Near the summit of Mt. Lincoln at Sugar Bowl Resort
The Sugar Bowl clan met up with the rest of the group at Truckee Brewing where everyone gathered for an apres ski beer. With big appetites from a day on the slopes, we ventured over to dinner in Truckee at Fiftyfifty Brewing Company. After being relegated to the outdoor seating area because of our large group size, we made the most of a good meal (even though poor Amanda didn't get her food until after the check arrived!). The rest of the evening was filled with time in the hot tub and playing some more games - wrapping up a great trip!
Saturday - Departure Day
On our last day in Lake Tahoe, we explored around Tahoe City a bit.  We scoped out some of the beaches nearby and Evan took advantage of another sunny day to take a dip.
A quick dip in North Lake Tahoe
Taking our time to pack up the house, we eventually made our journey back to Reno for some dinner and then stopped in to bid farewell to Bryce and Paul before catching our (very late) flight back to the east coast. All in all, it was a week well-spent - great skiing with great friends.
Jump photo on a beach in North Tahoe
Interested in reading about more of our adventures
Beyond the Blue Line
?
Visit this page
to check out some of those other trips.
---