Macomb, South Dix, and Grace Peak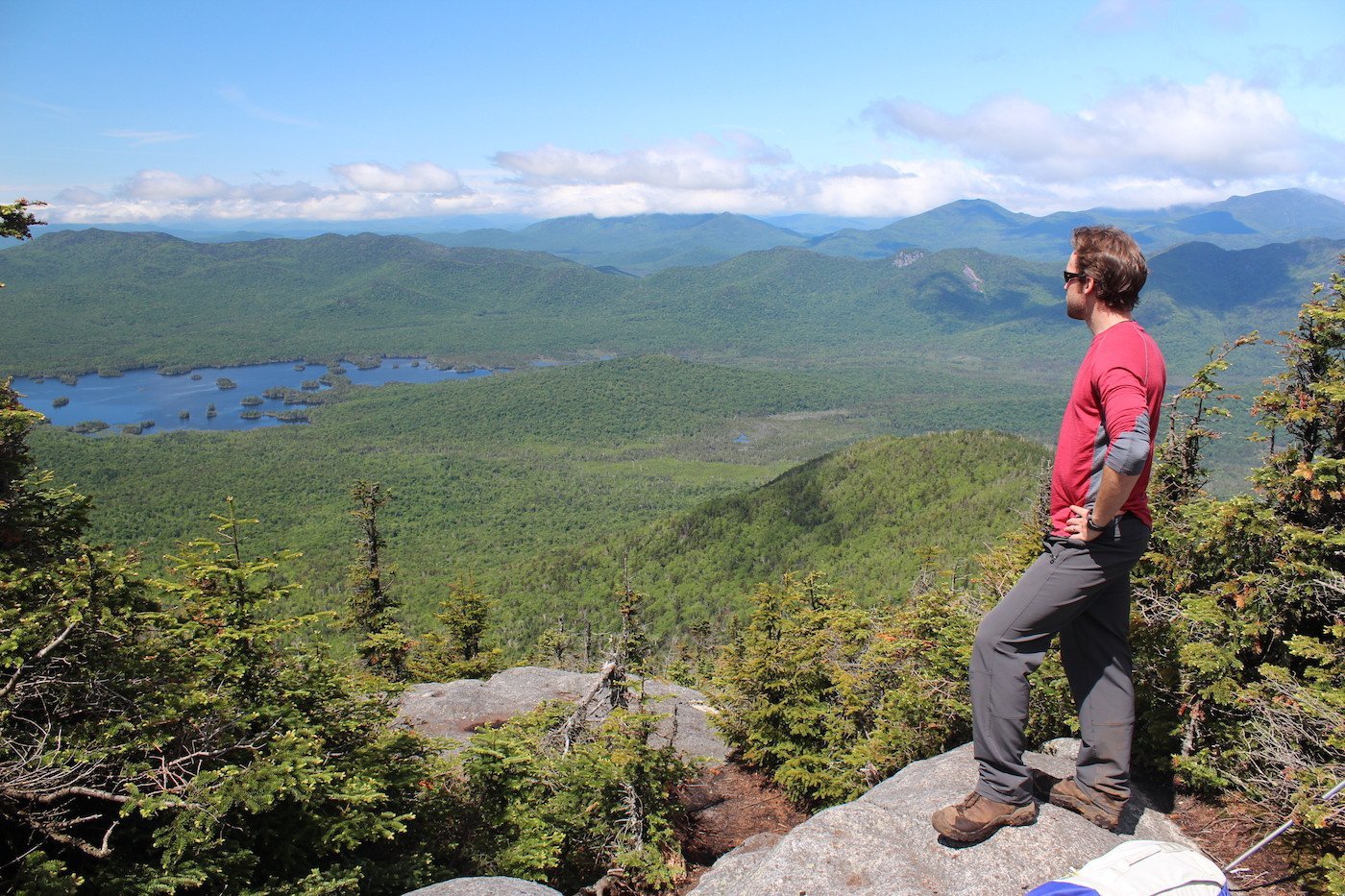 Beginning from the Elk Lake parking area, Evan and I set out to hike our remaining three high peaks in the Dix Range.  We started our trek by heading up the Slide Brook herd path toward Macomb Mountain.  The trail is well worn and smooth for a good portion of the hike, but once you reach the rock slide portion of the trail, the tides change a bit.  Care must be taken on this part of the trek since the rock slide is composed mainly of scree, as well as larger loose stones.  The views of Elk Lake from the open slide are beautiful.  After re-entering the woods, the trail gains the final 400-ft to the summit. 
The summit of Macomb is small, with a few rock ledges that offer some great views. After taking a nice break on Macomb to refuel, we continued on to South Dix.  Descending from Macomb, you will reach a fork in the trail – right takes you up the herd path to South Dix, while left will take you toward Lillian Brook and one of the trails to Hough Peak.  We headed right and shortly thereafter found ourselves at some neat open rock faces to scramble on the way to the summit.  The views from the rock faces included the Dix Range as well as much of the Great Range.  The summit itself does not provide any views and can be found in the midst of a wooded area along the trail. 
Continuing along the herd path from South Dix and keeping right at a fork in the trail marked by a cairn, we made our way on to Grace Peak (formerly East Dix).  The trail follows the ridgeline between the two peaks, giving your legs a little bit of a break.  At the official summit of Grace, marked by a large boulder, we pulled out our chairs and enjoyed the sun while snacking on some lunch.  Eventually we made our way through the woods to other side of the peak to take in some incredible views of Giant, the Dix Range, and a peek at Marcy.
For our descent route, we chose to re-trace our steps and head back over South Dix and Macomb.  We made great time on the way back to the car – probably partially because the bugs were starting to taunt us.  Overall, it was a beautiful day for a challenging but very rewarding hike.
- Video -
---