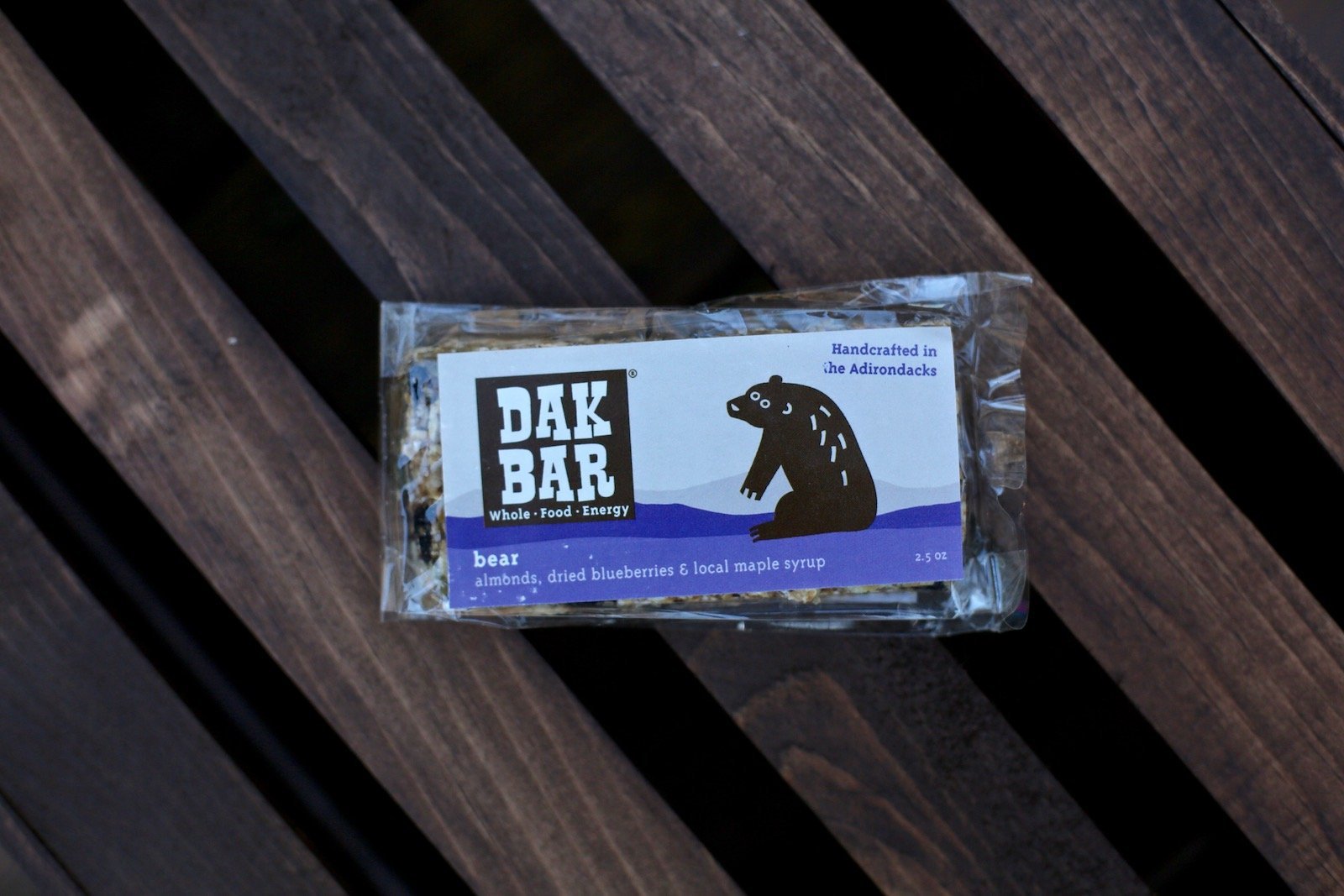 Owner/operator:
Susie Smith
Location:
Essex, NY
Whether you're hiking or skiing, camping or just lounging in front of a fire, Dak Bar is a whole food energy bar that delivers a distinctive blend of great flavors to satisfy cravings. Inspired by the Adirondacks and all of the people and animals that inhabit the Park, Dak Bars are made of all natural and nutrient-dense ingredients; foods that our bodies can process efficiently and effectively to fuel our adventures.
The protein from nuts and seeds provides a balanced energy burn and the natural fats from the coconut and sunflower oils are easily broken down and good for energy. With just the right amount of natural sweeteners (honey and maple syrup), chocolate, and dried fruits, the sugars provide energy without the crashes. With fun names like Squirrel, Moose, Bobcat, and Bear, Dak Bars appeal to the kid in everyone.
What was the inspiration behind the creation of Dak Bar?
As an avid hiker, climber, paddler, skier, and trail runner I have eaten my fair share of energy bars over the years. Several years ago I realized that after eating my then-favorite brand of go-to energy bar I was left with less-than-optimal energy and a wonky feeling in my body. I was convinced I could do better, and decided to start making my own version.
While in college I took nutritional classes and spent long hours fine-tuning my cooking skills as an avoidance strategy to studying, so I was well equipped for the challenge. My focus was on using only whole, natural foods with a significant YUM factor, without any artificial ingredients or preservatives. I also wanted to attain a high ratio of protein in each bar for sustaining a balanced energy burn. It was important to me that the protein came from natural sources (nuts and seeds) instead of overly processed soy protein isolates. Likewise, I wanted the sweetener to come from unrefined sources (honey and maple syrup), NOT overly processed brown rice syrup or agave. In my experience, these ingredients that were processed beyond a recognizable state were the source of my body's discontent.
I was convinced that by eating whole foods that are easily identified, the body would readily recognize what is going into it and therefore could more easily digest and assimilate its nutritional components into maximum energy. I tweaked, added, and rearranged ingredients until I found the perfect recipe that combined all of these elements into a bar with a 40-30-30 ratio of carbs, proteins and fats – the perfect combination for sustained energy. And as a side bonus, using only natural whole foods created a great tasting bar! After sharing my results with friends and family (my young son included), I was met with exclamations of joy and strongly encouraged to take my bars on the retail road… Thus, Dak Bar was born.
When did you develop an interest in healthy and all-natural foods?
For some strange reason – call it fate – I became spontaneously intrigued by healthy eating and exercise in high school. I opted out of higher-level math classes to double up on Phys Ed classes and started buying my own healthy food instead of eating the normal family fare. Once I was out on my own as an adult, I was intrigued by cooking with all-natural foods and it became a challenge of mine to try to make everything by hand that could otherwise be obtained out of a can. Over the years my love of cooking with whole foods merged with a commitment to local eating and eventually developed into running my own catering business that focused on using only local farm ingredients.
If you had to pick one bar out of your product line right now as your favorite, what would it be?
Tough choice. It changes periodically, but right now I'd say the Bear Bar is my favorite as a breakfast or healthy snack and the Chocolate Moose Bar rules when on the trail.
What is the best part about being based in Essex, NY?
The community of people here is amazing - cultured, caring, fun, and a hub for fellow entrepreneurs. With so many like-minded individuals in the same area, we have created a supportive atmosphere of business owners that help each other to succeed without feeling competitive and continue to thrive in a symbiotic relationship. The area is booming with activity and new businesses are continually cropping up; it is a very exciting and positive place to live. We are also fortunate to be flanked by Lake Champlain on one side and the Adirondack mountains on the other – a virtual outdoor enthusiasts playground!
How do you incorporate sustainable practices into your product line?  Do you use organic or local ingredients?
I always look to obtain ingredients locally if possible; the maple syrup, honey, and sunflower oil I use all come from the Champlain Valley. Ingredients that can't be grown locally I purchase from regional distributors that focus on getting their goods as close to this region as possible. This supports other local businesses that value the importance of eating locally/regionally and keeps our upstate economy growing.

I use organic ingredients whenever possible, when cost is not an issue. I will use my best judgment on whether to buy organic when considering ingredients such as nuts or seeds; if it grows in a shell and is somewhat protected from pesticides and/or not heavily treated AND is twice the price for organic, I will choose conventional in order to keep the end cost to the user as low as possible. I always buy organic fruit, as conventional varieties are often heavily sprayed with pesticides. Either way, I never buy anything with artificial ingredients or preservatives.
All of our products are handcrafted locally, right here in Essex. This keeps our local economy strong and provides jobs to local individuals as well. It also reduces our environmental footprint, at least when selling to regional buyers.
Do you have a favorite place to explore in the Adirondacks?
I've really enjoyed paddling in the northwestern portion of the Adirondacks, especially in the fall. My favorite summit would have to be Indian Head lookout with its stunning views and all the fun swimming holes along the Gill Brook trail! But the solitude and beauty of the Dix range is a close rival.
What's your go-to activity in the Adirondacks?
 My most frequent outdoor activity is trail running. It provides me a quick fix to the beauty of the outdoors and keeps the creative juices flowing, so that I can get back to running the business and living vicariously through all the other outdoor enthusiasts out there! When I have time for a longer excursion, I enjoy backpacking and peak-bagging.
---