Amber & Ariel's 46er Journey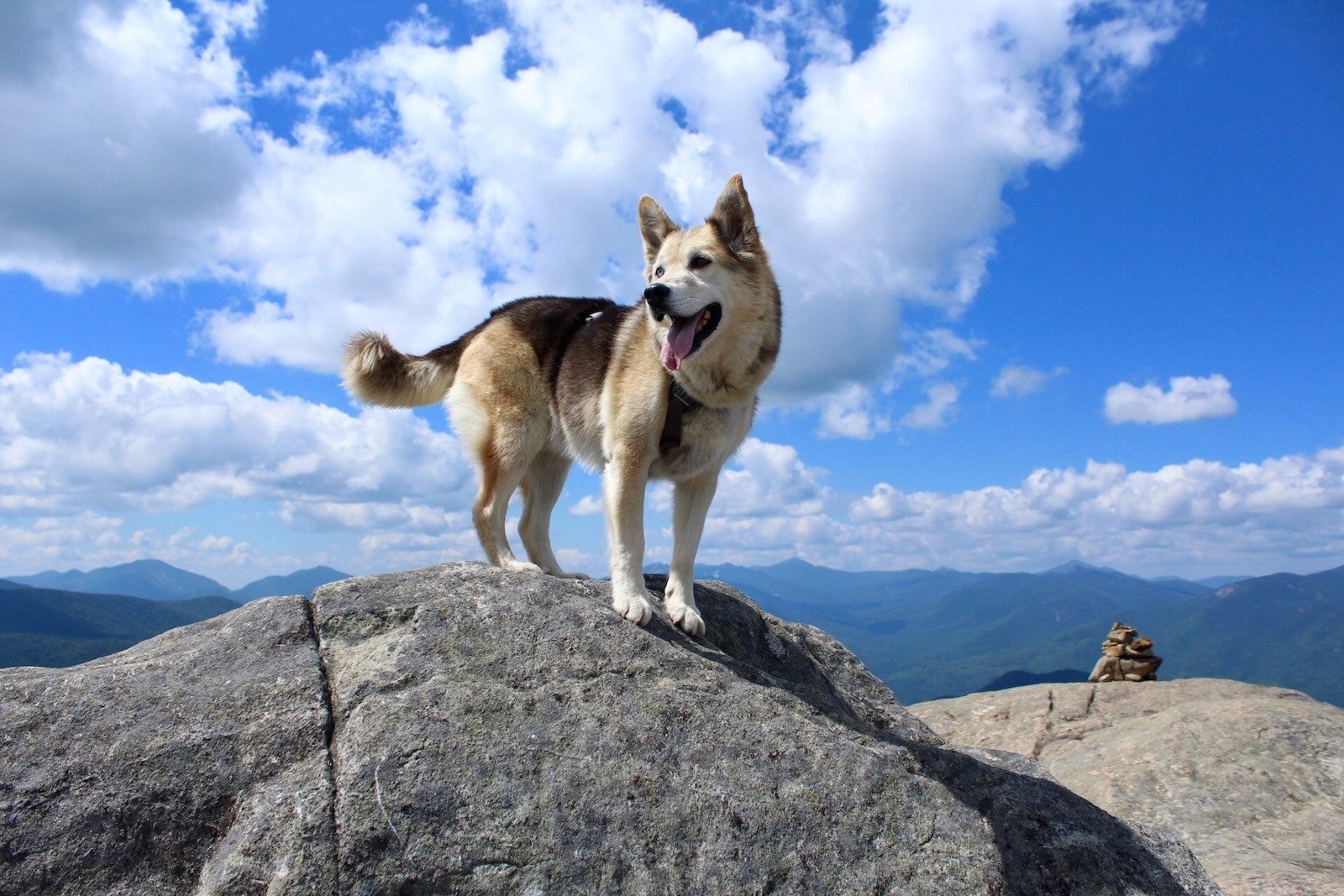 "It has never been about the patch or even finishing the 46 together. The journey is our reward I will carry it with me each day for the rest of my life."
"Be the kind of person your dog thinks you are." This quote has governed my lifestyle. Our dogs think we are wonderful, amazing, and the most interesting people out there. Everything we hope become, they already see in us. Since the day I adopted Ariel, I made it my goal to live up to those expectations.
I adopted Ariel from Mohawk Hudson Humane Society over nine years ago. When I brought her home I knew I was saving her life, but I never imagined how much she would change mine.
Ariel has always had a sense of adventure in her. I could tell she was special even when I first looked into her blue and brown eyes at the shelter. When we hiked our first mountain together, Twin Mountain in the Catskills, something inside of me was brought to life. I was never an avid hiker, but seeing Ariel's natural affinity for it, and her pure happiness in the woods inspired me to continue that journey together. I began to research and discovered the legendary Adirondack 46ers.
This was a floating dream passing by, something that I wanted to grasp, but never thought I would be able to attain and certainly not with Ariel. She was eight years old at the time we climbed our first mountain. In my mind I didn't think it was possible for her to hike all of those peaks and miles, but we would at least enjoy some of them while we could.
Marcy had always been so alluring to me so we decided to embark on the state's high point as our first high peak. Reaching the summit was a feeling like no other. To stand at 5,344 feet felt like an entirely different world. Every worry was so small, I was so small, but the world was so big and so was my love for it, my dog and boyfriend, Matt, standing beside me. Ariel had a smile on her face as she gazed out over the layers of mountains in the sea of green. I felt at home. This was not something we would give up on easily. 
In May 2015, Ariel and I became Catskill 3500ers and in November we became Saranac Lake 6ers. She had grown stronger with every mountain, so we kept on hiking and kept on climbing , but I still did not fully believe that we would reach our goal of becoming 46ers together.
In August 2015, the three of us embarked on the Great Range Traverse. This was our hardest climb to date. The ladders and unforgiving cliffs proved to be obstacles we had not faced before, but as usual, Ariel surpassed them with ease. As we raced the setting sun across the exposed summit of Haystack I felt an overwhelming sense of freedom. This was truly what it feels like to be fully alive. The three of us sat together, taking in the magnificence of the Adirondacks, as the world was plunged into darkness. There are some moments that you will never forget and this was one of them.
Ariel at ten years old has given me every reason to believe in her. With the New Year we made the peaks a priority. Unfortunately, the 2016 winter weather was extremely unpredictable and often left the High Peaks covered with sheets of dangerous ice, slowing our progress. Come spring, the thaw, and Ariel's 11th birthday, we were back at it again. We reached our halfway point on Mount Esther and never looked back. We have climbed every peak abiding by the rules, even when it meant adding on the miles and elevation to tackle Sawteeth, or having to park two cars to bushwhack up the Gravestone brook for a very long 20+ mile day to tackle Dial, Nippletop, Colvin and Blake with dreaded, long trek out Pinnacle ridge.
Every sleepless night in the back of my jeep, every ache and pain, the bruises, the blood, the self-doubt, the "why am I doing this" thoughts have been entirely worth it and have brought us here to this point, our final hike of this goal, our 46th High Peak. Ariel has been there every step of the way, my silent encouragement and my strength.
Every single day I still aspire to be the kind of person she thinks I am. She has changed my life in more ways than I could ever put to words. In her I have found my best friend and the courage to do something I never thought I could. Every face lick and wag of her tail come at every instant I need them the most. She spreads joy and love to everyone she meets. She has brought adventure to my life, has shown me how to find happiness in the simplest things, inspires me to make the most out of the time given to us, and have fun in any situation. I am who I am because of her and I cannot thank her enough for that. It has never been about the patch or even finishing the 46 together. The journey is our reward I will carry it with me each day for the rest of my life.
On August 20th we will be setting out for our final Adirondack high peak, Mount Colden. Ariel and I are dedicating our finish hike to a cause that is very close to our hearts. We hope to raise awareness for shelter animals in need of homes and are encouraging donations to be made to the shelter I adopted her from, Mohawk Hudson Humane Society. Every year 6-8 million animals are placed into shelters and every year 3-4 million are euthanized. There are so many wonderful animals out there, like Ariel, waiting for someone to love them and give them a forever home and I hope everyone gets to experience such a bond and unconditional love as I have with Ariel. Any donation, big or small, will make a difference in the lives of these animals.
Please visit mohawkhumane.org/donate.html to donate and mention 'Ariel's 46'.
---