Indian Head Vista & Fish Hawk Cliffs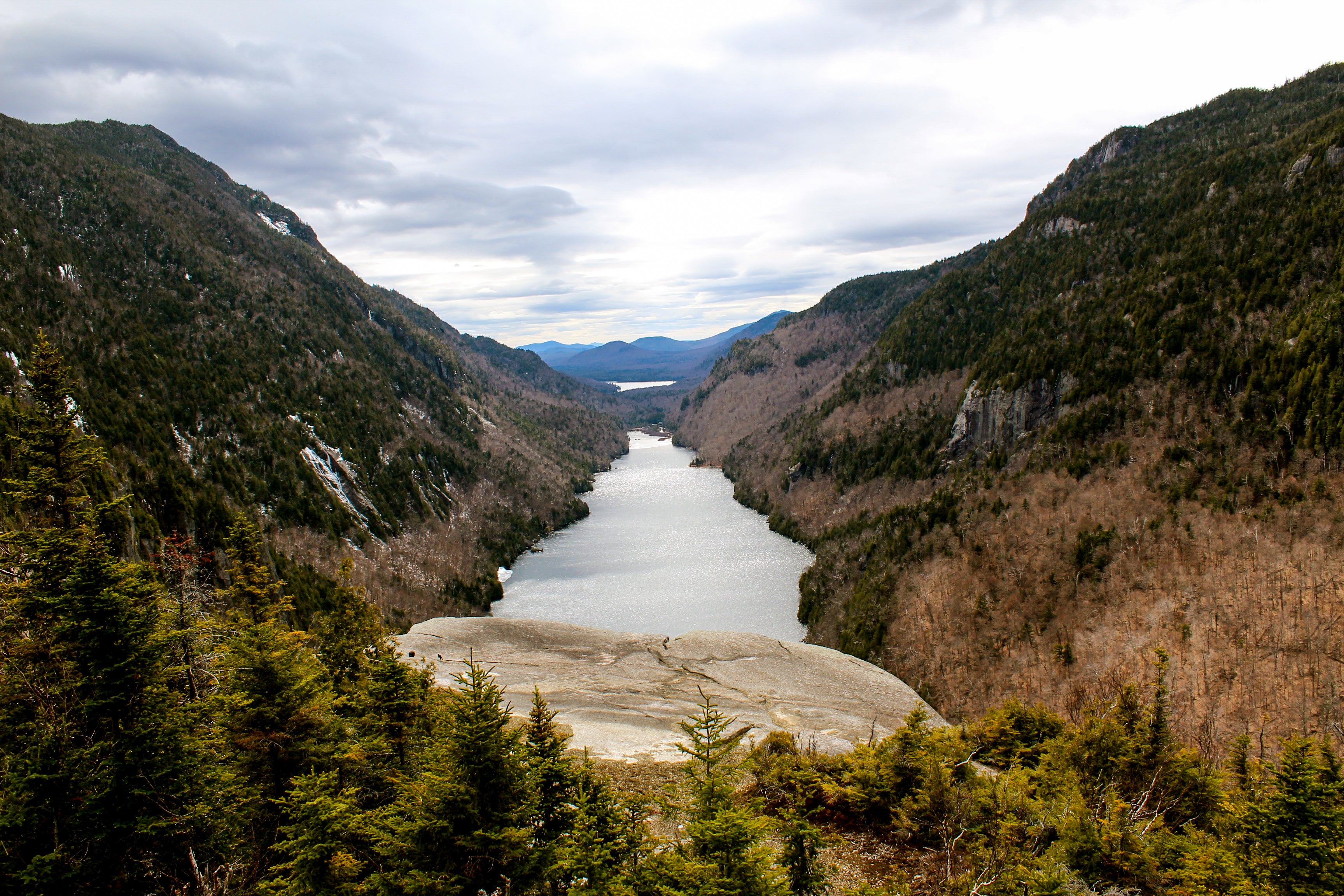 The Indian Head Vista & Fish Hawk Cliffs are located on private land owned by the Adirondack Mountain Reserve (AMR) and spans across 7,000 acres of land between Upper and Lower Ausable Lakes. Although the trails are open 24/7, there are specific rules in place for hikers, such as obtaining a permit between May 1st and Oct 31st, no dogs, vehicles or bicycles allowed, and hikers must stay on designated hiking trails while avoiding buildings on the AMR property. There is also no camping allowed on AMR property.
For frequently asked questions on this reservation system, check out this article on AdirondackExplorer.org or check out this document shared by HikeAMR.org.
There are three main hiking routes that can be taken to reach the Indian Head Vista & Fish Hawk Cliffs. Option 1 is the shortest, while option 2 takes you to Indian Head and other beautiful waterfalls in the area. Option 3 covers many of the highlights of the Adirondack Mountain Reserve Trail System. 
Trailhead Parking & 1st AMR Checkpoint
Get Google Directions // You must provide proof of your reservation when you get to the parking area (if arriving at a date that requires a permit). An AMR staff member will ask you for a paper or digital copy, or simply your name and the reservation time.
To begin your journey, once you have parked in a designated space at the parking lot and grabbed your gear, start your walk from the gate at the parking lot and head up Ausable Road. Eventually you will come to a hiker sign on your left after 0.5 miles and passing the golf course on your right. When arriving at the 2nd checkpoint station, a Forest Ranger will also request your name and reservation time to confirm your permit before proceeding.
Route Option #1: Lake Road to Indian Head Vista
This is the quickest and most straightforward route to the Indian Head overlook, but it's also the dullest. After passing the AMR gate, you'll continue traveling for 3 miles on Lake Road. Keep in mind (depending on the time of year) that buses and other AMR vehicles may also be using the unpaved road, so keep a lookout.
Near the end of Lake Road, approaching Lower Ausable Lake, will be a trail intersection on the left to Indian Head Trail. When you reach the next junction, take a right and shortly after that you will arrive at the Indian Head Vista. From here you'll be able to take in the incredible views of Lower Ausable Lake and the surround ADK High Peaks.
Route Option #2: West River Trail to Indian Head
Shortly after beginning your walk down Lake Road, there will be a trail junction on the right with a wooden bridge to take the West River Trail. Along this route, you will be able to visit Beaver Meadow Falls and Rainbow Falls. After reaching Rainbow Falls, you'll want to head back to the bridge crossing over over the East Branch of the Ausable River (next to Lower Ausable Lake). From here, you'll cross Lake Road and follow the Indian Head Trail to the Indian Head Vista.

Route #3: Gill Brook Trail - Indian Head - West River Trail
You also start on Lake Road for this route. You will arrive at the trail intersection with Gill Brook Trail on your left after about an hour of walking (depending on your hiking pace). For those who like waterfalls, Gill Brook's various cascades, falls, and flumes make this a nice area to explore. After reaching a trail junction, you'll take a right on the Indian Head Crossover Trail. Along this section of trail are a series of ladders to help with the steep inclines and eventually reach the Indian Head Vista. From there you'll head back up the trail your just came down and take a left at the junction for the Indian Head Trail, which will take you down to Lake Road. Next you'll proceed to Rainbow Falls by taking the bridge crossing over the river on the north side of Lower Ausable Lake. After reaching Rainbow Falls, follow the West River Trail and take a right back over to Lake Road at the intersection you choose. 
Detour to Fish Hawk Cliffs
Another perspective that is frequently overlooked that looks out over Lower Ausable Lake is the Fish Hawk Cliffs Overlook. After reaching Indian Head, the track is fairly straightforward, although it quickly descends the rocky ridge in a steep, tiresome manner. You've arrived at the Fish Hawk Overlook when you've reached the rocky edge and can see Lower Ausable Lake.
---