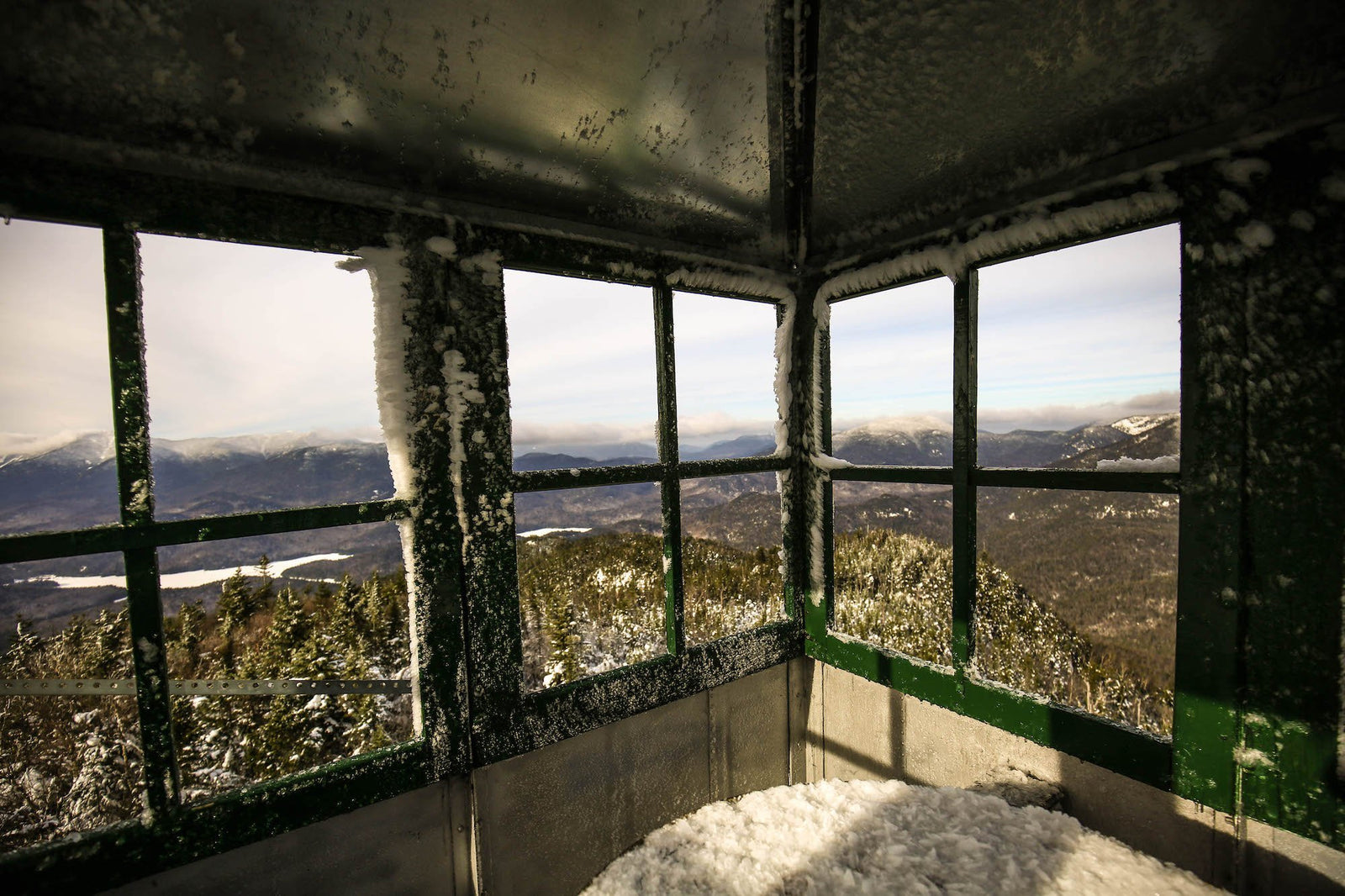 The Mount Adams Fire Tower and observation hut have an interesting history, having been saved from demolition and restored in the early 2000s. While there is no view from the summit itself, there are amazing views from the fire tower. The somewhat difficult hike is rewarding not only for the views at the top but also for the beautiful scenery along the way– from Lake Jimmy at the bottom to some impressive rock faces alongside steeper sections of the trail. And for a taste of history, you can check out the Old McIntyre Iron Mill after the hike, which is just before the trailhead on your way in.
Trail Stats:
Distance: 5 miles round-trip
Elevation: 3,520 ft
Ascent: 1,700 ft
The trail up Mount Adams begins at the same trailhead for the trail up Allen, one of the 46ers. You will follow the trail across the Hudson River and then around Lake Jimmy, a pristine wilderness lake that is especially beautiful during fall foliage. After Lake Jimmy the trail passes the old caretaker cabins, and soon the trail for Mount Adams is marked to your left. After branching off, the trail continues gradually until you cross a stream, where it then begins upwards in earnest and continues quite steeply to the summit. There is no view at the summit as it is treed in, but the fire tower is in excellent condition and you can climb it to the top for a stunning 360-degree view.
Also, be sure to visit our Adirondack Fire Towers page if you're looking for more details and a full list of the towers. There's also information about the Adirondack Fire Tower Challenge if you're looking for a new hiking challenge to take on. 
Trailhead:
Coming from the Northway (route 87, headed north), you will take Exit 29 towards Newcomb. You will turn left onto Blue Ridge Road and follow it for 17.5 miles. At this point, you will turn right onto Tahawus Road. You will follow Tahawus Road 4 miles until you reach Opulescent Road on the left. Turn left onto Opolescent Road and follow it for another 4 miles. Just before the trailhead on the right look for the abandoned stone blast furnace from the old McIntyre Iron Works business. Park the car at the trailhead with trails leading to Flowed Lands and Mount Adams.
---