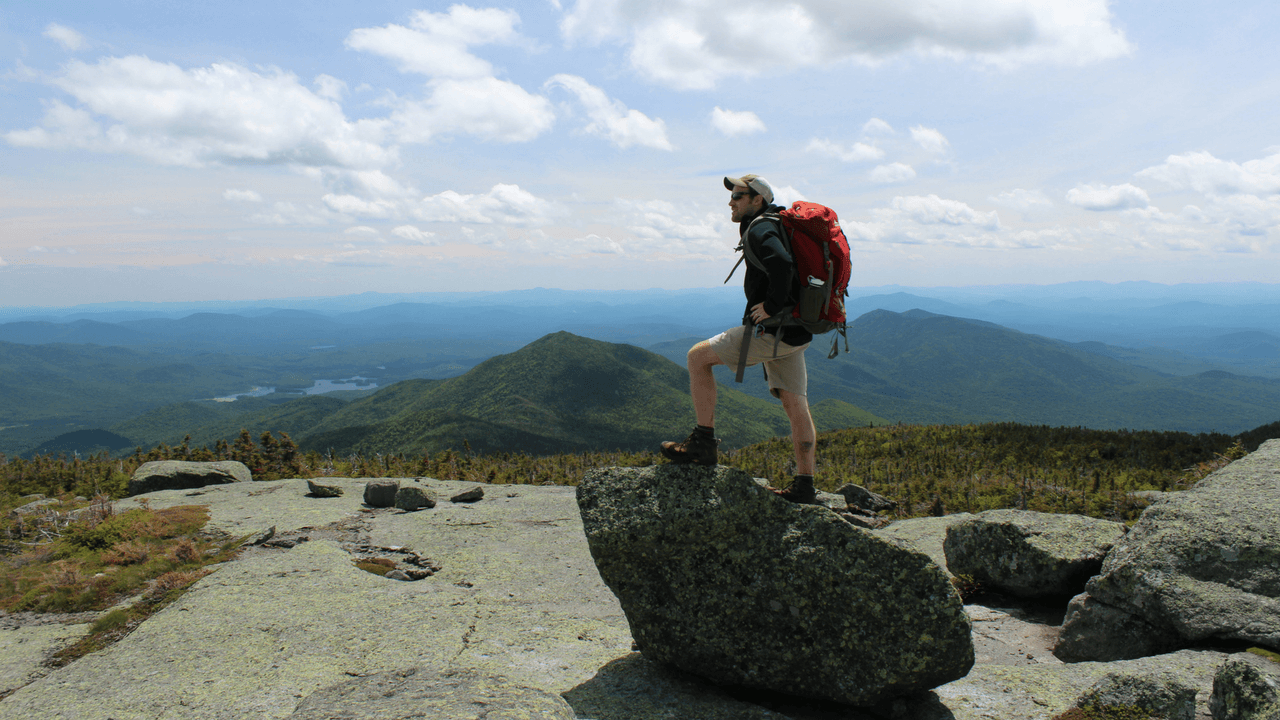 One of the best views in the Adirondacks but not the easiest to get to, Skylight is a great pick for hikers looking for an adventure. Providing one of the closest views of Marcy, Skylight's open rock face offers incredible views of the neighboring 46ers.
Trail Stats:
Distance: 14.2 miles round-trip from Adirondack Loj
Elevation: 4,926 ft
Ascent: 2,747 ft
The hike up Skylight begins the same as Mt Marcy, hiking a rolling to gradual trail for 2.3 miles to Marcy Dam. If you are hiking with younger or less experienced hikers, they can accompany you as far as the dam and then turn back for an easy, gentle walk. Plus, the view from the dam makes it a beautiful place to stop and have a picnic or quick snack. The bridge across the dam washed out in 2011, so you'll cross the stream a little before the dam. After reaching the dam, you'll see the trail register ahead for all of the peaks that ascend from here. Continuing past the trail register you'll pass some designated campsites off to the right, reaching the Avalanche Pass trailhead in 100 yards.
As you continue on the trail to Avalanche Pass, you will pass the Avalanche camps and soon afterward hit an intersection where you will take a left that heads to Lake Arnold. As you climb towards Mt Colden, you will eventually come to Lake Arnold, at which point you will stay left around the lake, descending slightly into a small and beautiful valley. Then you will begin hiking steeply up again, eventually coming to Lake Tear-of-the-Clouds. At the lake's outlet, the herd path up Gray begins. Continue on to Skylight from Lake Tear of the Clouds by staying on the trail and following it past the lake for a quarter of a mile until you reach a four-way intersection. Take a right onto the trail to Skylight. The trail will lead you south, up a steadily climbing rocky trail for 0.4 miles until you break above the trees. The trail then levels out a bit and follows cairns for an easier 0.5 miles until you reach the summit. At the top, you will find a large pile of rocks – legend has it that climbers must carry a rock to the summit, otherwise it will rain on their way down. 
If you're interested in a longer hike (17.2 miles round-trip), you can hike Skylight in conjunction with Gray and Marcy, a popular route that we've done before and described in a blog post here.
Directions to Adirondack Loj
From Lake Placid, take route 73 towards Keene, turning right onto Adirondack Loj Road, which you will follow to the end. There will be a tollbooth at the entrance where you will have to pay a $10 parking fee.
---