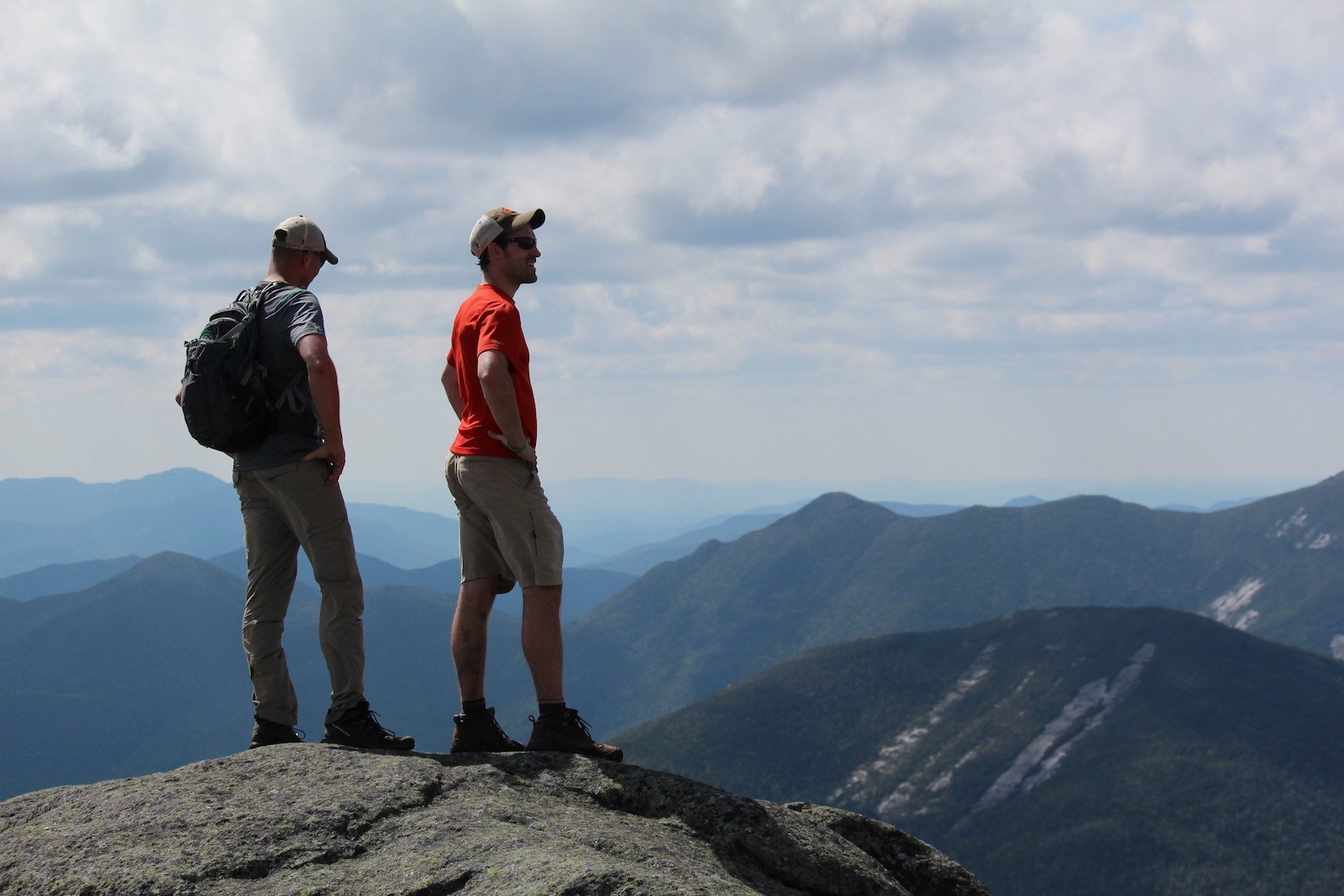 Mount Marcy is the highest of the 46 High Peaks, and thus one of the most popular. The views from the top are hard to beat, and as far as the trail goes, it's not the most challenging or longest of the high peaks. Given its relative ease of access, it's also a popular mountain to do on skis and snowshoes in the winter months, though is considerably more challenging that way. There are a few ways to reach the peak but these directions are for the most popular route, which begins at the Adirondack Loj.
Trail Stats:
| | |
| --- | --- |
| Distance | 14.8 miles round-trip |
| Elevation | 5,344 feet |
| Ascent | 3,166 feet |
The trail up Marcy that begins at the Adirondack Loj at Heart Lake is also the shortest by 1.5 miles and starts with hiking a rolling to gradual trail for 2.3 miles to Marcy Dam. If you are hiking with younger or less experienced hikers, they can accompany you as far as the dam and then turn back for an easy, gentle walk. Plus, the view from the dam makes it a beautiful place to stop and have a picnic or quick snack. The bridge across the dam washed out in 2011, so you'll cross the stream a little before the dam. After reaching the dam, you'll see the trail register ahead for all of the peaks that ascend from here. Continuing past the register you'll pass some lean-tos and designated campsites, reaching the Avalanche Pass trailhead in 100 yards. Take a left here and follow the trail along Phelps Brook for 0.8 miles until the trail comes to a left for Phelps (at 3.2 total miles), at which point you will bear right towards Marcy. At 3.6 miles the trail becomes steep and stays this way for a half mile, and then levels off for .3 miles, at which point you will reach a height of land with a view of Marcy just before Indian Falls. Not long afterward you'll come to another junction, at which point you'll turn left. This trail will travel gradually upwards for a little under two miles, where at 6.2 miles you will reach a junction with the trail on the left that leads to Keene Valley. Here you will continue to the right and hike another 0.8 miles until you break out onto Marcy's rocky peak, continuing for .4 miles across the open surface to the summit.
Additionally, there are other, less traditional routes up Marcy, and if you're feeling up for a longer adventure, you can do a loop that starts by hiking up Skylight and Gray and ends with Marcy—a trip we detail in a blog post here!
Directions to the Trailhead
📍Google Maps // From Lake Placid, take route 73 towards Keene, turning right onto Adirondack Loj Road, which you will follow to the end. There will be a toll booth at the entrance where you will have to pay a parking fee.
---