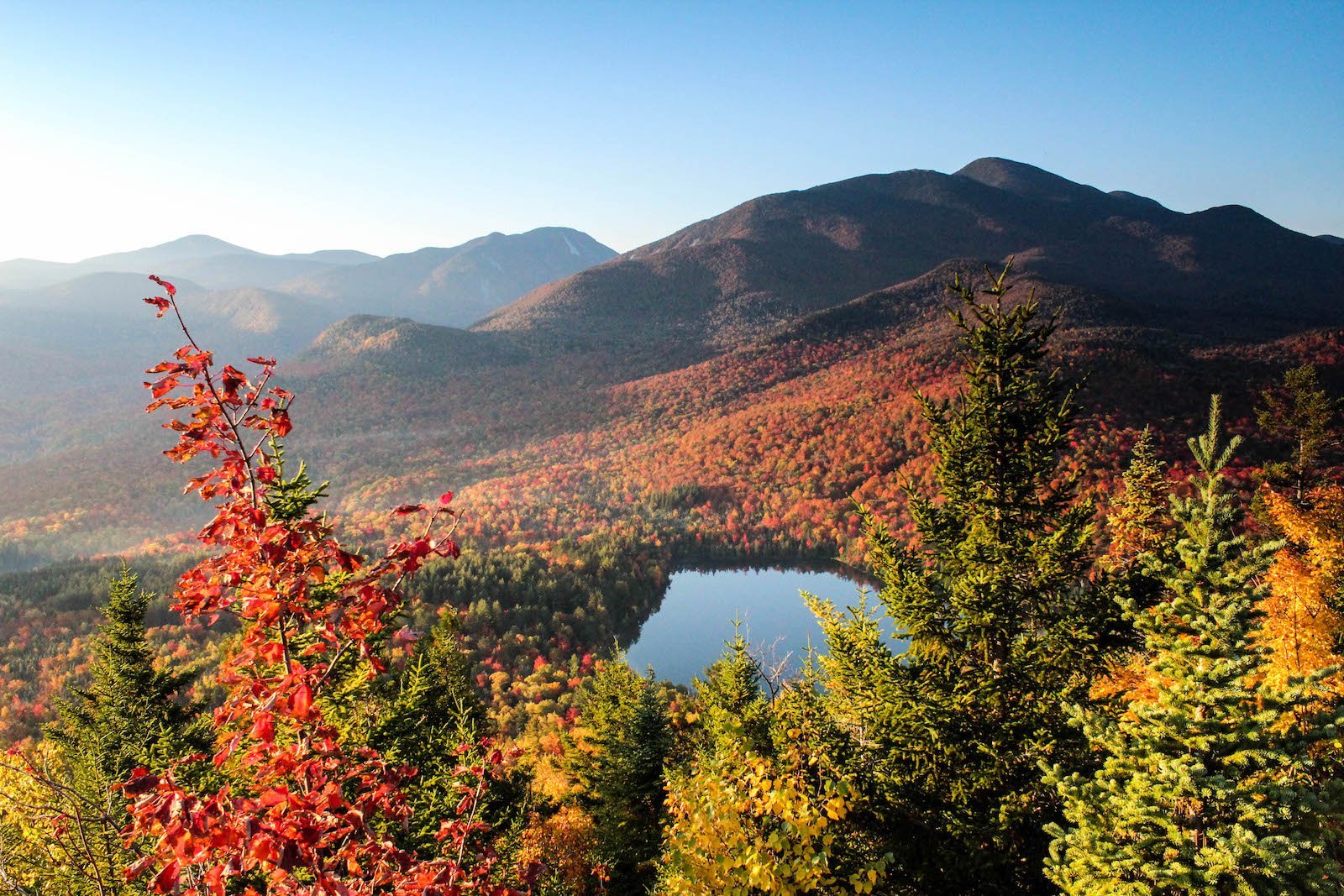 Mt. Jo, a favorite of locals and tourists alike, is one of the more easily accessible peaks in the area. It has a beautiful, wide-sweeping view from the top, which is just a short hike up from Adirondack Loj. Particularly beautiful during fall foliage, Mt. Jo looks out over Heart Lake and the impressive High Peaks that surround it. This is a great hike to start younger ones on – they'll be proud of their accomplishment when they get to the top and see the view! Mt. Jo is also a popular hike in the winter and its popularity ensures that there will almost always be a trail to the top broken out by previous hikers (wearing snowshoes or crampons). This peak is also part of the Lake Placid 9er Hiking Challenge if that's anything you're inspired to do.
Trail Stats:
Distance: 2.2 or 2.6 miles round-trip (depending on which route you take)
Elevation: 2,876 ft
Ascent: 700 feet
Before reading the slightly outdated description below (we'll update soon!), please take note that the "Long Trail" has undergone changes and has been rerouted as of October 2022 (following Phase One of the Project). Continue reading here for more details on these changes. 
"Maps, including those on apps like AllTrails, Gaia, and Strava, currently show the old route, which we are in the process of correcting. In the meantime, we have trail markers up directing folks to the new trail. We ask hikers to follow those so the old one can recover as quickly as possible," -ADK Mountain Club Trails Manager
The hike up Mt. Jo begins with a flat, easy start from the Adirondack Loj parking lot to Heart Lake. The trail then skirts around Heart Lake – you'll walk past a small cabin which, when open, has nature exhibits that make it a great stop if you are hiking with children. Continue on with the lake on your left until after a short ways you reach a junction. Follow signs for Mt. Jo up to the right. Follow this trail for a quarter of a mile until another junction.
At this point, you can decide if you want to take the short (and steeper) trail up to the right, or follow the long (more gradual) trail straight ahead. Many hikers like to take one trail up and the other down, depending on preference. One thing to think about is that the rocks on the steeper trail can be slippery at times, which might make it a more challenging trail coming down. If you are hiking with a big group, the long trail might make more sense because it is less steep – it is only 0.2 miles longer and much more gradual.
The trails meet up again in a wooded area shortly before the summit, and then it is a quick hike to the top of the peak. It is a perfect hike for the family to pack a lunch for – and on hot summer days, you can end it with a quick swim in Heart Lake!
Trailhead:
From Lake Placid, take route 73 towards Keene, turning right onto Adirondack Loj Road, which you will follow to the end. There will be a tollbooth at the entrance where you will have to pay a parking fee.
---