10 Things I Learned While Road Tripping Iceland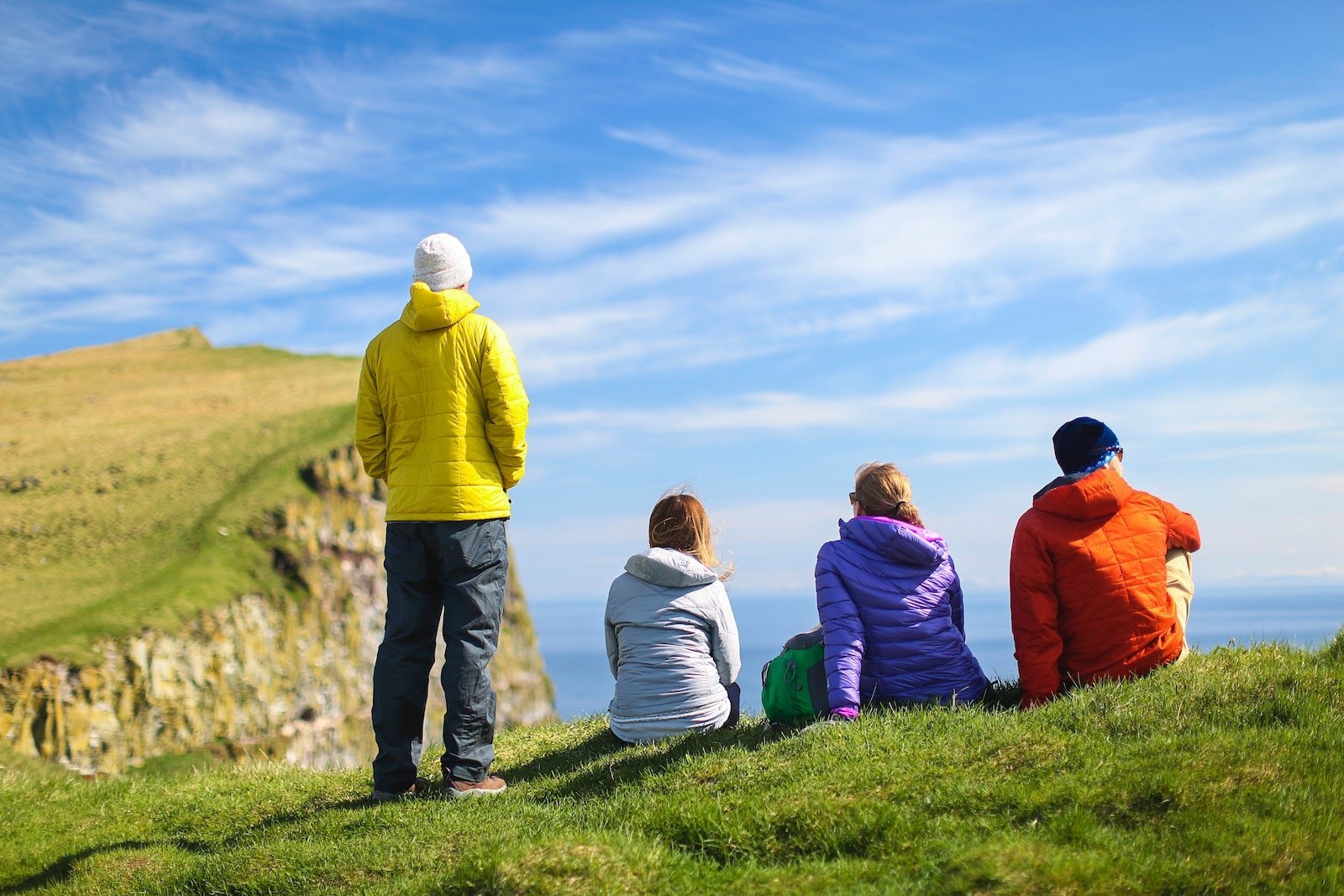 This past June Evan and I, along with our travel buddies – Micah and Jenna Kvidt of Wander the Map – teamed up with Happy Campers, who offers campervan rentals, to explore Iceland.  Our 10 day trip was full of adventure, sightseeing, and plenty of laughs. Here are a few things that I learned along the way:
1.  Four people in a camper van isn't nearly as crowded as you would think.
The Happy Camper 3 is roomy and plenty comfortable for 4 people.  With two large beds and enough room to stand (even for Micah who is 6'1"!), we were able to cook, lounge, and get ready for bed without stepping on each other's toes.  The camper really does have everything you need to live comfortably - from cooking supplies, a sink, and a small fridge, to tons of linen and everything in between, Happy Campers knows how to keep their guests, well, happy!  For an incredibly detailed and awesome description of everything in the Happy Camper 3 - check out this blog post from Jenna! And for a walk-around video tour, check out our video on YouTube.
Photo by WanderTheMap.com
2.  The best place to find puffins at the Látrabjarg Bird Cliffs is the last place you would think to look for them.
This peninsula is incredible.  I mean, seriously cool.  The trail along the cliffs was desolate and impressive.  The steep drops were home to thousands of nesting seabirds.  Laying down and leaning over the side of the cliffs opened up a world of birds – the smell of them wafting up to you, the sound of their chatter drifting around the airspace, and the sight of them clinging to precarious rocks or taking the free fall until they catch a draft of wind – all great experiences to touch every sense.  We hiked a good portion of the trail, but we had still not seen any puffins (we were lucky enough to see the elusive arctic fox though!).  Returning to the Happy Camper a little disappointed, we were happily surprised when Evan, in search of a bathroom, spotted a puffin!  It turns out their nests were right down by the lighthouse and parking lot all along.  We spent a good amount of time just lying on the cliff edges and patiently waiting for the little birds to stroll out of their burrows.
3.  The best hot pots are off the beaten path… and you may be lead there by a dog.
The Westfjords are full of hot pots and geothermal springs!  While we missed the random hot pot in a farmer's yard that we had hoped to check out, we found several others to make up for it.  One of our favorite pit stops was in Drangsnes, where we found some seaside hot tubs overlooking the Greenland Sea and Grímsey, an island with apparently a large population of puffins.  The hot pots were a little tricky to spot, but our guidebook helped.  We ended up sharing the tubs with a couple from London and we chatted with them for a while – they actually told us a harrowing story about trying to find their way to a hot pool.  The directions they were given told them to cross a river.  Upon reaching the river, it was fast enough to make them nervous, but then, out of nowhere, a dog appeared and stepped into the water, looking at them.  As if beckoning them to follow, the dog would nimbly take a few steps and then look back at the couple.  They decided to follow the dog's lead, and they were able to safely ford the river and find their way to the hot pot.  How cool is that?!
4.  You will encounter bugs in Mývatn when visiting in the warmer months.
So. Many. Bugs. They don't bite or anything, they just love to swarm your head because, get this, they are attracted to carbon dioxide like many of their other insect comrades.  So, unless you decide to stop breathing, you're stuck with some bug friends that just want to be all up in your face.  Jenna and I were on bug killing patrol in the camper because the 3 seconds that the door of the van is open is apparently plenty of time for them to infiltrate.
5.  Always perform the spin test before attempting to crack open a boiled egg.
It's Day 7.  At this point, we're settled into the routine of mornings in the camper van… or so we thought. Breakfast this morning was a slight fiasco.  I handed Micah what I thought was a hardboiled egg and he cracked it on the center counsel of the camper van… well, guess what? It wasn't a hardboiled egg.  Egg yolk everywhere. The best part is that literally not 5 minutes later, I did the same thing while attempting to crack my egg in the sink!  What a mess.  It was then that Jenna taught me about the spin trick.  Now I know.
Photo by WanderTheMap.com
6.  Waterfalls that you have to reach via a small crack in the cliff-side are pretty awesome.
While Seljalandsfoss tends to get a lot of attention (and rightfully so!), there is a hidden gem - Gljúfurárfoss - located right down the road that is definitely worth checking out.  Gljúfurárfoss is an incredible waterfall tucked away in a cavernous spot, accessed only through a small crevice in the walls.  The waterfall tumbles down from the Gljúfurá River close to 200 ft into a deep chasm.  Though the space seems like it would be tight, once you're inside the area opens up and the spectacle in front of you is incredible - bright green moss-covered walls, bare rocks dripping with moisture from the waterfall mist, and a delicate cascade of water falling from above.  It was definitely very wet, so that night the campervan acted like a big drying rack, with jackets and pants hanging around drying out from all of the waterfall mist.
7.  What looks like solid ground, may not be.
While driving along our route of gravel roads and high passes from Patreksfjörður toward Dynjandi, we came across a Canadian couple who, at first, just looked like they had found a fantastic picnic spot.  Turns out, they had actually gotten their car stuck in some soft mud and gravel and were having a tough time getting it to budge.  The couple was covered in mud and looked like they could use a few extra hands, so we pulled over the Happy Camper (on the side of the road and not in the soft stuff, of course!).  Evan and Micah helped them dig out and push, and they eventually were free!  Lesson learned - don't drive on to unknown ground.
8.  Clockwise or anticlockwise, the direction of your trip really doesn't matter.
In 2013 Evan and I traveled the Ring Road counterclockwise, this time we went clockwise.  In the end it doesn't really matter.  This time around, we were very glad to have made it up to the Westfjords right off the bat so that we didn't feel pressed for time while we were exploring.  Whatever route you choose, make sure to have a bit of flexibility - you never know what random adventure you may find!
9.  Midnight sun means you can go on a whale watch that starts at 8pm and still see tons of whales!
Setting out from Húsavík at 8pm, the waters were so calm and we had the perfect lighting – it was fantastic.  The whale watch was a great success and we ended up seeing 6-7 humpbacks, several Minke whales, and some harbor porpoises.  We also saw tons of puffins hanging out on the water.  The setting was so ideal!  The calm ride back to the harbor was topped off with some hot chocolate and cinnamon buns.  
10.  Traveling in a Happy Camper van really does make you a happy camper.  Seriously.
---
For those of you interested in taking a campervan road trip around Iceland, check out the Happy Campers website to consider booking a van for your trip.
To see more posts related to our adventures in Iceland, check out the blog entries below:
Thanks again to Happy Campers for providing us with a complimentary rental. All opinions are our own. This post also does contain some affiliate links that will give us a commission for any new bookings.
---