Day 5 of the Tour du Mont Blanc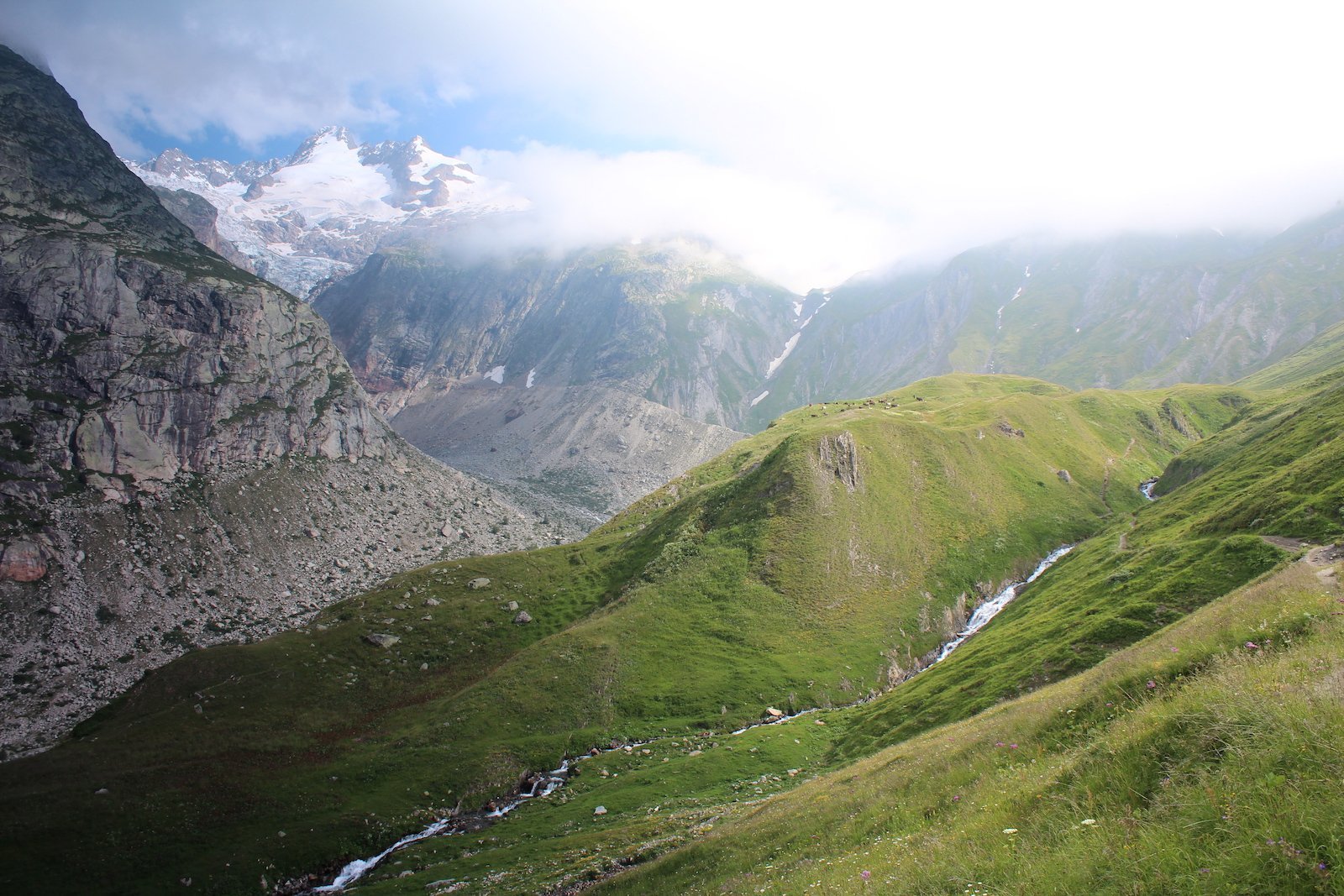 Stage 5: Rifugio Bonatti, Italy to La Fouly, Switzerland
We rose fairly early the morning of our fifth day on the TMB since we knew the day was going to be a long one. Evan went to bed with some sort of head cold, so getting up in the morning was a little rough for him. Breakfast at Bonatti was delicious! A lot of options compared to the other refuges so far – fruit and yogurt, muesli, cereal with milk, bread and jams, fruit juice, and of course coffee and tea. We hit the trail at 8:00, wanting to get a good start. The first bit of the trail continued the nice sloping undulations that we had followed before our arrival to Bonatti. Eventually we had to head down into the Italian Val Ferret, just to have to go back uphill to make our way to Rifugio Elena. Situated at the very end of the valley, Elena is perched in quite the picturesque and pretty spot! We grabbed some croissants to refuel, as well as some granola bars and Orangina to have for lunch once we reached the Grand Col Ferret. While enjoying our croissants, we watched a group of rock climbers across the valley belaying next to a big glacier.
Fueled up, we were ready to face the climb up to the Col Grand Ferret – a trail full of switchbacks heading ever upward. I kept repeating my mantra in my head to keep me in the zone "just walk and breathe and breathe and walk…" It worked pretty well! At this point in the trip Evan and I had gotten used to the weight of our packs on our backs and we were starting to feel our strength and endurance grow. We reached the Col, which marks the border between Italy and Switzerland, right around lunch time. Looking one way, you see the Italian Val Ferret, and looking the other, the Swiss Val Ferret. On a clear day you would be able to see all the way back to Col de Seigne, where we were three days prior. It was a little cloudy at that end of the valley while we were at Grand Ferret, so we couldn't see that far back.
Knowing we had a long descent before us, we continued on after a short lunch break. The way toward La Fouly was mostly gradual, but definitely relentless. The downhill never seemed to end! We picked up some snacks (Pringles) from La Puely in Switzerland and then it started to rain. We pulled out all of our rain gear – pack cover, rain jacket, and rain pants – and layered up, just to have the rain stop a short 5 minutes later. Of course.
We made our way down to the small town of Ferret where we got our first true taste of traditional Swiss mountain homes. We made a point to take quite a few photos there! A few minutes down the trail, we reached our destination for the night – Gite La Lechere. The woman that runs the little inn speaks very little English so we had an interesting time trying to communicate with her, but we made it work. Dinner that night was shared with Spencer – a college student from Montreal, Canada who is going to school in the U.S. He was completing the TMB in a clockwise manner, so his next stop was Bonatti. The dinner at the gite was incredible – pureed vegetable soup and bread, salad with homemade buttermilk dressing, cheese raclette with potatoes, and apricots with fresh whipped cream for dessert. Raclette is a dish indigenous to parts of Switzerland and France whereby a Raclette cheese round is heated, either in front of a fire or by a special machine, then scraped onto diners' plates. Day 6, our next stage to Champex, was to be an easier day for us. With Evan still feeling a little under the weather, we retired early to try and rest up.
Please feel free to email us at pureadk@gmail.com if you have any further questions about our trip.
To continue reading about our trek:
Day 6: La Fouly, Switzerland to Champex, Switzerland
---