Day 4 of the Tour du Mont Blanc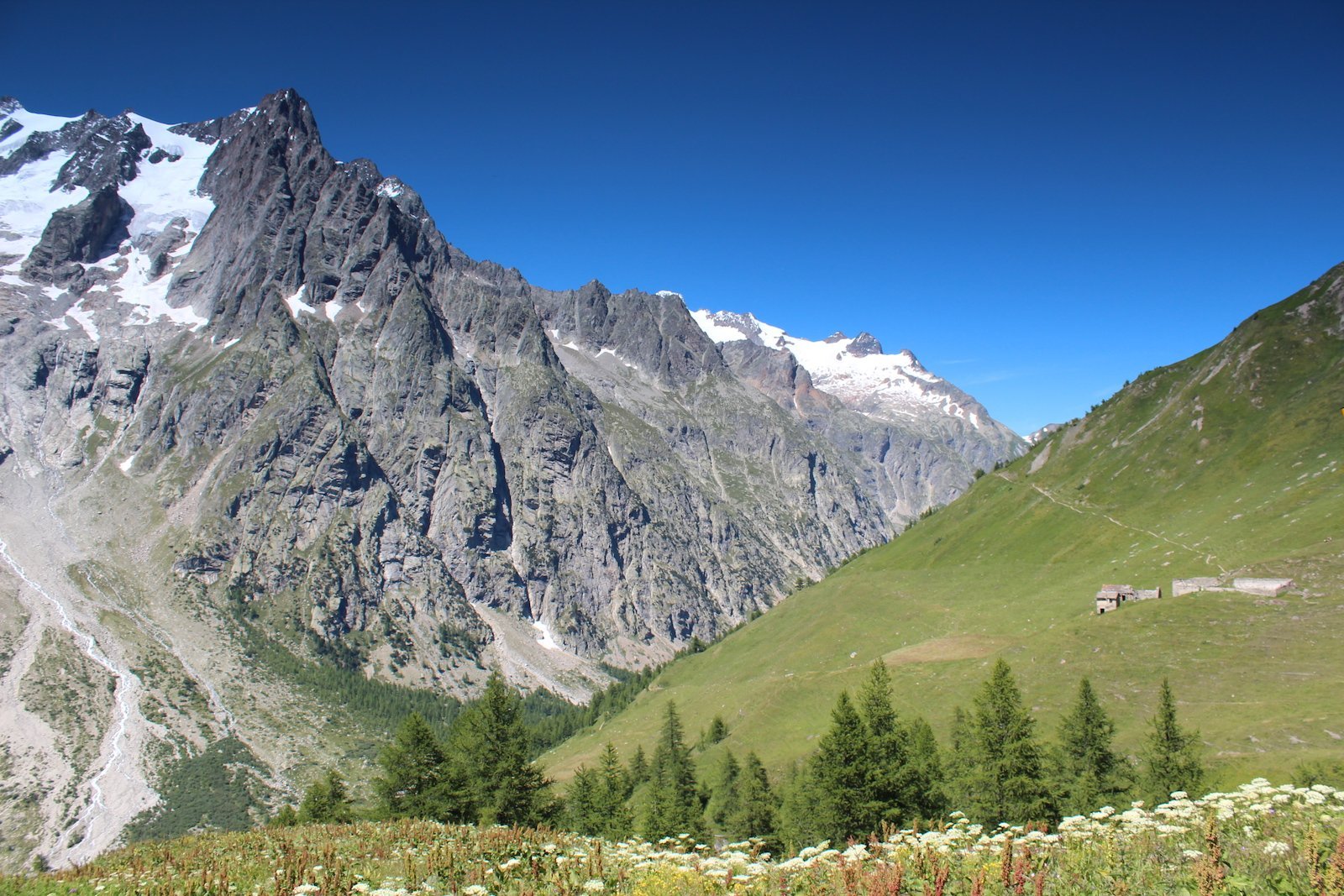 Stage 4: Courmayeur, Italy to Rifugio Bonatti, Italy 
Getting up from our nice hotel bed was tough. Eventually we convinced ourselves to get up, prep our backpacks, and make our way down to breakfast. The breakfast spread was amazing – croissant, yogurt, fruit, some fresh juice, and Italian cappuccino. Probably hands down the best coffee I have ever had. Ever! After eating our fill, we began our hike by climbing out of Courmayeur, passing the church and following some well-marked roads past beautiful homes with equally lovely gardens. The end of the paved road gave way to the familiar dirt trail, and we began our ascent up some serious switchbacks. At the top of the winding track laid Rifugio Bertone. We did not visit the refuge, but we certainly enjoyed the birds-eye views of Courmayeur and the massive Mont Blanc towering before us. 
Carrying on from Bertone, the rest of the hike to Rifugio Bonatti was a pleasant one. We followed the trail as it meandered from forests to alpine meadows full of wildflowers, on to some abandoned farms reminiscent of the old Alpine lifestyle, and across creeks flowing peacefully from the high ridges above. We had another beautiful day; a full sun greeted us at every turn and temperatures well into the high 80's kept us sweating.
We arrived at Bonatti after one final steeper ascent at around 2:00. The refuge is pretty new and strikingly designed. An homage to acclaimed climber and mountaineer Walter Bonatti, photos of his amazing adventures plastered the wall and the rooms were given names in his honor. We checked in and were shown to our beds. Bonatti offered much more spacious accommodations than the other refuges we had stayed at up to that point (there ended up only being a few other people in the room with us, so we had a quite relaxing night!). After setting up our beds and unpacking some of our gear, we went back to the main floor to grab some lunch – Aranciata (Italian Orangina) and "toast", a toasted ham and cheese sandwich.
Showers were next. Bonatti had a token system and the staff were not kidding when they said the hot water was short lived. Evan and I had the same experience – the hot water lasted all of 2 minutes and we barely got clean, but we felt refreshed nonetheless. We sat out in the sun for the rest of the afternoon and before dinner we found that some familiar faces were pouring in. Harry and Ash from London, Graham and Andrea from Yorkshire, and Mark and Shaliev from Israel all appeared. Dinner at the refuge was delicious. A salad starter was a nice precursor to bean soup, followed by mashed potatoes and meatballs with cabbage. To top it off, we had a light cake with apples and dried fruits. Our dinner company for the night was Bjorn from Sweden and three British people – one expat living just outside of Chamonix, and two that live in the Chamonix area part time. In the middle of dinner, the Overland group of kids that we had met the day before showed up, tired, sweaty, and smelly. With a belly full of food, some slight sunburn setting in from the afternoon, and some great twilight photos taken, we found that our bodies were ready for bed. We were in store for a long day for Stage 5 – taking us out of Italy into Switzerland.
Please feel free to email us at pureadk@gmail.com if you have any further questions about our trip.
To continue reading about our trek:
Day 5: Rifugio Bonatti, Italy to La Fouly, Switzerland
---