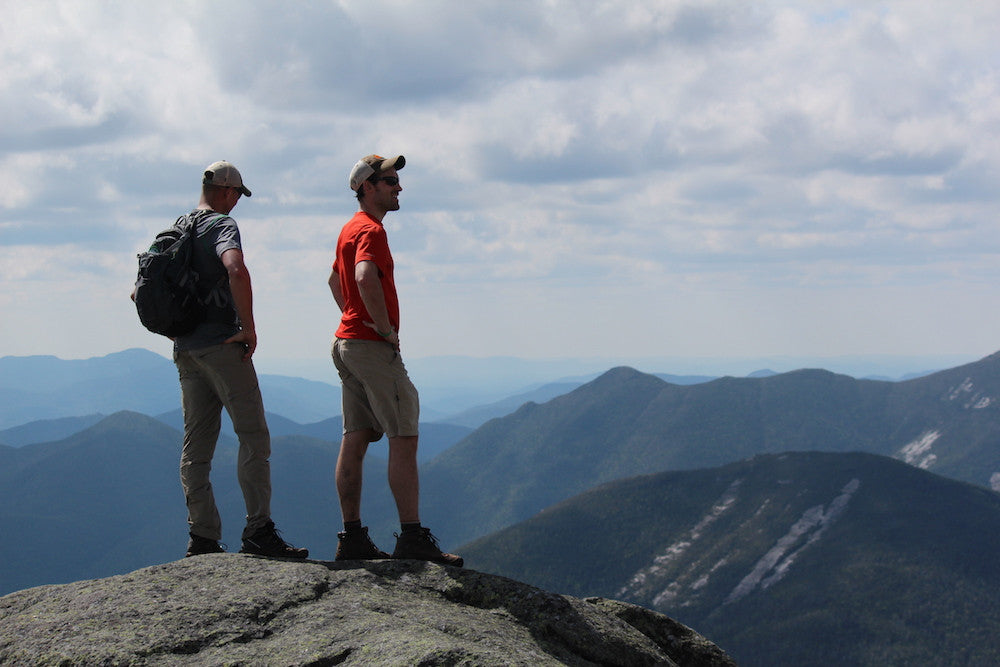 We did a recap like this last year and really enjoyed reflecting on the experiences we had and the milestones we achieved, so we thought this would be a great time to look back at 2015 as we approach the New Year. Throughout this past year, PureADK continued to evolve. With initial intentions of this being a website to act as a travel resource for the area – it's actually transformed into much more. Our angle and differentiator has always been through the way we provide that personal perspective through our own experiences. Whether it's sharing a video from a day on the slopes, providing live updates on social media during the CycleADK tour, or simply sharing personal stories and having genuine conversations with new people we meet on the trail. Along the way, we've seen our online community of other people passionate about the region join us in sharing their personal experiences and stories – coming from many different perspectives (locals, weekend warriors, and even annual visitors).
What started as a travel resource has now evolved into a lifestyle brand for the Adirondacks. Over the past year, we released new products and opened an eCommerce store to offer clothing, hats, and other items such as framed landscape photographs. It's a place that people like us have a strong connection to, so it's something we're proud in representing wherever we go – whether it's somewhere within the blue line or well beyond it.
Given our interests in photography, videography, and social media, we've expanded our offerings with PureADK. Through various projects and with the use of emerging technologies, we strongly believe we can have a beneficial impact on the local communities and businesses through our efforts. From wedding photography to behind the scenes video footage of a local business and even our social media updates during an event or festival, we offer services that can accommodate individuals, businesses and organizations of all sizes and budgets. Not only can we provide a finished project like a video, but we can also share that with our online community through our website and social media channels to hit the ideal target audience.
Taking a look back, I'd like to share with you a month-by-month breakdown of 2015. There's a lot to fit in, but it'll be fun to re-live it throughout this post. Enjoy!
January
Castle Rock – Joined by a couple friends, we enjoyed an afternoon on this short winter day hike in Blue Mountain Lake, NY
Cross-Country Skis – We finally got our own XC skis and put them to the test with a ski out to Whiteface Bay via the Connery Pond trail
Beyond ADK – We got to take a trip to Minnesota to visit our friends and explore the Minneapolis/St. Paul area
February
More SKIING! In a month marked by major snowfall and cold temps, we made our way to the eastern Adirondacks to enjoy some XC and downhill skiing with our friends Matt & Sarah. We first explored the trails on a snowy day at the Lake George Recreation Center. With a mixture of some hills, we got a good workout going up them and the nice thrill of riding down them.
On this same weekend, we also got to explore Hickory Run Ski Area in Warrensburg, NY for the first time. Hickory is one of those places that looks like it has never changed in the past 50 years. It still has the old poma lifts and T-bars, plus the lodge even has an old fashioned look and feel about it. While having a shorter vertical, less terrain, and fewer amenities compared to some of the bigger/modernized ski areas, Hickory still has that local charm and character that'll make you want to keep going back for more. Don't let us fool you either, as there are some challenging slopes and with the lack of snowmaking and grooming capabilities, it definitely adds an additional element to riding the trails there. 
March
It was time to bust out the snowshoes, as we had a lot of fresh snow and the mountains were calling our names. Joined by Kevin and Rachel, formally seen in some of photos and the video from Castle Rock, we set out to snowshoe up Coney Mountain near Tupper Lake. This is a great short hike in any season (also good for dogs and families) with rewarding views from the summit.
Following this hike, we made our way over to Tupper Lake and the Brewski event at the golf course. We'd heard about this just a couple weeks earlier and thought it'd make for a fun afternoon. The concept was simple – snowshoe or xc ski the trails on the golf course and stop at the stations set-up along the way to sample local craft beers. (Sounds like a fun Saturday afternoon, eh?) And it didn't disappoint! Great beer samples, bonfires, exercise, and socializing with others that had also come out was an awesome combination.
April
Spring Skiing – Doesn't get much better then this. With a visits to both Gore and Whiteface towards the end of season, we got perfect weather to enjoy our time on the slopes.
Peaked Mountain – The main goal of this day was to climb a mountain, but without a set plan for which mountain to hike up. After some driving and some communication with a couple we'd met on Instagram (Bryce & Paul), we decided to meet-up at Peaked Mountain. High waters from the melting snow made this day a bit challenging during the stream crossings, but all in all it was an incredible day. A few memories come to mind… mild weather, beavers, running water, mud, snow, jorts (watch the video and you'll get it!), new friends, and moose tracks.
Beyond ADK – It's been a goal of Hilary and I to plan at least one big trip a year outside the Adirondack Park. This year we spent it exploring the National Parks in Utah and Arizona over the span of a week. It was a memorable week camping and exploring the southwestern landscape – something completely different from what we're used to seeing.
May
The main highlight of our adventures in May was the anticipated visit of our good friends from Minnesota, Jenna & Micah. They run an adventure travel website called WanderTheMap.com that documents their trips around the globe. They'd never got to see a part of New York quite like this, so this was very exciting for us to show them and give them a good taste of the Adirondack Park over a span of 5 days. We began our trip by setting up camp at Lake Eaton in Long Lake, NY. During our time there we explored Buttermilk Falls and got out for a hike up Owls Head Mountain.
As we moved into the weekend, our next stop was the Glens Falls/Lake George area and a tour aboard the Hoppy Trails Brew Bus – a fun experience had by all as we stopped at different breweries and a distillery during our afternoon tour. We even worked on creating a video to share our experience from our day on the bus, so be sure to check it out if you missed it! Next stop was the Wilmington/Lake Placid. We didn't have a lot of time here, so we drove them around to check out some of the local attractions and also made the drive up the Whiteface Highway to get a view from the summit.
June 
Earlier during this month I got out for a High Peaks adventure with Bryce & Paul (mentioned above) and also was joined by another new friend, Liz. Our plan for the day was to do a loop hike – summiting Gray, Skylight, and Mt. Marcy and making our way back to the Adirondack Loj to complete the day. The weather was incredible… one of those days where it wasn't too hot or cold and the wind was just right.
In addition, Hilary and I spent another weekend hiking in the High Peaks after I was able to arrange a meet-up with my friend/roommate/co-worker from my days of working for a sailing school in the British Virgin Islands. Jeff had been working an Maine and was about to move to California, so I had to get him to at least get a taste of the Adirondacks before he left the east coast. In our short weekend, we hiked Wright Peak, had a flight and some food at the ADK Pub & Brewery, and spent a day boating on Lake Placid. It was great to be reunited!
Later that month, we picked up another video project – this time for the 1st annual Wine & Food Festival in Lake George. With a number of local vendors on site, it made for a fun afternoon, as we got to try out all kinds of tasty food samples and test out different wines.
July
Always an exciting month, as we made our annual visit to Fish Creek Ponds Campground with some friends for the 4th of July weekend. Our days there consisted of eating delicious meals and snacks, relaxing in the hammocks, paddling, tubing, wakeboarding, waterskiing, playing lawn games like cornhole, and sharing stories around the campfire.
Along came mid-July and I made the spontaneous decision to head to the Moose River Plains for a sunrise paddle on Helldiver Pond. Accompanied by some friends, we made the early rise at 4am from our campsite to bring the boats down the path and hop in despite it still being dark out. We were welcomed with an jaw dropping sunrise and dancing mist that came off the water as the sun hit it.
Hilary spent much of July away for work in Minnesota, so we thought it'd be a great opportunity to do some exploring out there once her project finished up. I flew out for a long weekend after coordinating some dates with our Minnesotan friends, Jenna and Micah. Upon my arrival we all headed out for a road trip to the North Shore of Lake Superior and mainly spent our time near the Lutsen Mountains.
August
Having been on our to-do list for quite some time, we finally made the trip to Stillwater Reservoir. We had a great time exploring the water, islands, and some of the campsites. It's such a larger body of water that we barely made a dent in it. We're looking forward to exploring it more in the future!
We also made a return to Peaked Mountain, as Hilary couldn't make the previous trip. It was fun to see it in a different season and this time it went quicker, as the water levels for the stream crossings were much lower.
The last week of the month was a blast, as we were the digital storytellers for Cycle Adirondacks. As their Social Media Partner, we documented the week via photos and videos and updated the CycleADK social channels on a daily basis. 
September
Native Eyewear Road Tour – We got the opportunity to meet up with Dani & Roland, who are traveling the country and representing Native, as they explore mountain towns and meet-up with locals. Since they were near New York, we asked them to join us in the Adirondacks for a weekend. We had a great time getting them out for a hike on Catamount Mountain.
Adirondack Brewery – In addition, I filmed and produced another video project to shoot some behind the scenes footage of the brewing and bottling process.
Peak Foliage – Included a paddling trip up to the Bog River Flow and a short hike up to Lows Ridge.
October
Wedding Photography – We had the opportunity to shoot another Adirondack wedding, this time at the Northwoods Inn in Eagle Bay. It was a great group of people, which made it a lot of fun for us to shoot.
46er Finish – Our friend Liz was finishing up her 46 High Peaks in the Dix Range, so we joined her and some others to celebrate.
The BillyCan Weekend – A cabin retreat to Morningside Camps & Cottages. A weekend full of outdoor recreation, unique workshops like water coloring, whiskey tasting, and meeting new friends. Representing PureADK, I shared my knowledge of the area with people that were visiting for the first time and also worked on capturing photos to promote future events.
TBEX – It'd been an interest of mine for a while, so I finally decided to attend a travel blog conference. This year it was in Fort Lauderdale, so I flew down for a long weekend. It was definitely worthwhile, as I learned a few new things and met some great people.
November
This was a quiet month for us in terms of adventure travel. Hilary had to travel a lot for work and I was busy working on side projects. We did get the opportunity to take some friends exploring in the Adirondacks, as Matt and Amanda joined us for a nice hike up Black Bear Mountain in Inlet, NY. We only saw 2 other small groups the whole time we were out and pretty much had the summit to ourselves the entire time, which is always a nice bonus.
December
It's been a mild month and we've hardly seen any snow. It's bittersweet in a way, as we've found time for activities that we normally wouldn't get to do in the winter, but at the same time we're excited to have snow for skiing and snowshoeing. The last few weekends we spent time in the central Adirondacks. First at Moxham Mountain, a moderate hike in Minerva with great views from the summit and along the ridge on the way up.
We also got back out in our kayaks – spending an afternoon on Indian Lake and hiking up Baldface Mountain, which is a boat access only hike.
Overall, it's been an incredible year filled with experiences and new friends. We're stoked to see what lies ahead in 2016! Enjoy the holiday season and have a Happy New Year!
---