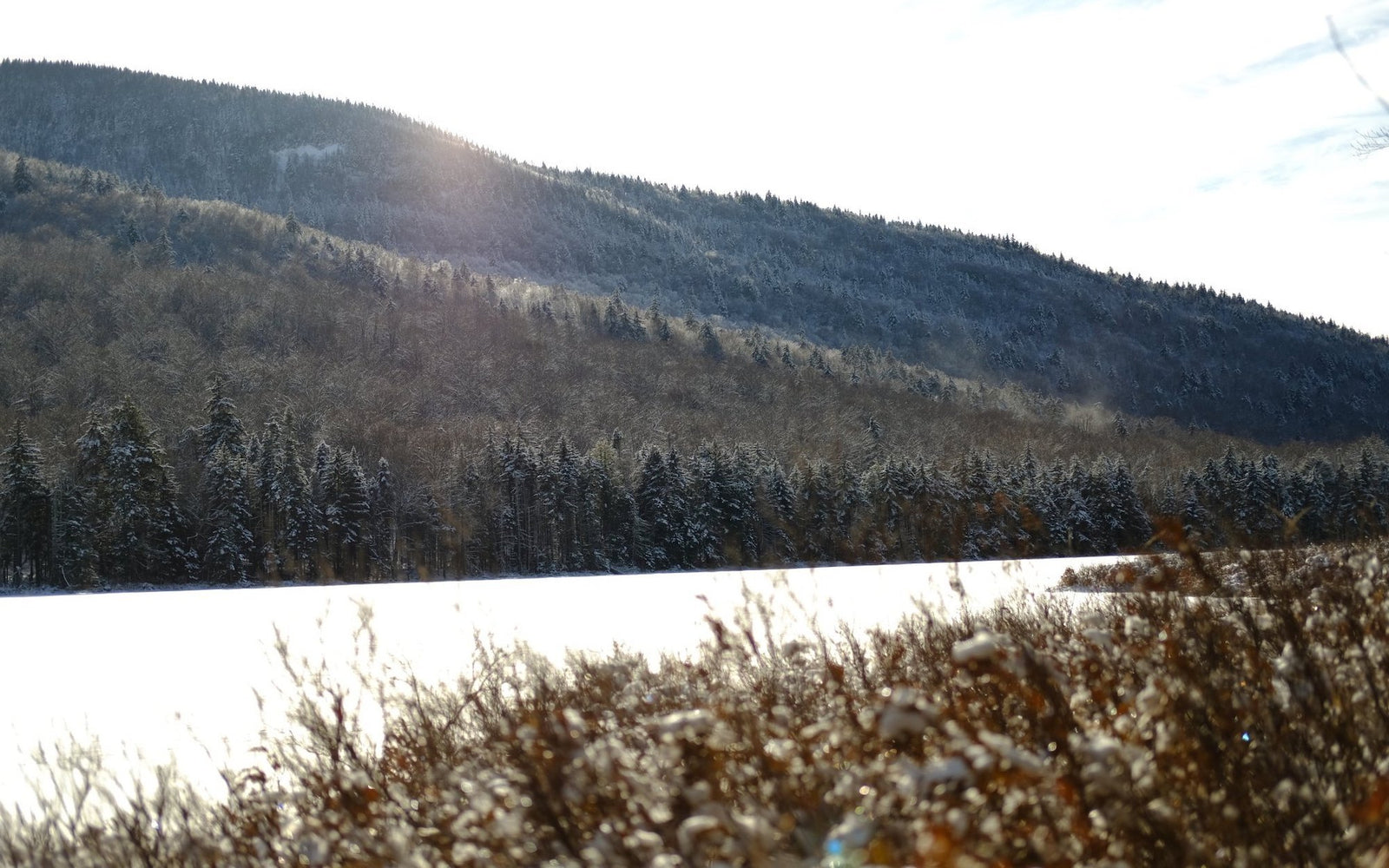 With sunshine in the forecast, we packed up our snowshoes, Lucy, and all the supplies needed to make a mean cup of hot chocolate, and made our way to the Chimney Mountain Trailhead (The parking area is located on private property, so the owners do request a $5 parking fee to access the trails for the day - there's a small kiosk to pay the fee).  Evan and I have hiked Chimney a number of times which is always a great trek, but the day's journey was toward Puffer Pond, a popular destination in the Siamese Ponds Wilderness. The pond has two lean-to's that make for comfortable overnight stays in the summer and nice spots to stop for a break when hiking in the winter. There are several different routes to choose from to reach the pond, with the 5.3(ish)-mile loop that we would be doing a commonly chosen option.
With friends and pups in tow, we strapped on our snowshoes, tossed in some snacks, and started out along the Kings Pond trail - the more direct route to the pond. Crossing Carroll Brook a little over a mile into the hike, the trail starts climbing.
Following the red trail markers, the path ascends to a ridge before leveling off at 1.7 miles and beginning the descent down toward Puffer Pond.
At a little over 2 miles, hikers reach a junction between the Puffer Pond Trail and the Puffer Brook Trail.  One of the lean-to's is visible at this point and the second is a little further down along the trail to the east.
Stopping at the first lean-to we happened upon, we got ourselves and the dogs some snacks, heated up water on our handy backpacking stove for our delicious hot chocolate, and explored the area a bit.  The sun provided a welcome warmth on our cheeks and the blue skies offered a beautiful backdrop to the snow-covered pond and trees.
After spending some time at the lean-to, we continued the loop hike by following the Puffer Brook Trail west and turning right onto the Kings Flow East Trail back to the Chimney Mountain Trailhead.  The trail heading this direction has a more gradual elevation change and follows along a pleasant brook for a good portion of the hike. Part of the North Country Trail, the hike out was nicely maintained and by the end we had two tuckered out dogs and four hungry humans.
---
Remember to Leave No Trace! Buy a physical map, read it, plan, and prepare. Think about the NYS Rangers and medical personnel that exhaust themselves for a rescue that could have been avoided. Pack out your trash. Use a bear canister when primitive camping and cook away from where you're sleeping. Do the rock walk to help reduce the impact on fragile alpine vegetation. Camp at designated campsites and never camp on or near summits.
---